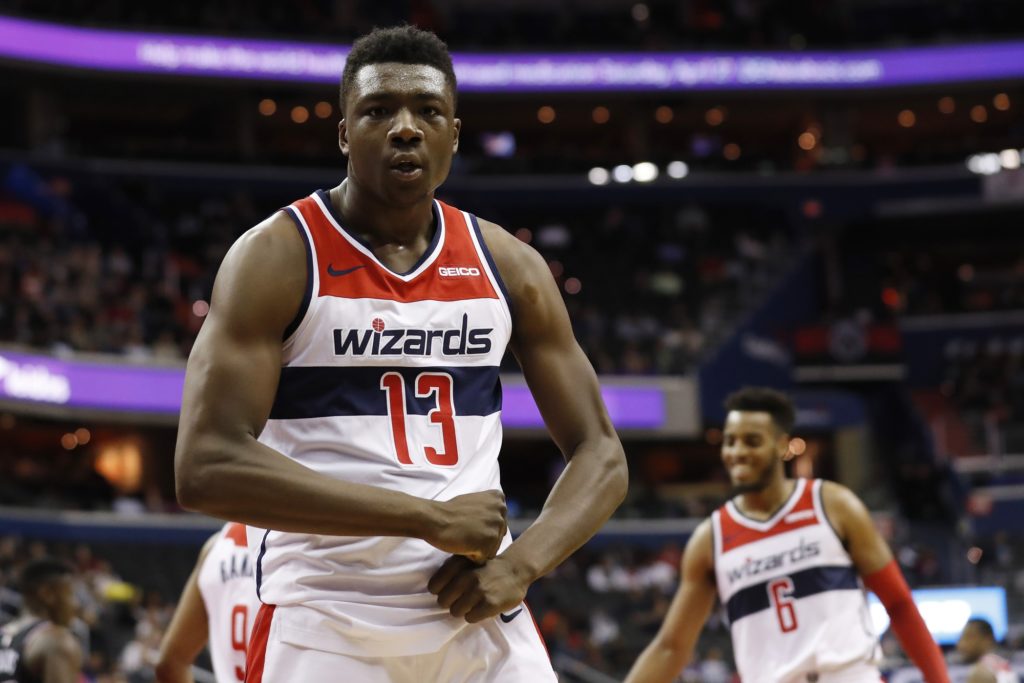 By JOHN LIKANJE
WASHINGTON, D.C. – In 2015, Thomas Bryant was participating in the McDonald's All-American Boys Game with Dwayne Bacon, Antonio Blakeney, Jaylen Brown, Cheick Diallo, Henry Ellenson, Luke Kennard and Ben Simmons. In 2017, the Rochester native was battling to prove himself in the National Basketball Association (NBA).
Bryant completed the 2018-19 season with 53 starts for the Washington Wizards, scoring 10.5 points and grabbing 6.3 rebounds. After recording nine double-doubles in 69 games with the Indiana University Hoosiers, Bryant had 14 in 72 games with the Wizards, including a 31-point, 13-rebound outburst on December 22 in a 149-146 triple overtime victory over the Phoenix Suns.
"It's been a heck of a journey," Bryant said. "Coming into a new organization and just trying to grind my way all the way up here and it was a blessing and I wouldn't change it for anything."
Starting the 2018-19 season, Bryant once again found himself battling for playing time as he appeared in five of the Wizards' first 15 games. However, a season-ending injury to Dwight Howard opened the door for an opportunity. After a November 16 game against the Brooklyn Nets in which he was inactive, Bryant took the court for every contest for the rest of the season.
"It was going to be hard," Bryant explained about his first full NBA season. "I knew I had a lot of bigs in front of me and I knew I had a lot of vets in front of me. I went and did my way to try to get some playing time. Luckily, it worked in my favor and I got more than just a little bit of playing time. The expectations were up there, but just in reality, it went way beyond where I thought it would go."
Bryant shot a franchise record 61.6 percent from the field this season, beating Gheorghe Muresan's mark from 1996-97 in which he shot 60.4 percent. Bryant also shot an NBA-leading 68.5 percent from inside the arc, finishing above players such as Rudy Gobert, Giannis Antetokounmpo, Pascal Siakam and Kevin Durant.
"The mindset is just to stay aggressive," Bryant explained on how he contributes on the court. "Stay poised and go out and play hard. Play smart and just try to get a win out there. You don't want to try to change anything up really too much. The main thing is to go out there and play hard."
The former Bishop Kearney High School star averaged 12.2 points and 6.2 rebounds on 59.2 percent shooting in two years at Indiana University. In his freshman year, the 6-foot-10 center shot 70.7 percent from inside the arc (152-of-215), which ranked fourth in the nation. Bryant's offensive rating was 125.7, which ranked 35th in the nation.
Bryant was picked in the second round of the 2017 NBA Draft by the Utah Jazz, but traded to the Los Angeles Lakers. The 6-foot-10 center made his NBA debut on December 23, 2017 and averaged 4.8 minutes in 15 games for the Lakers before being waived in the summer of 2018. Bryant signed with the Washington Wizards two days later.
"I love everything about D.C.," Bryant said during his exit interview on Thursday from the Verizon Center in Washington, D.C. "Just the sightseeing, the monuments, the fans that come and cheer us on day in and day out."
Transcription courtesy of the official Washington Wizards Twitter account.