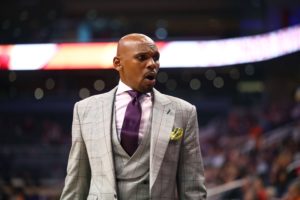 By JOHN LIKANJE
NASHVILLE, T.N. – Vanderbilt University is most known for its academic excellence. Located in Nashville, Tennessee, the private institution is ranked No. 14 on the U.S. News And World Report National Universities Rankings.
However, Vanderbilt was also home to notable professional athletes and sports personalities who we watch on television today. Skip Bayless was an English and History double major who graduated in 1974. The sports personality is now a host of the television show Undisputed on FOX Sports 1. DeMarre Carroll, John Jenkins, Damian Jones and Luke Kornet are former Vanderbilt players currently competing in the National Basketball Association.
Now, Jerry Stackhouse is hoping to add to the university's legacy.
"I'm extremely excited to get started with these guys," the new head coach of the men's basketball team said during Monday's press conference in Memorial Gymnasium on the campus of Vanderbilt University in Nashville, Tennessee. "We're going to play hard. We're going to play tough. We're going to play the right way."
Stackhouse attended the University of North Carolina for two years and played under Dean Smith. In his sophomore year, the 6-foot-6 forward averaged 19.2 points and 8.2 rebounds per game on 51.7 percent shooting from the field and 41.1 percent from beyond the arc.
"Well, obviously I think North Carolina was kind of following Dean Smith," Stackhouse explained when reminiscing about his college career. "That first year at North Carolina was tough with Coach Smith, him telling me and Brian Reese could be the best small forward tandem in the country."
Stackhouse was the No. 3 overall pick in the 1995 NBA Draft and played for 18 years in Philadelphia, Detroit, Washington, Dallas, Milwaukee, Miami, Atlanta and Brooklyn. In the 2000-01 season, the small forward averaged 29.8 points for the Detroit Pistons. Stackhouse scored 20 or more points in 73 of the 80 games he played, including a season-high 57 on April 3, 2001 in a 110-83 win over the Chicago Bulls.
After retiring from the NBA in 2013, Stackhouse was a broadcaster for the Pistons for two years before being hired as an assistant coach for Toronto and Memphis and winning D-League Coach of the Year with the Raptors 905 in 2017. "It was an easy transition from my playing career," Stackhouse explained. "I got away from the game, did some broadcasting, did some of the things you guys are doing right now. I quickly got away from that and got back into what I love and what I have a true passion for, and that's teaching and coaching basketball."
Stackhouse is looking to ignite a Vanderbilt squad that sported a 9-23 regular season record last year, including 0-18 in SEC conference play.
"Everybody talks about pace and space, play an up-tempo style," the Commodores head coach explained. "No one wants to play at a quicker pace than me. We want to get out, run, rebound the ball. At the same time if you don't have good opportunities, we want to work the defense. I want to make sure that we're getting great opportunities, high percentage of shots on the offensive end."
Malcolm Turner, the Athletic Director at Vanderbilt, is excited for this new chapter in program history.
"Jerry Stackhouse is a great new leader for Vanderbilt University and our men's basketball program," Turner said during the press conference. "He's a highly skilled leader with an exceptional basketball mind, a unique feel for the game that's unparalleled given his extensive background, and he is otherwise a new, dynamic and relevant voice within the game of college basketball. He's committed to winning the right way."
Transcription courtesy of ASAP Sports.