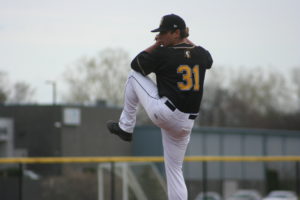 CANANDAIGUA — For the third straight time, the Monroe Community College baseball team settled for a doubleheader split falling 8-3 to Finger Lakes Community College in Thursday's opener before coming away with an 11-6 in the nightcap.
Matt Petrossi (Fairport) allowed four runs (two earned) on seven hits and a walk over six innings of work to pick up the win in game two. The sophomore starter struck out four and threw 99 pitches to 28 batters for his second win of the season.
Sam Loew (Binghamton) finished 2-for-4 in the game and drove in four runs including two in a seven-run third inning. Loew plated Logan Martella-Tasick (Penfield) and Phil Ferranti (Webster Schroeder) with a one-out single as MCC batted around in the inning.
Sean Flannery (Wayne) was 2-for-4 in the game with a walk, two RBI and two runs scored. Ferranti and TJ Lucey (Fairport) both singled, walked and scored twice. Evan Magill (Notre Dame Catholic/Ajax, ON), Jose Ramos (Poinciana/Kissimmee, FL) and Ethan Pasco (Saint Paul Catholic/Niagara Falls, ON) each collected a single and a run scored. Cas Sobaszek (Rush-Henrietta) drove in a run with a single.


Monroe managed just four hits in the opener. Ramos was 1-for-2 with two RBI and a run scored. Martella-Tasick drove in a run Loew and Pasco both scored one apiece.
FLCC's John Genau (Williamsville South) was 2-for-4 with a double, four RBI and a run scored to lead the Lakers' offense in game one Lukas Haefner (Rush-Henrietta) drove in a pair of runs with two hits in three at-bats. Chris Gresham (St. Mary's/Orchard Park) had two hits and scored twice in the opener. Omar Rosa (Fairport) was 2-for-3 with a run scored. Quin Ignazsak (Brockport) allowed three runs on four hits and three walks over seven innings to pick up the win in game one.
Tanner Cooper (Canandaigua) was 2-for-3 with a double, triple and two runs scored in the opener.
MCC hosts a pair of doubleheaders this weekend with Northampton Community College. A 1 PM first pitch is scheduled Saturday at Tribune Field. Sunday's first pitch is 11 AM.