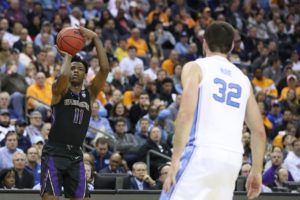 By PAUL GOTHAM
Luke Maye scored seven straight during a 13-0 North Carolina run early in the second half, as the No. 1 seed Tar Heels pulled away to beat No. 9 seed Washington, 81-59 in Midwest Region action, Sunday afternoon.
Maye and Nassir Little scored 20 apiece to lead UNC which will play No. 5 seed Auburn in the regional semifinals, next Friday.
Maye connected on 8-of-19 shots and grabbed a game-high 14 rebounds for a double-double.
After falling in the second round a year ago, UNC never trailed in reaching the Sweet 16 for the sixth time in the last nine years.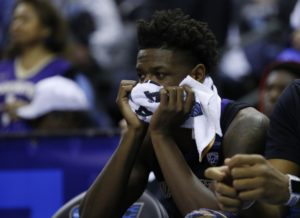 "Needless to say, anybody that advances past this point you feel good about a win in the second round," North Carolina head coach Roy Williams said. "Last year, we had a really, really nice year. In the second round we stumbled. We talked about it quite a bit this summer, and I think the kids were really good at times today."
UNC outrebounded Washington, 48-24. The Tar Heels converted 15 offensive rebounds into a 17-4 advantage in second-chance points.
Little grabbed seven boards.
"Our work on the backboards was something," Williams added. "Luke, 14 rebounds to go along with his 20 points. I think Nassir gave us a big lift."
Coby White added 17 points on 6-of-11 shooting. Cameron Johnson scored 13 points and handed out a game-high seven assists.
Bishop Kearney's Nahziah Carter scored 10 points in 16 minutes of action. The sophomore forward accounted for 13 points in a Friday's first round win over Utah State. Carter connected on 8-of-19 shots from the floor including 4-of-7 from 3-point land. IN NCAA Tournament action, he finished with five assists, two rebounds, a steal and block. Carter finished the season with four double-digit scoring efforts in his last five games.
Jaylen Nowell led Washington (27-9) with 12 points. Noah Dickerson added 10 points.
"They're just a really big team, really good shooting team," Washington head coach Mike Hopkins said. "It seemed like when they missed they got the rebound. And you're not going to win too many games getting outrebounded by 24. Our kids kept fighting. They battled like champions like they are. Unfortunately we ran into a tough Carolina team tonight."