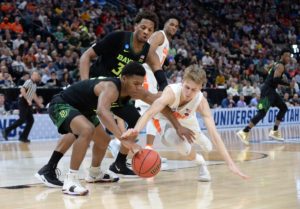 By JOHN LIKANJE
SALT LAKE CITY, U.T. – The No. 9 Syracuse men's basketball team could not muster enough second-half offense and fell to No. 8 Baylor, 78-69, in the first round of the NCAA Tournament at Vivint Smart Home Arena, Thursday night.
Trailing 38-37 at halftime, the Orange scored 32 points on 9-of-29 shooting from the field (31 percent) in the second half, including 3-of-12 from beyond the arc.
Elijah Hughes scored 18 of his game-high 25 points through the first 20 minutes of game play. The junior forward shot 7-of-15 from the field, knocked down six three-pointers, collected three rebounds, handed out three assists, blocked a pair of shots and swiped a steal.
Junior guard Tyus Battle netted 16 points along with three assists, two rebounds and a steal.
Sophomore forward Oshae Brissett chipped in 14 points, pulled down a team-high eight rebounds, blocked two shots, collected an assist and a steal.
Baylor used a three-point attack to beat Syracuse's zone defense with 34 of its 52 field goal attempts coming from outside the arc. The Bears knocked down 16 long-range shots – the most the Orange have allowed in a NCAA Tournament game.
"We thought we could get looks if we executed and it was important we knocked down shots, and we made shots and that makes the offense work a lot better against the zone," Baylor head coach Scott Drew said during the post-game press conference. "16-for-34, you have to have good guard play to win in March, and we are blessed to have very good guard play and make us coaches look very good."
Makai Mason, a transfer who led Yale to a victory over Baylor in the 2016 NCAA Tournament, netted 22 points and made four shots from beyond the arc, both team-highs. The senior guard grabbed four rebounds, dished out four assists and swiped three steals.
"It was fun to go back and forth with them," said Mason who played three years at Yale before switching schools. "We weren't expecting them to hit shots like that. They hit some tough ones and we hung in there and they pulled up."
Mario Kegler had 13 points on 4-of-7 shooting, including 3-of-3 from outside the arc. The sophomore guard collected four rebounds, handed out an assist and blocked a shot.
Sophomore guard Mark Vital pulled down a team-high six rebounds as the Bears out-rebounded the Orange, 31-28.
Baylor advances to the second round to play top-seeded Gonzaga on Saturday at 7:10 PM. The Bulldogs took down No. 16 Farleigh Dickinson Thursday evening, 87-49.
"We have two guys on our staff from their program," Drew explained. "We have so much respect for their program. Coach (Mark) Few does such an amazing job. Those guys competed at such a high level."
Transcription courtesy of ASAP Sports.