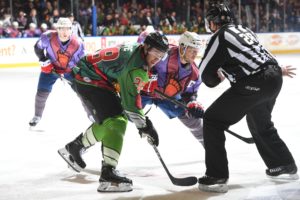 By KEVIN OKLOBZIJA
Remember when the Rochester Americans were sailing along in first place and confidently talking about the talent and potential they possessed?
Well, they're still talking with confidence but they're no longer in first place. If they don't win at least once this weekend in Toronto, they won't even be in second.
And if they play in Toronto on Saturday and Sunday as they did on Friday night on home ice against the Cleveland Monsters, they'll have no chance of holding on to second place.
The Amerks played a lackluster first 40 minutes, spotted the Monsters a 3-1 lead and couldn't recover, losing 5-2 in front of 6,203 fans at Blue Cross Arena at the War Memorial.
"We didn't play well at all at any position, at anything," coach Chris Taylor said. "I didn't like how we started the game, how we finished the game or anything in between."
Yeah, it was that bad.
The loss was their third straight, and they've fallen five points behind front-running Syracuse in the AHL's North Division, 88-83. Third-place Toronto, meanwhile, has crept to within three points.
Suddenly home-ice advantage for the best-of-five first round Calder Cup playoff series is in jeopardy.
But the Amerks are saying there's no panic, or any reason to fret.
"We're still a confident team," said winger C.J. Smith, who scored the Amerks first goal. "Obviously we set pretty high standards for ourselves. I think we're still in a great spot and have some great things ahead of us."
Maybe it was just a matter of a team with a 39-20-3-2 record overlooking a team 15 points their lesser. Maybe it was failing to get back to the grind after having Sunday, Monday and Tuesday off (although Sunday was a travel day).
Or maybe it was playing in hideous Teenage Mutant Turtles sweaters (the Amerks were the "Foot Clan," the Monsters were the "Turtles" in this Nickelodeon-approved promotion.
Whatever the reason, they weren't good in the first or second period, and the Monsters took advantage.
"We came out soft in the first two periods and had to play catch-up in the third and it wasn't enough," captain Kevin Porter said.
Even when they pulled within 3-2 on Victor Olofsson's goal (his 25th) with 12:58 remaining, they couldn't score the equalizer. And that's despite Cleveland goalie Jean-Francois Berube being forced to leave with 2:38 remaining due to injury.
With the faceoff in the Monsters zone, Taylor pulled goalie Adam Wilcox and went with six attackers. Danny O'Regan won the faceoff and Olofsson was in prime shooting position between the hash marks.
But instead of firing right away, he did a little back-and-forth with the puck, and then maybe another, and then finally shot. At least one defender, if not two, deflected his shot 30 feet up into the and out of play.
"We just didn't play fast," Taylor said.
That play summed up an evening when there were few rebound chances, few shots with traffic, few dynamic, crisp tape-to-tape passes.
"There were a lot of one-and-dones," Smith said.
So now the Amerks play a pair of 5 p.m. games in Toronto, which was idle last night. The Marlies are 10-3-1 in their past 14, which is why they're just three points behind the Amerks. So, yes, these are important games.
"They're huge," Porter said. "We want home ice advantage. We have to take care of these two games."
Said Olofsson: "We just have to play better hockey than we did today."