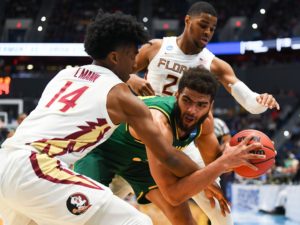 By PAUL GOTHAM
HARTFORD, CT. — No. 13 Vermont connected on a season-high 16 3-pointers, but it wasn't enough as the Catamounts fell, 76-69 to No. 4 Florida State in first-round West Region action, Friday.
Mfiondu Kabengele came off the bench and led Florida State with 21 points on 6-of-13 shooting. The sophomore forward converted 9 of 12 free throws, part of an overall effort which saw the Seminoles hit 31 of 37 from the charity stripe.
In a game that saw 13 lead changes and seven ties, Florida State erased an early nine-point deficit and pulled away in the second half.
"This game felt more like an ACC game than any game we've played outside of our conference. Nip and tuck," Florida State head coach Leonard Hamilton said of Vermont. "I thought they had a great team plan. They double- and triple-teamed our big guys inside in the first half. They were extremely well prepared."
The Seminoles converted a 12-7 advantage on the offensive glass into a 16-8 advantage in second-chance points. FSU outscored Vermont 30-14 in the paint.
"I thought we did a much better job, I thought, defending the second half than we did the first half," Hamilton added. "I thought we got the ball inside a little more and attacked the basket and got the ball inside to Mfiondu and Christ (Koumadje) a few times, and we were able to survive and advance. I'm not taking anyway from them. I thought Vermont was very well-prepared. I thought they did an excellent job of being patient this first half."
Anthony Lamb (Greece Athena) led four Catamounts with 16 points. The junior forward grabbed eight rebounds, handed out three assists and blocked two shots.
Lamb's first of three 3-pointers in the game gave Vermont an early 13-7 lead. One possessions later, teammate Ernie Duncan connected on a triple for the Catamounts' largest advantage of the day at 16-7.
But Florida State forced 16 Vermont turnovers and scored 17 points off those miscues.
"I think we had a couple slip-ups with the team," Lamb said. "Those will get you if you give a few possessions away. You're down by ten, then have to scramble by the end of the game. In order to beat a really good team, you have to play 40 minutes. I think there's a stretch where it just got out of hand for us."
Duncan, Ben Shungu and Stef Smith scored 15 points apiece in the loss. The trio combined to go 11 of 14 from 3-point land. The Catamounts shot 16 of 32 from long range.
"We knew we're going to need to make a lot of threes," Vermont head coach John Becker said. "We were 16 for 32. You can't do much better than that. We knew we had to rebound the ball and we did that. Even if you take the second half numbers, they out-rebounded us by six, which wasn't bad. It's the free-throw line both ways that hurt us. We put them there too much. We didn't convert on our opportunities well enough. Those are things that's probably where the rub was."
Vermont connected on 7 of 13 free throws.
Lamb, a junior, led Vermont and the America East scoring 21.4 points per game (27th Division I) this past season. The conference player of the year ranked 22nd in the country with 238 field goals made. He grabbed 7.8 rebounds and handed out 2.2 assists.
Florida State advanced to the second round where they will meet No. 12 seed Murray State. A 6:10 PM tip off is scheduled. The game will be televised on TNT.