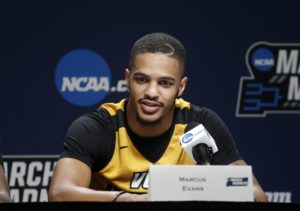 By CHUCKIE MAGGIO
The eight v.s. nine games in the NCAA Tournament are difficult enough to predict. Throw in an injury to one of the key players and you have a virtual toss-up.
VCU guard Marcus Evans practiced Thursday and is expected to play in Friday's NCAA Tournament game against UCF, but coach Mike Rhodes said his star is not 100 percent. Evans suffered a bone bruise in his left knee in the first half of the Rams' Atlantic 10 Tournament quarterfinal loss to Rhode Island.
"He's worked really hard," Rhodes said on Thursday. "He's rehabbed. He's pretty much lived in the training room since Saturday. Each day has been a little bit better. Workload, probably more today than he has all week. Probably tomorrow, we'll move him around a little bit and shoot around. We'll see where he is. He's not 100, but he's going to give it a shot, and we'll see from there."
The Atlantic 10 First Team honoree hasn't missed a game this season. He leads the Rams in scoring at 13.9 points per game, assists at 3.2 per game and steals with 1.9 a contest. In the five games before the A-10 Tournament defeat, he averaged almost 20 points on 54 percent shooting. VCU won all five games, part of a 12-game win streak dating back to the end of January.
The Rams are ninth in the country in scoring defense and have three other double-figure scorers in De'Riante Jenkins, Issac Vann and Marcus Santos-Silva. They lost by just five to Rhode Island and could potentially overcome Evan's absence to win in the Round of 64. But Rhodes and his squad don't want to find out.
"I think some of the guys were really nervous for Marcus because they thought it was like a career-ending injury," Rhodes said. "They're thinking of the worst, and that took some time for them to figure that out. But we've been through some crazy battles, and some of these guys have been through some coaching changes, some players leaving. Last year Issac Vann played with a bad leg all year and then got surgery. We had another guy get surgery. We had some crazy things happen last year. We went through it, not the results we want in the end, and they've all matured.
"Now there's another thing that occurred in the A-10 Tournament last weekend. Figure it out, deal with it, move on. You saw that during the game. Now, we didn't win the game and disappointed, but what more do we have? Now we're here in the NCAA Tournament. What more do we have to give each other?"