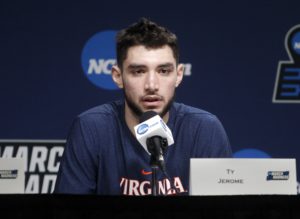 By JOHN LIKANJE
Before he committed to the Virginia men's basketball team, Ty Jerome was dominating New York City and Westchester County high school basketball. The junior guard attended Iona Preparatory School in New Rochelle. The 6-foot-5 guard tormented opposing teams with his shooting ability and height advantage. Jerome was the No. 43rd-ranked high school player in the country along with other New York prospects such as Rawle Alkins (Christ The King/Arizona) and Shamorie Ponds (Thomas Jefferson/St. John's). Although his high school career was cut short due to hip surgery in his senior year, Jerome averaged 24.7 points, eight rebounds and five assists.
In his third year at Virginia, Jerome is averaging 13 points, 5.4 assists, four rebounds and shooting 39.7 percent from beyond the arc. The junior guard has scored double-digit points in 23 of the Cavaliers' 33 games, including a season-high 25 on December 19 in a 69-52 victory at South Carolina.
"For us, it's about doing what we've done to get to this point all year," Jerome said during Thursday's press conference from the Colonial Life Arena in Columbia, South Carolina. "We've had a pretty successful year so far, and just about when we step on the court, playing with that edge that we've had all year."
Kyle Guy committed to Virginia during his junior year of high school, six weeks after Jerome had done so.
"I remember I committed, and then Kyle started following me on every social media," Jerome said when explaining how he and Guy met. "I was like who is this kid? I think we started talking over social media. He told me he was going to commit, and then I think I met him — was it Mary Kline? The first time we played in the All-Star Game together called Mary Kline Classic in New Jersey. He stayed at my house for the weekend. We played for the first time there together. We were on the same team, and it was just fun. We also went to Top 100 Camp together, too, at Virginia."
"I mean, he pretty much nailed it," Guy said. " I definitely bombarded him with a lot of questions and follows in all forms of social media, and then I invited myself to his house for the tournament and for the All-Star Game. We've been friends ever since."
Jerome and the Cavaliers will match up with Big South Conference Tournament champion Gardner-Webb. The Bulldogs are led by freshman guard Jose Perez, who played at Wings Academy in the Bronx in New York City.
"So we actually played in the same AAU program, PSA Cardinals in New York," Jerome said about his relationship with Perez. "I played against him, our high schools twice, I think. I heard he's having a great year. I think he leads them in rebounds. He posts a lot from the four position. He's been a versatile four for them, passed the ball well from out of the post. So I heard he's having a great year."
What: No. 16 Gardner-Webb (23-11/10-6) vs. No. 1 Virginia (29-3/16-2)
When: Friday, March 22nd – 3:10 PM
Where: Colonial Life Arena – Columbia, South Carolina
How to Watch: TruTV
Transcription courtesy of ASAP Sports.