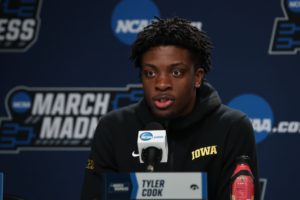 By JOHN LIKANJE
The last time the Iowa men's basketball team reached the NCAA Tournament, Tyler Cook led Chaminade Prep to the Missouri Class V championship. The junior forward was the No. 38th-ranked high school player in the country and an All-State honoree averaging 13 points and six rebounds. Three years later, Cook is the leading scorer on a Hawkeyes' squad making its first tournament appearance since 2016.
"We're all super excited. It's a huge opportunity for us, something that we've been working towards since we ended our season last year," Cook said during Thursday's press conference from the Nationwide Arena in Columbus, Ohio. "We're in kind of unchartered territory for myself and Jordan (Bohannon) at least. We haven't been to the tournament yet in our careers."
Cook, who attended the same prep school as Jayson Tatum, averaged 14.9 points, 7.9 rebounds and shot 53 percent from the field this season. The 6-foot-9 forward scored double-digit points in 23 of the Hawkeyes' 33 games. Cook scored a season-high 26 points twice: on November 16 in a 91-72 victory over UConn and December 6 in a 98-84 win over Iowa State. The junior forward has six double-doubles as well.
Although Cook is facing an unfamiliar opponent in Cincinnati, he is acquaintances with junior guard Jarron Cumberland.
"We don't have like a super close relationship or anything like that," the junior forward explained. "I met him in Chicago at the Nike Global games. I believe it was my junior year at high school. We played on the same team together. It was me, him, Myles, Cassius (Winston), Nick Ward. He played well. It was the first time I saw him play and first time I met him. And from then I knew he would be a really good player, which he is today. That's the first time I've seen him play."
Cook and the Hawkeyes face a Cincinnati squad that has won 28 games this season and a second consecutive American Athletic Conference Tournament title.
What: No. 10 Iowa (22-11/10-10) vs. No. 7 Cincinnati (28-6/14-4)
When: Friday, March 22nd – 12:15 PM
Where: Nationwide Arena – Columbus, Ohio
How to Watch: CBS
Transcription courtesy of ASAP Sports.