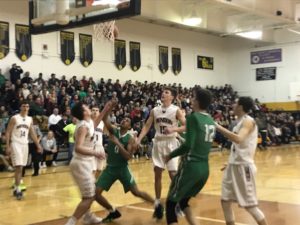 By JOHN LIKANJE
GREECE, N.Y. – Pittsford Mendon surged to an early double-digit lead and extended their edge in the third quarter in an 87-55 victory over Lewiston-Porter (VI) in the NYS Class A Far West Regional, Saturday afternoon, at Greece Athena High School.
Leading 44-29 at intermission, the senior trio of Connor Krapf, Daniel Cook and Michael Harrington combined for 18 points in the third quarter as the Pittsford Mendon Vikings outscored the Lewiston-Porter Lancers, 28-12, to take a commanding 72-41 advantage. Harrington finished a four-point play and a three-point play in a four-possession span. Krapf made a pair of layups and a floater. Cook had a three-point play of his own along with a layup.
"We're certainly talented offensively, but a lot of it comes from our defense," Vikings head coach Bob Nally explained. "We're good on the ball, we rebound really well and then we sort of break your back by being able to push out and get in transition. If you slow us down, we can do it in the half court too."
Junior forward Nate Strauf connected on a trio of layups. Sophomore guard Jacob Shadders knocked down a mid-range jumpshot and made a layup. In the third period, the Vikings held the Lancers to 13 missed field goals and four turnovers in 23 possessions.
Cook scored 18 points in the first half. For the afternoon, the senior forward poured in a game-high 32 and pulled down 15 rebounds for his 24th double-double of the season. Cook handed out a pair of assists, blocked a shot and swiped a steal as well.
"Dan played like a man against boys today and was really good at both ends," Nally said about Cook. "Being able to mark Roddy (Gayle) out there and do a good, defensive job on him was a big, big help for us. He's a rebounding machine."
Harrington netted 14 of his 23 points through the first 16 minutes of game play. The senior guard dished out four assists and collected three rebounds.
"For him to be that explosive on the offensive end just speaks to his character and his motor and he's just an overall great player," Nally said about Harrington.
Shadders and Krapf contributed 11 points each. Shadders had a double-double of his own with 10 assists and six rebounds. Krapf grabbed nine rebounds, collected five assists and had a steal.
For Lewiston-Porter, Trent Scott scored a team-high 14 points. The senior guard dished out a pair of assists and knocked down a right-corner three-pointer with a minute and a half remaining in the game to reach 1,000 career varsity points.
Despite battling foul trouble, freshman guard Roddy Gayle netted 12 points, pulled down seven rebounds, handed out two assists and blocked a shot.
Senior forward Zack Clayborne chipped in eight points, hauled in 12 rebounds, had a pair of assists, a block and a steal.
"We've played a few teams that are athletically similar to Lewiston-Porter and as far as offensively and defensively, pretty similar," Nally noted when preparing for Saturday's game.
Pittsford Mendon advances to the state semifinals to play Troy (II) next Friday at 1:15 PM at Floyd L. Maines Arena in Binghamton.
LEWISTON-PORTER (21-4)
Trent Scott 4-15 5-6 14; Roddy Gayle 4-11 3-5 12; Jalen Duff 3-11 0-0 8;
Zack Clayborne 4-12 0-0 8; Jason Boslet 2-5 0-0 6; Jack Berstein 2-6 0-0 5;
Aiden Salick 0-0 2-2 2; Joseph Powers 0-1 0-0 0; Noah Coppins 0-0 0-0 0;
Andrew Perreault 0-1 0-0 0; Jake Kasbaum 0-0 0-0 0. Totals 19-62 10-13 55.
PITTSFORD MENDON (25-0)
Dan Cook 15-20 2-2 32; Michael Harrington 9-16 2-2 23; Jacob Shadders 4-12
2-2 11; Connor Krapf 5-9 1-2 11; Nate Strauf 3-6 0-0 6; Caleb Arena 2-2 0-0
4; Will Orzell 0-4 0-0 0; Tommy Birmingham 0-1 0-0 0; Kyle Hennessey 0-0 0-0
0; Charlie Bennett 0-1 0-0 0; Isaiah Cotton 0-0 0-0 0; Kevin Keneally 0-0
0-0 0. Totals 38-71 7-8 87.
Lewiston-Porter……………   11   18   12   14  –   55
Pittsford Mendon…………..   17   27   28   15  –   87
3-point goals–Lewiston-Porter 7-26 (Jalen Duff 2-7; Jason Boslet 2-4; Roddy
Gayle 1-3; Jack Berstein 1-4; Trent Scott 1-4; Andrew Perreault 0-1; Joseph
Powers 0-1; Zack Clayborne 0-2), Pittsford Mendon 4-21 (Michael Harrington
3-10; Jacob Shadders 1-5; Will Orzell 0-1; Charlie Bennett 0-1; Connor Krapf
0-3; Dan Cook 0-1). Fouled out–Lewiston-Porter-None, Pittsford Mendon-None.
Rebounds–Lewiston-Porter 26 (Zack Clayborne 12), Pittsford Mendon 43 (Dan
Cook 15). Assists–Lewiston-Porter 12 (Jalen Duff 4), Pittsford Mendon 21
(Jacob Shadders 10). Total fouls–Lewiston-Porter 12, Pittsford Mendon 12.
Technical fouls–Lewiston-Porter-None, Pittsford Mendon-None.
Trent Scott for Lewiston scored his 1000 point on his final 3-pointer of the
game in the 4th quarter.