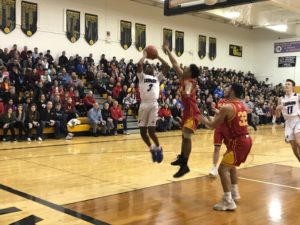 By PAUL GOTHAM
ROCHESTER, N.Y. – The Olean boys' basketball team came into the NYS Class B Far West Regional boasting one of the state's best defenses.
The Huskies looked the part on Saturday.
Holding Section V champion Greece Odyssey more than 24 points under their season average, Olean advanced to the NYSPHSAA semifinals with a convincing 61-47 win.
"Some of our better players didn't have good shooting nights," fourth-year Odyssey her coach Jim Guzielek said. "That was because of Olean. I don't think we took bad shots. Olean played really, really good defense."
Olean limited Odyssey to 21 made field goals on 62 attempts (33.9 percent) including 4-of-25 (16 percent) from 3-point land.
"Our defense has been a constant," Olean head coach Jeff Anastasia said. "I thought we came out and we controlled things on the defensive end. We were able to break the pressure that they had. Once we were able to break the pressure, we were able to get some layups off that. I thought the kids handled it very well."
Alex Weakfall and Jack Dwaileebe connected on back-to-back 3-pointers as Olean closed the third quarter with a 44-34 lead.
Odyssey did not get within single digits again.
Olean came in holding opponents to 44.5 points per game. The Huskies held Odyssey to its lowest output in 19 games.
"Our practices were great this week," Guzielek said. "We tried to prepare for a great team. Olean is really, really good. We saw film. They're better than on film. Our boys played hard."
Olean's Matt Droney led four in double figures posting a double-double with 20 points and 12 rebounds.  Weakfall added 12. Josh Bihler scored 11, and Mike Schmidt had 10 points, nine assists and eight rebounds.
Trailing 14-13 early in the second quarter, Olean closed the half on a 13-7 run including a Dwaileebe triple that beat the halftime horn for a 30-23 advantage.
Romell Griffin drilled a catch-and-shoot triple from the right wing and Dylan Kolmetz followed with a free-throw-line jumper to pull the Leopards within four at 38-34 with 2:27 remaining in the third quarter. It was as close as Odyssey would get.
"We wanted to attack the rim," Guzielek said of the approach coming out of the locker room at halftime. "We got it to four points, and we missed two layups, and they hit two 3s. That's just kinda the story with a team like Olean. You have to make your baskets when you have the opportunities. We had two opportunities to make two baskets. Two missed layups and a good team will score off those. That's really a big five-point swing off those. You can't give a team like that extra baskets. You got to finish."
The loss was the second straight for Odyssey in the regional.
"To get to this round, we're one of the top eight teams left in the state," Guzielek said crediting seniors Colbert, Griffin, Josh Haff, Harper, Khyree Smith and Aric Williams. "To do it twice in a row says a lot about those seniors.
"Four years ago, getting 10 wins was really good. This year we were looking for championships. We wanted to win that Monroe County championship, get that No. 1 seed. They have this hardware and plaques to prove that they had a really good year."
Olean moves on to play the winner of Glens Falls (II) and Ogdensburg (X) in Friday's semifinal. The Huskies are seeking their third state championship after winning titles in 2008 and 2016.
OLEAN 61, GREECE ODYSSEY 47
OLEAN (25-0)
Matt Droney 10-17 0-0 20; Alex Weakfall 5-8 0-0 12; Josh Bihler 4-11 3-4 11;
Mike Schmidt 3-11 4-7 10; Jack Dwaileebe 2-6 0-0 6; Jarrett Prizel 1-4 0-0
2; Brian Ramarge 0-3 0-0 0. Totals 25-60 7-11 61.
GREECE ODYSSEY (21-4)
Dylan Kolmetz 5-11 0-0 12; Ray Colbert 5-9 0-0 10; Travon Harper 4-10 1-1 9;
Romell Griffin 3-6 0-1 8; Aric Williams 3-6 0-2 6; Jaden Hartsfield 1-15 0-0
2; Josh Haff 0-0 0-0 0; Presten Mathis 0-2 0-0 0; Korey Canton 0-3 0-0 0.
Totals 21-62 1-4 47.
Olean…………………….    9   21   14   17  –   61
Greece Odyssey…………….   10   13   11   13  –   47
3-point goals–Olean 4-18 (Alex Weakfall 2-4; Jack Dwaileebe 2-6; Mike
Schmidt 0-5; Brian Ramarge 0-3), Greece Odyssey 4-25 (Dylan Kolmetz 2-4;
Romell Griffin 2-5; Travon Harper 0-3; Jaden Hartsfield 0-6; Presten Mathis
0-1; Korey Canton 0-3; Ray Colbert 0-3). Fouled out–Olean-None, Greece
Odyssey-None. Rebounds–Olean 41 (Matt Droney 12), Greece Odyssey 31 (Aric
Williams 11). Assists–Olean 13 (Mike Schmidt 9), Greece Odyssey 9 (Travon
Harper 4). Total fouls–Olean 11, Greece Odyssey 12. Technical
fouls–Olean-None, Greece Odyssey-None.