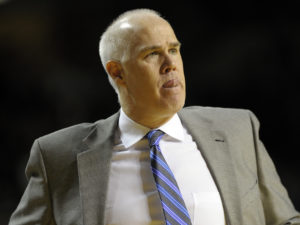 By CHUCKIE MAGGIO
The St. Bonaventure men's basketball team has generated a considerable amount of enthusiasm the last three weeks, carrying a six-game win streak and ample Atlantic 10 Tournament hopes into Davidson on Wednesday night.
A road loss at Belk Arena, where the Wildcats have lost just twice the last two years, was a likely result no matter how hot the Bonnies have been. But the hype Bona has garnered as a Brooklyn darkhorse was tempered a bit in a 64-46 defeat at the hands of Bob McKillop's squad.
Bonaventure (15-15, 11-6 A-10) was held to its lowest point total since a 69-46 loss at George Washington in February 2015. Courtney Stockard was held without a basket from the field for the first time in his career, with his one point being a career low. Kyle Lofton was held to eight points and was ejected after throwing the ball at Kellan Grady twice during a dead ball. The only Bonnie in double figures was Dominick Welch, who had a career-high 14 points. Other than Welch's performance and Osun Osunniyi's 11 rebounds, it was a forgettable performance on paper and on the eye test.
Takeaways from Bonaventure's third straight loss to Davidson:
Player of the Game: Kellan Grady, Davidson. Grady scored 23 points including five three-pointers, his fourth 20-plus point game in five tries against St. Bonaventure. He almost outscored SBU by himself in the first half, posting 13 points to Bonaventure's 17.
Grady got momentum back on the Wildcats' side in the last 1:04 before halftime, throwing down a dunk to extend Davidson's lead to 27-17 and splashing a buzzer-beating three-ball as time expired.
Honorable mention: Jon Axel Gudmundsson, Davidson (17 points on 7-of-9 shooting, nine rebounds)
Stat of the Game: SBU made just 17 of its 52 field goal attempts (32.7 percent), its fourth game of the season shooting under 35 percent. The Bonnies have won just one of those four games (at Duquesne on Feb. 6).
Stretch of the Game: Shortly after a couple Kyle Lofton layups cut Davidson's lead to eight with 6:41 remaining, Gudmundsson drained a three and Welch missed an attempt to answer from deep, giving the Bonnies five minutes to come back from an 11-point deficit. They were held scoreless for two minutes until Welch hit a three to make it a 10-point game, but Gudmundsson quickly struck back with another trey of his own.
The Iceland native showed why he's an A-10 Player of the Year frontrunner, and having Grady as a "sidekick" doesn't hurt either.