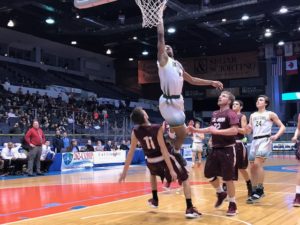 By PAUL GOTHAM
ROCHESTER, N.Y. — Keegan Ocorr and Markus Robinson combined for 62 points in a 76-61 C.G. Finney victory over the Caledonia-Mumford Raiders in the Class C regional qualifier Wednesday night at the Blue Cross Arena.
Ocorr and Robinson scored nine during an 11-0 run to close the first quarter as Finney grabbed a lead it did not surrender.
Finney advances to play Section VI representative Middle Early College in Saturday's NYS Far West Regional.
Two days after scoring 92 points in win over Lyons in the Class C sub-regional, Finney shot 5-of-19 from 3-point land, Wednesday night.
Keegan Ocorr knocks down the free throw line jumper off the steal from Xavier Smith for C.G. Finney pic.twitter.com/KnFuQDW3Pi

— John Mitchell Likanje Junior (@jml5798) March 6, 2019

"It wasn't one of our better shooting nights," Finney head coach Joe Marchand said. "I thought we could have put a few more points up, but I got to give Cal-Mum credit. Their defense was good. That 1-3-1, they really worked on keeping us out of the paint."
Finney converted 17 Cal-Mum turnovers into a 23-13 advantage in points off those miscues.
"I thought the best way to get points on the board was just to run, get down the court and not let them set up," Marchand explained. "We got some transition buckets, and we got some points on the free throw line."
Robinson, an eighth-grader, finished with 30 points on 13-of-19 shooting. Ocorr had 32 points going 11-of-26 from the floor.
Eric Wilson led Cal-Mum with 20 points. Kyle Wade had 15, and Vinny Molisani added 11.
"The key for us was not to let their big men get down to the blocks and score," Marchand said referring to Joe Laursen and Ethan Pies. "We're a little thinner bodied than them. They're a little bigger. I was worried about them muscling us around. That's why we pressed them to slow them down, bring the ball up the court. They're a good team. They're 22-1 (coming into the game), and you see why they're 22-1."
Trailing 13-12 in the first quarter, Ocorr and Robinson scored on back-to-back runners. Robinson fed Ocorr on the break for a 3-pointer. Ocorr converted a steal and layup before Xavier Smith capped the quarter with a jumper for a 23-13 Finney lead.
Eric Wilson's steal and layup cuts @CalMumHoops deficit against Charles G. Finney to 39-26 at halftime. @PickinSplinters pic.twitter.com/8u7gd3DaQV

— John Mitchell Likanje Junior (@jml5798) March 7, 2019

Finney will be looking to make its fourth New York State Final Four appearance. The Falcons won the 2006 and 2007 NYS Class D titles. An 11 AM tip off is scheduled Saturday at Greece Athena High School.
CAL-MUM (22-2)
Eric Wilson 8-19 2-3 20; Kyle Wade 6-11 1-1 15; Vinny Molisani 4-18 2-2 11;
Joe Laursen 4-8 1-8 9; Ethan Pies 2-9 2-2 6; Colin Guldenschuh 0-0 0-0 0;
Juan Claudio 0-4 0-0 0; Adam O'Donoghue 0-1 0-0 0; Andy Bickford 0-0 0-0 0.
Totals 24-70 8-16 61.
C.G. FINNEY (20-3)
Keegan Ocorr 11-26 8-11 32; Markus Robinson 13-19 3-4 30; Caleb Anger 3-8
0-0 8; Xavier Smith 2-6 0-0 4; Josh Taylor 1-2 0-2 2; Steve Folkerts 0-1 0-0
0; Matt Magliato 0-0 0-0 0. Totals 30-62 11-17 76.
Cal-Mum…………………..   13   13   13   22  –   61
C.G. Finney……………….   23   16   14   23  –   76
3-point goals–Cal-Mum 5-21 (Kyle Wade 2-3; Eric Wilson 2-9; Vinny Molisani
1-3; Juan Claudio 0-4; Adam O'Donoghue 0-1; Ethan Pies 0-1), C.G. Finney
5-19 (Keegan Ocorr 2-8; Caleb Anger 2-6; Markus Robinson 1-3; Xavier Smith
0-2). Fouled out–Cal-Mum-Eric Wilson; Vinny Molisani, C.G. Finney-None.
Rebounds–Cal-Mum 44 (Joe Laursen 13), C.G. Finney 34 (Keegan Ocorr 9).
Assists–Cal-Mum 13 (Vinny Molisani 6), C.G. Finney 10 (Markus Robinson 3).
Total fouls–Cal-Mum 14, C.G. Finney 14. Technical fouls–Cal-Mum-None, C.G.
Finney-None. A-1000
Finney advances to the Class Regional
COMPLETE ARTICLE TO FOLLOW.