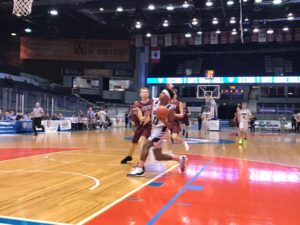 By PAUL GOTHAM
ROCHESTER, N.Y. – The top seed fits Jim Guzielek's Greece Odyssey boys' basketball team well. It just took a while.
After slipping past eighth-seeded Livonia in the quarterfinals of the Class B1 tournament, the Leopards beat Geneva 67-48 in the semifinals. That trend continued Saturday morning at the Blue Cross Arena.
Tournament MVP Jaden Hartsfield paced a 16-2 run to end the first quarter as Odyssey grabbed a double-digit lead and didn't allow the No. 2 seed Newark Reds any closer in a resounding 69-40 win in the Section V Class B1 final.
"Last two weeks have been really, really challenging," said Guzielek whose squad claimed the Class B crown a year ago. "Playing as the one seed was a new experience for us. The Livonia game was something. I honestly think we probably should have lost that game.  We were a little shell-shocked playing as the one seed at the home court and being Monroe County champions (Division IV). Certainly that woke us up."
The alarm was still ringing when Odyssey met Newark.
Hartsfield connected twice from 3-point land over the stanza's final four minutes and scored nine points during the run as Odyssey erased a two-point deficit to take a 24-12 lead going to the second frame.
"He's so smooth," Guzielek said of his junior guard. "He's so good with the basketball in his hands. He's going to make the right play. If he's shooting like that, we're really tough to stop because he's so long.
"He can just take over a game and not even know it. He doesn't even show it until you look at the book."
Trailing 10-8, Hartsfield took a Travon Harper lead on a leak out and finished an and-one. Dylan Kolmetz followed with a free-throw line jumper before Hartsfield hit from long range. Presten Mathis found the measure from behind the arc, and Romell Griffin converted a putback.
Jaden Hartsfield gets the leak out from Travon Harper. Hurt and harm. @ODYbball leads @NewarkAthletics 11-10 pic.twitter.com/6uOmHp2g8G

— Paul Gotham (@PickinSplinters) March 2, 2019

Hartsfield capped the opening eight minutes with Odyssey's fifth triple.
Jaden Hartsfield drive and dish. Dylan Kolmetz finishes. @ODYbball leads 38-16. pic.twitter.com/jHM8WMU8LY

— Paul Gotham (@PickinSplinters) March 2, 2019

The Leopards led 40-23 at half handing out 10 assists on 15 made field goals. Part of an overall effort which saw the Maiden Lane denizens collect 15 helpers on 26 made field goals.
"We talked in the locker room how our first game (of the sectionals) we let them dictate the style," Guzielek explained. "Our style is there are five guys on the floor at all times who can score the basketball. They just look for that easy basket. They're actually make a lot of extra passes to get an easier basket.
"We shot the ball lights out to start. You come in this gym, this big place 7-for-13 in the first half for threes? That's going to be tough to beat us because we can attack the basket."
The fourth-year coach pointed to his squad's regular season ledger which saw the Leopards play cross-town rival Greece Athena as well as Pittsford-Mendon, Pittsford Sutherland and Wellsville.
"Our schedule dictates why we are here," the fourth-year coach noted. "There are four other teams that we played during the year that are in finals. We played them well."
Odyssey stretched its halftime lead to 20 before the end of the third quarter when Romell Griffin scored two of his nine points.
"We did a nice job in the second half of turning the press up," Guzielek stated. "The assists that you see on the fast breaks, how they share it. They're throwing the ball up to somebody not even needing a dribble and it's a finish. Then they turn right back around and you got to grind us for an entire length."
Presten Mathis gets in the lane for 2. Going to the 4th: @ODYbball 53 Newark 34 pic.twitter.com/qaOq0ItP9i

— Paul Gotham (@PickinSplinters) March 2, 2019

Travon Harper added 12 points and a game-high four assists. Aric Williams matched Newark's Jayden Peters with a game-high nine rebounds. Williams chipped in with six points and two blocks.
Peters led Newark with 12 points.
Odyssey will play the Wellsville vs. Wayland-Cohocton winner in the NYS Far West Regional qualifier scheduled for Wednesday.
"It's just such an awesome team to be around," Guzielek said of the Leopards. "They fight in practice. They love each other. You can see. It's a true sense of how proud our community is, how proud our school is. To go back-to-back is really difficult. You hear about it, and people talk about it. With the target on your back all year, it's cool, but there's a lot of pressure too."
GREECE ODYSSEY 69, NEWARK 40
NEWARK (18-4)
Jayden Peters 5-17 1-2 12; Mason VanDeMortel 4-19 0-3 9; Kyle Martinez 2-4
2-2 7; Devin Agosto 2-5 2-2 6; Isaiah Camp 1-2 1-2 3; Aiden Elliott 1-3 0-0
2; Dustin Case 0-0 1-2 1; Julius Teabout 0-0 0-0 0; Adam Lombardi 0-0 0-0 0;
Carter Steve 0-0 0-0 0; Blade Case 0-0 0-0 0; Kyle French 0-1 0-0 0; Josh
Green 0-2 0-0 0; Nicholas Bernardi 0-1 0-0 0. Totals 15-54 7-13 40.
GREECE ODYSSEY (20-3)
Jaden Hartsfield 6-17 2-8 17; Travon Harper 5-13 0-2 12; Romell Griffin 3-6
3-3 9; Dylan Kolmetz 4-7 0-1 8; Aric Williams 2-4 2-4 6; Presten Mathis 2-5
1-2 6; Luke Schneider 2-2 0-0 5; Ray Colbert 1-2 1-2 4; Gerald Gaitan 1-1
0-0 2; Kadeem Walker 0-1 0-0 0; Josh Haff 0-0 0-0 0; Khyree Smith 0-0 0-0 0;
Jonah Holloway 0-1 0-0 0; Korey Canton 0-3 0-0 0. Totals 26-62 9-22 69.
Newark……………………   12   11   11    6  –   40
Greece Odyssey…………….   24   16   13   16  –   69
3-point goals–Newark 3-17 (Mason VanDeMortel 1-7; Kyle Martinez 1-2; Jayden
Peters 1-7; Josh Green 0-1), Greece Odyssey 8-23 (Jaden Hartsfield 3-9;
Travon Harper 2-6; Ray Colbert 1-1; Presten Mathis 1-1; Luke Schneider 1-1;
Kadeem Walker 0-1; Korey Canton 0-3; Romell Griffin 0-1). Fouled
out–Newark-None, Greece Odyssey-None. Rebounds–Newark 33 (Jayden Peters
9), Greece Odyssey 40 (Aric Williams 9). Assists–Newark 10 (Kyle Martinez
2; Mason VanDeMortel 2; Devin Agosto 2), Greece Odyssey 15 (Travon Harper
4). Total fouls–Newark 15, Greece Odyssey 11. Technical fouls–Newark-None,
Greece Odyssey-None. A-700