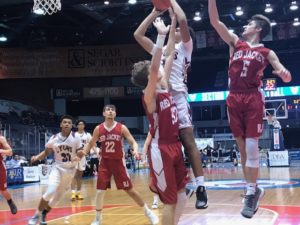 By PAUL GOTHAM
ROCHESTER, N.Y. – Dean Schott II made sure his Lyons Lions used a familiarity with the surroundings to their advantage.
When the first-year coach and his team prepared for Friday's Class C2 final at the Blue Cross Arena, he reminded them of last year's appearance at The Big House.
The experience proved valuable.
Tournament MVP Justice Smith finished with a game-high 30 points including a trio of 3-pointers in the game's opening four possessions as the No.1 seed Lions (21-2) sprinted to an early double-digit lead and went on to beat Red Jacket, 78-66.
"We talked about how none of the Red Jacket players had been here before," Schott said of the conversations leading up the championship game. "All my guys have at least shot here. They may not have played last year, but they warmed up. They've shot here before. It shouldn't be a problem, and it wasn't."
No one responded more than Smith who connected on 5-of-11 attempts from 3-point land. The 6-foot-6 guard pulled up from the top of the key in the game's opening possession. After teammate David Weaver connected from the right side of the floor. Smith followed with two more treys to give the reigning champs an 12-5 advantage.
Justice Smith keeps rolling with his 4th triple of the night. @AthleticsLY leads 55-41. pic.twitter.com/gwdtXhOISP

— Paul Gotham (@PickinSplinters) March 2, 2019
Nine possessions later, Ahmir James came off the bench and found the measure from the right corner. Lyons had its first double-digit lead of the night at 22-11.
The Lions shot 9-of-23 from long range for the night.
"We worked a lot on our shooting in practice," the senior remarked. "We came out hot. We cooled down a little bit, but we got hot again. We just need to keep shooting. That's how we won the game."
Smith finished with game-highs of 16 rebounds and seven assists. He collected six steals and two blocks as well as shooting 12 of 25 from the floor.
"It feels great," Smith said of the championship. "Knowing it's my senior year and going out on the right note. It feels good to be back-to-back sectional champ."
"At this level, he's basically unstoppable," Schott said of his star. "He's an amazing talent. One of the best players I've seen at this level, and I've been around for a while."
Coming off an impressive win over No. 2 seed Alexander in the semifinals, Red Jacket did not go away easily.
Chase Rizzo led four Indians in double digits with 20 points. The junior forward connected on 10-of-19 from the floor. Matt Record added 17. Mason Pollot hit 4-of-8 from long range and had 14 points. Travis Hill chipped in 10.
.@AthleticsLY vs. @RJathletics game highlight: Indians leading scorer Chase Rizzo catches airball and finishes putback layup. @PickinSplinters pic.twitter.com/Gty3ZYc6VB

— John Mitchell Likanje Junior (@jml5798) March 2, 2019

"Red Jacket played very well," Schott said. "They gave us all we could handle. I'm glad we won, but we didn't play our best basketball. We got to play better, but it's a sectional title so I'm happy for the kids."
Justin Smith connected on 8-of-15 shots to contribute 19 points to the Lyons offense.
Justin Smith sticks with it and gets the bucket and-one for @AthleticsLY pic.twitter.com/crooRqj6Zg

— John Mitchell Likanje Junior (@jml5798) March 2, 2019

Lyons advances to Class C1 champ C. G. Finney in Monday's sub-regional. The winner advances to the Far West Regional qualifier to play Class C3 champ Caledonia-Mumford.
RED JACKET (17-6)
Chase Rizzo 10-19 0-0 20; Matt Record 4-19 7-7 17; Mason Pollot 5-10 0-0 14;
Travis Hill 4-7 2-2 10; Adam Borst 1-3 2-3 4; Andrew DaMore 0-5 1-2 1;
Hunter Williams 0-1 0-0 0; Jeremy Lombard 0-0 0-0 0. Totals 24-64 12-14 66.
LYONS (21-2)
Justice Smith 12-25 1-4 30; Justin Smith 8-15 3-4 19; David Weaver 3-7 0-0
9; Aaron Romero 3-7 2-3 8; Benji Kemp 3-5 0-0 6; Horace Betts 0-2 3-4 3;
Ahmir James 1-5 0-0 3; Hunter Bastian 0-1 0-0 0. Totals 30-67 9-15 78.
Red Jacket………………..   16   14   20   16  –   66
Lyons…………………….   24   20   20   14  –   78
3-point goals–Red Jacket 6-21 (Mason Pollot 4-8; Matt Record 2-10; Adam
Borst 0-1; Hunter Williams 0-1; Chase Rizzo 0-1), Lyons 9-23 (Justice Smith
5-11; David Weaver 3-7; Ahmir James 1-3; Horace Betts 0-1; Hunter Bastian
0-1). Fouled out–Red Jacket-Travis Hill, Lyons-None. Rebounds–Red Jacket
37 (Chase Rizzo 9; Matt Record 9), Lyons 38 (Justice Smith 16). Assists–Red
Jacket 15 (Adam Borst 6), Lyons 15 (Justice Smith 7). Total fouls–Red
Jacket 12, Lyons 18. Technical fouls–Red Jacket-None, Lyons-None. A-1300