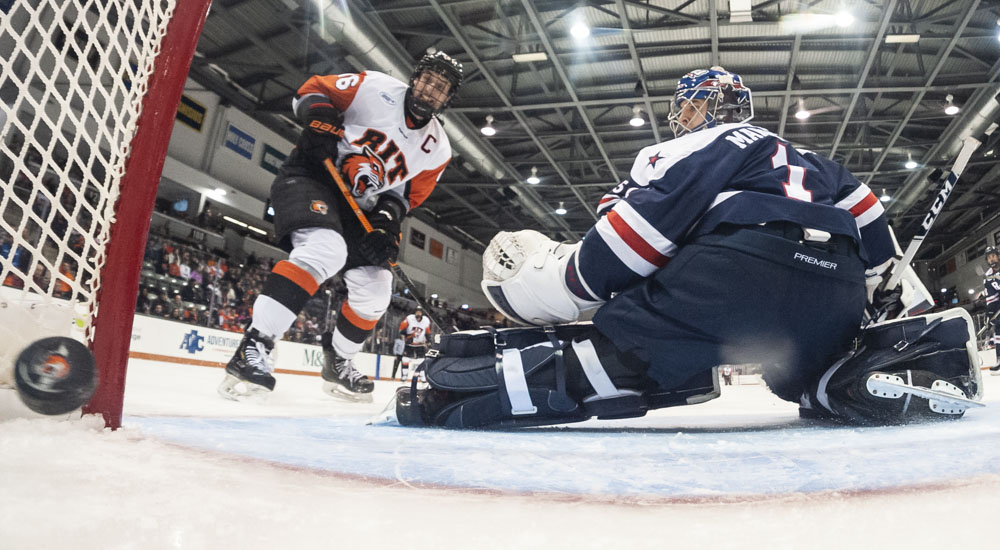 By KEVIN OKLOBZIJA
A year ago, Erik Brown was a horse in front of the opposing net, the immovable Clydesdale who made scoring goals look easy.
He scored 30 goals, second-most in the nation.
This year, Brown has still been that disruptive-to-a-defense, down-low focal point of the Rochester Institute of Technology power play.
Pucks, however, just haven't gone in at the same rate. Deflections now hit shin pads instead of twine; goalie gloves instead of back of net. Goal posts ping instead of goal horns sounding.
Oh, the senior power forward still has 15 goals in 30 games for the Tigers, which is an admirable total. It's just what the number could be if the same bounces from last year had gone his way this season.
But maybe the puck luck is changing for RIT's ever-reliable co-captain. Brown scored a pair of power-play goals on Friday night, including the game-winner with 6:24 remaining, as the Tigers upended Robert Morris University 5-3 at the Gene Polisseni Center.
"I'm just trying to go out and do my job so we can have a run at home ice and have a run at a championship," he said after the Tigers improved to 13-9-3 in Atlantic Hockey (15-13-3 overall) and climbed into second place in an ever-so-tight conference.
His first goal was a textbook deflection, using his strength to establish position in the deep slot so he could steer home a perfect pass by Jake Hamacher to give the Tigers a 2-1 lead midway through the second period.
Kobe Walker's backhanded wrap-around goal 6:42 later sent RIT into the third period with a 3-1 lead, but the Colonials rallied to tie the score by the 11:21 mark.
Then, just 2:15 later, Brown scored again, not with any great shot or movement of his stick, but just by being in the right place.
Hamacher again made a sweet pass to the deep slot, this time for Abbott Girduckis, whose deflection was headed wide of the right post but struck Brown and caromed in.
He's had one or two of those hit-him-and-go-in goals this year, including one off the head. But the Tigers would like nothing more for him to start really heating up. Just three games remain in the regular season, and then it's playoff time.
"If I can get in front of the net, if I can get in front of the goalie, then good things can happen," said Brown, who had scored three goals in his past nine games.
This was a solid win for the Tigers, considering center Will Caverley was assessed an interference major and ejected at 13:02 of the first period after an open-ice collision with Daniel Mantenuto.
When left winger Andrew Petrucci suffered an injury to his right leg 9:36 into the second period, two-thirds of RIT's third line was out of the game.
That meant more ice time for key players, especially because the Tigers gave RMU 13 minutes of power-play time. Then again, the top unit with Brown, Girduckis and Ryan Kruper weren't complaining.
"Shortening the bench for them, they've probably been wanting that all season," Tigers coach Wayne Wilson said.
He did have a stern message for his team, however: Play smarter.
"We had a 3-1 lead, we have to be way better managing the puck at the blue line and not take so many penalties," Wilson said.