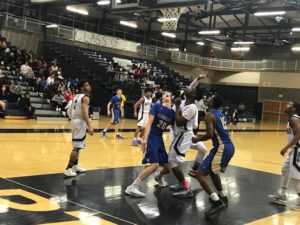 By PAUL GOTHAM
ROCHESTER, N.Y. — The last time the Gates-Chili boys' basketball team played at the Blue Cross Arena, Adam Williams was a student in the second grade. Friday night, the now sophomore scored 18 of his game-high 27 points in the first half, and the Spartans held off the Webster Schroeder Warriors for a 64-62 victory to clinch a spot in the Section V Class semifinals at The Big House.
"It feels great that we're going to have our (school) name on the tickets," Williams said of next Tuesday's contest. "The whole town is going to see that Gates-Chili made it to the Blue Cross."
With leading scorer Keith Slack struggling to find his rhythm, Williams took command hitting a pair of 3-pointers late in the second quarter to give G-C a 38-24 advantage going into halftime.
"He got hot," second-year coach Terry Nowden said. "He said (before the game) 'I'm a bucket.' I said 'you better go out there and get all the buckets you can right now because we have 32 full minutes to go.'"
Williams, a 6-foot-3 forward, connected seven times from the floor including four from 3-point land.
"I had an off game," Slack said. "I was complaining about some fouls that I shouldn't have. He was hitting, so we kept getting him the ball."
For Slack, who came into the game with 1,685 career points, advancing to next week's semifinal has special meaning.
"I've been dreaming about this since the ninth grade," the senior guard said. "We always fell short. It took me four years, but it's worth it. It's a really great feeling to be going there."
Averaging 24.2 points per game, Slack hit just three field goals on the night, but when they needed him most he threaded a pass to teammate Traylan McCray as the Spartans held off a late Schroeder surge.
Keith Slack finds Traylan McCray underneath for 2. @GCSpartan_Hoops last field goal in 64-62 win. Adam Williams led the Spartans with 27. JoJo Plummer had a career-high 31 for Schroeder pic.twitter.com/h8DdgoSzEv

— Paul Gotham (@PickinSplinters) February 23, 2019

JoJo Plummer scored 12 of his career-high 34 points in the fourth quarter as the Warriors nearly erased what was a 16-point deficit.
"Our coach told us in the locker room that if we don't start playing, they're going to come back," Slack said. "And they did.  We got to work on our defense in the second half. That was horrible."
Plummer paced a 10-2 Schroeder run late in the fourth to make it a one-possession game.
Trailing 57-46, sophomore Ky'Mere Meeks scored in the lane, Plummer followed with a rebound and putback before scoring again inside on the next trip down the floor.
After Slack converted a pair from the free throw line, Plummer scored on a drive from the free throw line and converted another putback to cut the deficit to three at 59-56. The margin was still three at 61-58 with less than a minute remaining in the contest.
JoJo Plummer tap in. 1:01 to go @GCSpartan_Hoops 59 @WebWarriorBball 56 Spartan ball. pic.twitter.com/L5iHK81BLy

— Paul Gotham (@PickinSplinters) February 23, 2019
"They had nothing to lose," Nowden said of Schroeder's comeback. In the second half, we got away from the blueprint. That's what really got me irritated. I understand what we were trying to do. I could see the intention, but it was not the blueprint."
Plummer converted two free throws with :12.5 remaining in the game.
Slack finished with 14 points. Mitchell Harris had 10 for the Spartans. Devin Walton had six. McCray, Tre Green and Andrew Newcombe chipped in two apiece. Jamari McCutchen added a free throw.
Meeks scored 12 points for Schroeder. Luke Insley added eight. Collin Donelly had four points. James Knox and Colin Merkey scored two apiece.
No. 2 seed Gates (18-3) advances to play No. 3 McQuaid in the semifinals.
"I told them 'I'm not happy with this win because you play like that in the Big House, you're going down," Nowden stated. "You got some powerhouses coming in. If you don't follow the blueprint, you're going to lose."
The last time the Spartans appeared at the BCA was the 2011 Class AA1 championship game. Mandell Thomas and Rush-Henrietta outlasted G-C, 55-49. Gerald Beverly and Jimmy Gutowski earned All-Tournament honors for the Spartans that year.