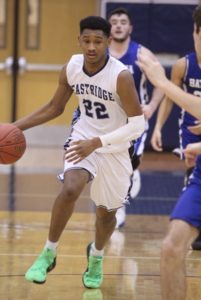 GREECE ARCADIA (1-19) 57
PITTSFORD MENDON (20-0) 89
Daniel Cook posted his 19th double-double of the season and paced three in double figures to lead Mendon (No. 3 NYSSWA Class A). Cook connected 10 times from the floor and finished with 20 points. The senior forward grabbed 14 rebounds. Michael Harrington added 14 points while Connor Krapf had 11 points and seven rebounds. Sophomore guard Jacob Shadders collected six points and seven assists. Charlie Bennett, Tommy Birmingham and Nate Strauf also scored six points apiece for the Vikings. Evan Caufield paced Greece Arcadia with 13 points. Other scorers: Mendon – Kevin Keneally (7), Isaiah Cotton (3), William Orzell (7), Kyle Hennesey (1) and  Caleb Arena (2). Arcadia – Cooper LaValley (5), Anthony Stephenson (7), Elijah Barnard (8), Adam Hurlbutt (3), Sean Crowell (4), Evan Insley (2), Travers MacNeal (8), Kyle Blum (5) and Casey Amato (2).
PENFIELD (5-15) 49
VICTOR (5-15) 55
Matt Caggiano and Connor Williams combined for 16 points during the second quarter when Victor outscored Penfield, 24-15 to take a double-digit lead into halftime. Caggiano converted 12 of 14 free throws and finished with a game-high 15 points. Williams added 10. Tyler Buddendeck connected twice from behind the 3-point arc for six points. Jeremy Summerson and Will Tehan also had six points apiece for the Blue Devils. Ryan Novy led Penfield with 11 points. RJ Wilkins had 10 for the Patriots. Other scorers: Penfield – RJ Green (2), Patrick Piampiano (8), Ty Salmon (9), Ryan Wensley (3) and Dan Vercruysse (6). Victor – Chase Dickens (3), Jaxen Roth (4), Mark Leonardo (2) and Phil Nwugwo (3).
RUSH-HENRIETTA (10-10) 59
WEBSTER SCHROEDER (9-11) 71
JoJo Plummer scored 14 of his season-high 31 points in the fourth quarter as Webster Schroeder erased a halftime deficit to close the regular season with back-to-back wins. Plummer converted on 10 of 11 free throw attempts including on all six of his charity tosses in the fourth quarter. Luke Insley added 19 points for the Warriors which trailed 29-26 going into the break.  Josh Hauman and James Knox added six apiece for Schroeder. Ky'mere Meeks (5), Collin Donnelly (2) and Colin Merkey (2) rounded out the scoring for Schroeder. R-H's Javonte Williams connected five times from 3-point land to pace the Royal Comets with 23 points. Eddie Beverly had 11 and Tim Jackson 1o points. Charles Bowden chipped in nine points and Francisco Lawson six for R-H.
CHURCHVILLE-CHILI (10-10) 59
GATES-CHILI (17-3) 72
Sophomore Adam Williams scored 19 points, and senior Keith Slack added 18 as Gates-Chili clinched the Monroe County Division II title. Williams grabbed nine rebounds, and Slack handed out five assists. Andrew Newcombe had nine points and five blocks. Devin Walton collected eight points, six steals and four assists. Jamari McCutchen chipped in eight points for the Spartans. Griffen Stella paced Churchville with 16 points. Kamerin Poromon and Marcellus James added 11 apiece for the Saints. Terrance Wilson had nine points.
CANANDAIGUA (1-19) 32
IRONDEQUOIT (13-6) 70
A dozen different players scored for Irondequoit which led 20-8 after the first eight minutes. Connor Shafer and Josh Stenglein led the Eagles with nine points apiece. Keenan Robertson added eight points. Freddie June, Jr. and Patrick Thomas both scored seven. Jack Brennan (5), Keegan Vankerkhove (5), Kenny Gonzalez (5), Grayson Smith (5), McGuire Craig (4), Nick Leonardo (3) and Josh Rizzo (3) rounded out the scoring for Irondequoit. Chris Kurowski paced Canandaigua with 12 points. Ryan Welch added eight. Casey Herod, Andrew Boseck and Nick Natale chipped in three points apiece for the Braves. Ambrose Carey had two points, and Mitch Pfeiffer converted a free throw.
BROCKPORT (10-10) 51
BRIGHTON (4-16) 44
Sam Velletri converted 10 of 11 free throws while Shamar Lee connected on nine of 10 from the stripe to pace Brockport which won for the third time in four games. Lee finished with 19 points, and Velletri had 14 for the Blue Devils which outscored Brighton 33-22 in the second half. Willie Ball added six points for Brockport. Kevin Lorenz had four. Troy Leibert and Kevin Lawrenz chipped in three apiece. Ishmael Hannah chipped in two points. Jack Falter and Nate Sponsel led Brighton with 10 points apiece. Najeeb Awad scored nine for the Barons while Matt Falter had seven, Nathan Martin six and Chase Seibold two points.
WEBSTER THOMAS (10-10) 45
SPENCERPORT (5-15) 34
Tyler Williams led Thomas with 15 points, including eight in the final stanza when the Titans outscored Spencerport, 15-6. Andrew Mason added 10 points for Thomas while Dannie Palmer and eight.  Stephen Katz (6), Nick Linder (4) and Garrett Reaves (2) rounded out the scoring for the Titans. Spencerport sophomores Patrick Uebelacker and Cartier Jefferson paced the Rangers with eight and seven points, respectively.  Gino Pellett had six points, Nick Thibeau added five. Trey Kubitz and Ben Reding scored three points apiece while  Mike Contestable had two points.
GREECE ODYSSEY (17-3) 72
GREECE OLYMPIA (11-9) 68
Korey Canton connected three times from 3-point land and scored 11 points during the fourth quarter when Odyssey rallied to the Maiden Lane series sweep. Canton hit five 3-pointers overall and finished with a season-high 19 points. Presten Mathis scored 14 while Aric Williams and Travon Harper added 10 apiece for the Leopards which trailed by 12 after the first quarter and as many as 17 points in third quarter. Olympia had upset on their mind opening up to 21-9 lead after the first quarter Jeff Jung, Jr. paced the Spartans with 12 of his game-high 30 points in the first quarter. Jaden Hartsfield (8), Dylan Kolmelz (7) and Ray Colbert (3) rounded out the Olympia scoring. . Olympia's Collin James posted his 17th double-double of the season with 17 points and 17 rebounds. Darnell Williams collected 10 points, five rebounds and five assists. Makyle Murdock (6) and Ehnoc Tossah (5) rounded out the Olympia offense. Odyssey took the first meeting between the Monroe County Division IV rivals by a 79-54 score. 
BATAVIA (10-10) 49
EASTRIDGE (11-8) 55
Jahmel Demery connected three times from the floor for six of his team-high 14 points in the third quarter when Eastridge outscored Batavia, 22-3. Jalen Rose-Hannah scored eight of his 10 points in the decisive stanza. Tony Arnold added 12 pints for the Lancers which avenged an earlier defeat to their Monroe County Division IV rivals. Batavia's Mason McFollins scored 11 of his game-high 28 points in the fourth quarter, but a Blue Devils' rally fell short. McFollins connected five times from 3-point land for the night. Camden White added nine points for Batavia. Other scorers: Batavia – Andrew Francis (6), Luke Grammatico (3), Zach Gilebarto (2) and Bryce Reigle (1). Eastridge –  Davahn Velazquez (6), Terrence Reid (4), Taleb Kinlock (3), Jaden Keech (3), Koby Jones (2) and Adrian Rodgers (1).
HILTON (17-3) 58
FAIRPORT (14-6) 57
With 7.3 seconds remaining, Tah'Jae Hill inbounded the ball. The junior guard received the rock back from Noah Malta and dribbled across the floor. Hill sized up his defender, took a stutter step to his left and flicked a shot from 25 feet toward the basket. READ MORE.
GREECE ATHENA (17-3) 64
PITTSFORD SUTHERLAND (12-8) 35
BISHOP KEARNEY (7-12) 60
CANISIUS (VI) 77
Kidtrell Blocker connected on five 3-pointers and converted 6-of-8 from the free throw line to lead Bishop Kearney. Miles Monchecourt added 19. Deiontray Dixon and Michael Gentile scored four apiece while Jamal Williams had three and Antwan Williams two points for the Kings.
ROCHESTER ACADEMY (8-12) 37
VERTUS (1-19) 50
GANANDA (18-2) 73
EAST ROCHESTER (13-7) 59
Tim McClare scored 18 of his game-high 22 points in the second half when Gananda broke open a tie game. The senior guard and Canisius College baseball commit connected 10 times from the floor and converted on the only two free throw attempts he had in the game. Jayden Castrechini and Andrew Gabbard added 17 points apiece for the Blue Panthers. The trio combined for 16 points in the third quarter when Gananda outscored ER, 19-12. Jerry Brongo had nine points while Zach Dier (5) and Kole Wright (3) rounded out the scoring for Gananda. Allen Otero led ER with 18 points. Corwyn Cleveland had 10. Chuck Domm scored eight for the Bombers while Alex Rans (7), David Warren (7), Russel Domm (2), Austin Mack (4) and Brandon Gray (3) rounded out the scoring for East Rochester.
WAYNE (17-3) 69
NEWARK (15-4) 63
Mason VanDeMortel scored 34 points and grabbed 10 rebounds to help Newark avenge an earlier defeat. Josh Green and Jayden Peters added 10 points apiece for the Reds who trailed 46-44 after three quarters. Devin Agosto scored six points for Newark. Kyle Martinez had five while Nick Bernardi and Adian Elliott scored two apiece. Wayne's Logan Blankenberg led four in double figures with 24 points. Nick Carmichael had 11 while Billy Thomson and Logan Holgado scored 10 apiece for the Eagles. Max LaRocco and Jaiden Burlee both scored four points for Wayne which took the earlier meeting between the Finger Lakes East rivals, 61-55.
WATERLOO (13-7) 71
MIDLAKES (6-14) 65
WHEATLAND-CHILI (0-20) 32
CALEDONIA-MUMFORD (19-1) 81
Joe Laursen scored 17 points and grabbed six rebounds to lead Cal-Mum (No. 10 NYSSWA Class C) to its eighth straight win. Eric Wilson collected q4 points, six rebounds and six steals. Vin Molisani chipped in 12 points and six assists. Aaron Lund led Wheatland-Chili with 10 points. Jordan Richards had seven.
RED JACKET (15-5) 62
NAPLES (12-8) 43
Matt Record scored 22 second-half points to lead Red Jacket. Record accounted for nine points in the third quarter to help Red Jacket extend a three-point halftime lead to a 12.  Chase Rizzo had 17 points.  Travis Hill chipped in with eight.  Adam Borst directed the offense and scored seven points. Cole Rathbun led the Naples with 13 points. Adam Quarterman had eight. Nick Clearman and Ben Green scored six apiece. Nick Green chipped in five points.
DUNDEE (0-20) 39
HONEOYE (7-13) 74
Senior Tyler Rudolph scored 19 points and grabbed 10 rebounds recording his 18th double-double of the season to lead Honeoye. Junior Dom Trippi scored 11 of his 18 points in the first half to go with six rebounds and six assists. Senior Joe Morsheimer had a career-high nine points and added six rebounds for the Bulldogs. Sophomore Jake Jarosinski chipped in with 10 points. Sophomore Jack Reynolds paced Dundee with 14 points, seven rebounds, five assists and six steals. Michal Hand buried three 3-pointers while Austin Gibson added nine points including a half-court buzzer beater and 10 rebounds.
MARCUS WHITMAN (18-2) 44
HARLEY ALLENDALE COLUMBIA (9-11) 38
Liam Prendergast led Marcus Whitman (No. 15 NYSSWA Class C) with 10 points. Jon Donovan and Ryan Herod scored nine apiece while Seth Benedict and six. Aidan Royston (4), Noah Hildreth (3), and Jordan Lahue (3) rounded out for the Wildcats. Owen Tindall scored 13 for HAC. Ryan Hilton had 10 with Noah Mendola (6), Max Brown (5) and Aiden Keulling (4) also contributing to the offense.
SOUTH SENECA (5-15) 81
ROMULUS (7-13) 68
Nick Houck connected five times from 3-point land and led four in double figures as south Seneca won back-to-back games to close the regular season. Hock scored 19w while Matt Kenyon added 18 for the Falcons. Nate Knowles had 17 and Anthony Reff 16. Jeremy Williamson (9) and Jack Mott (6) contributed to the offense.Spencer John paced Romulus with a game-high 23 pints. Max Mapstone added 19. Camden Derby scored nine and Hunter Hanson had eight for the Warriors. Mike Kaufman (3), Jared Fletcher (4) and Eric Jensen (2) rounded out the scoring.
CUBA-RUSHFORD (7-10) 18
LEROY (12-8) 40
BATAVIA-NOTRE DAME (11-9) 69
KENDALL (8-12) 46
LETCHWORTH (3-17) 46
WARSAW (6-14) 50
DANSVILLE (7-13) 24
HORNELL (13-6) 60
ATTICA (12-8) 47
PEMBROKE (10-10) 50
BYRON BERGEN (6-13) 48
OAKFIELD-ALABAMA (11-9) 60
MARION (2-17) 42
LYONS (17-2) 99
RED CREEK (5-15) 30
SODUS (10-10) 50
WILLIAMSON (7-13) 54
NORTH ROSE-WOLCOTT (4-15) 57