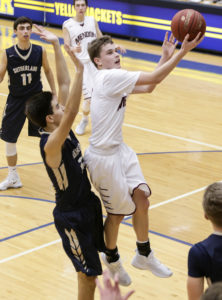 By CAITLIN McCLARE 
Tah'Jae Hill continued his season-long double-figure streak in three Hilton wins. Ryan Welch led Canandaigua's offense to its first win of the season. Jacob Shadders paced Pittsford Mendon to its 18th straight win. Patrick Lustyk contributed big and hit key shots in Honeoye Falls-Lima's three games.
Monroe County recognized the four stand outs as the players of the week (Feb. 3-9) for their respective divisions.
For the third time this year, Hill holds the Player of the Week honors for Division I. This time, Hill combined for 73 points in three wins. Against Arcadia, the junior guard scored 17 points, warming up for two more big nights. In the 58-49 win at Penfield, Hill dropped 34 points. 18 of those points fell in the fourth quarter, including connecting on eight of his 10 attempts at the stripe in the final eight minutes. His 34 points marked the 12th time he topped 30 this season. And, for his final performance last week, Hill scored 22 points in Hilton's 65-29 win at Sweet Home (VI). In the first quarter alone, he connected on three shots from behind the arc on his way to 12 points in eight minutes. Hill has yet to fall below double-figures in a game this season. Hilton (15-3) plays its last regular season home game against Victor on Tuesday, Feb. 12.
VIEW MORE CHRISTOPHER CECERE PHOTOS HERE.
Welch totaled 46 points and 21 rebounds for Canandaigua in a split week. The junior center opened the week with 21 points in a loss to Greece Odyssey. Setting his season high against Odyssey, Welch came back to one-up himself against Churchville-Chili. He scored 25 to lead Canandaigua to its first win and rewrite his season high. In the 75-74 win, he scored 17 of his 25 points in the first half and sank seven of his nine attempts at the line. The Braves (1-17) are home for the final time in the regular season on Tuesday, Feb. 12 to face Spencerport.
Mendon continued its undefeated season, sitting at 18-0 after three wins last week. Shadders contributed big to those three wins. Against Greece Athena (83-57), the sophomore guard scored 16 points, dished seven assists, grabbed five boards, and two steals. He connected on six of his eight shots from field goal range, dropped one trey, and went three-for-four from the stripe. READ MORE. Against Fairport (66-58), Shadders dropped 21 points on eight field goals, four three-pointers, and one free throw. To wrap up his impressive week, he shot 50 percent from the field on his way to 16 points against Wilson Magnet (70-34). He also recorded six assists, six rebounds, and two steals. The Vikings travel to Brockport for a 7:15 p.m. tip on Tuesday, Feb. 12.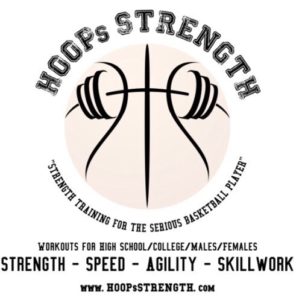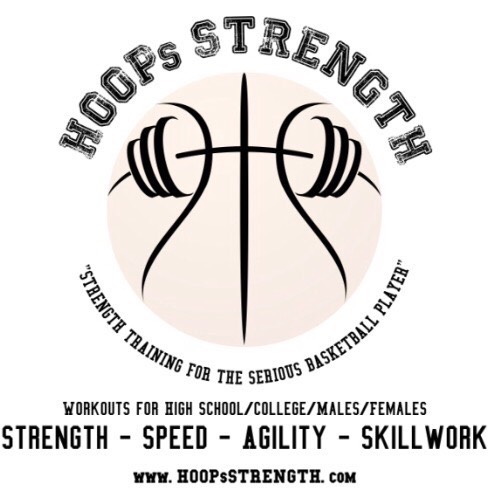 Lustyk rewrote his season high in both HF-L wins last week. In the Cougars' 62-56 win at Batavia, Lustyk scored 22 points. The sophomore was then able to drop in one more to surpass that season high against Wayne. In the 65-61 win, he scored the team-high 23 points, including the game-tying trey with under a minute left to play. Two shots at the line in the final seconds sealed the win for HF-L. READ MORE. Between the two wins, Lustyk scored 11 points in the Cougars' 52-45 loss at Greece Olympia. HF-L (9-9) is scheduled to face Eastridge at home on Tuesday, Feb. 12.
| | | | | | | | | | |
| --- | --- | --- | --- | --- | --- | --- | --- | --- | --- |
|   |   | |   | Overall |   |   |   |   |   |
| Monroe County I | CL | Win | Loss | Win | Loss | PF Avg | PA Avg | Strk | GP |
| Hilton | AA | 8 | 0 | 15 | 3 | 69.00 | 55.67 | W4 | 18 |
| Fairport | AA | 7 | 1 | 13 | 5 | 64.72 | 55.94 | W1 | 18 |
| Rush-Henrietta | AA | 5 | 3 | 10 | 8 | 56.67 | 60.50 | W2 | 18 |
| Webster Schroeder | AA | 3 | 5 | 7 | 11 | 59.72 | 62.78 | L4 | 18 |
| Victor | AA | 1 | 7 | 4 | 14 | 56.72 | 65.06 | L4 | 18 |
| Penfield | AA | 0 | 8 | 5 | 13 | 55.22 | 58.39 | L3 | 18 |
| | | | |
| --- | --- | --- | --- |
| Scoring Leaders | School | Grade | PPG |
| Hill, T. | Hilton | Jr. | 31.6 |
| Piampiano, P. | Penfield | Sr. | 19.3 |
| Insley, L. | Schroeder | So. | 15.7 |
| Plummer, J. | Schroeder | Jr. | 15.3 |
| Caggiano, M. | Victor | Jr. | 15.2 |
| | | | | | | | | | |
| --- | --- | --- | --- | --- | --- | --- | --- | --- | --- |
|   |   | |   | Overall |   |   |   |   |   |
| Monroe County II | CL | Win | Loss | Win | Loss | PF Avg | PA Avg | Strk | GP |
| Gates-Chili | AA | 7 | 1 | 15 | 3 | 67.89 | 60.50 | W1 | 18 |
| Irondequoit | A1 | 6 | 2 | 12 | 5 | 65.06 | 51.06 | L1 | 17 |
| Webster Thomas | AA | 5 | 3 | 9 | 9 | 58.89 | 60.11 | L1 | 18 |
| Churchville-Chili | A1 | 4 | 4 | 9 | 9 | 64.28 | 62.67 | L1 | 18 |
| Spencerport | A1 | 1 | 7 | 4 | 14 | 51.72 | 60.33 | L7 | 18 |
| Canandaigua | A1 | 1 | 7 | 1 | 17 | 53.06 | 71.83 | W1 | 18 |
| | | | |
| --- | --- | --- | --- |
| Scoring Leaders | School | Grade | PPG |
| Slack, K. | G-C | Sr. | 24.1 |
| Mason, A. | Thomas | Jr. | 24 |
| Williams, A. | G-C | So. | 15.1 |
| Kurowski, C. | CA | Sr. | 14.7 |
| Thomas, P. | Iron. | Sr. | 14.5 |
| | | | | | | | | | |
| --- | --- | --- | --- | --- | --- | --- | --- | --- | --- |
|   |   | |   | Overall |   |   |   |   |   |
| Monroe County III | CL | Win | Loss | Win | Loss | PF Avg | PA Avg | Strk | GP |
| Pittsford-Mendon | A1 | 8 | 0 | 18 | 0 | 81.33 | 53.72 | W18 | 18 |
| Greece Athena | A1 | 6 | 2 | 15 | 3 | 65.67 | 55.39 | L1 | 18 |
| Pittsford Sutherland | A2 | 4 | 4 | 11 | 7 | 63.39 | 54.06 | W3 | 18 |
| Brockport | A1 | 4 | 4 | 9 | 9 | 61.94 | 62.17 | W2 | 18 |
| Brighton | A1 | 2 | 6 | 4 | 14 | 53.67 | 63.83 | L7 | 18 |
| Greece Arcadia | A1 | 0 | 8 | 1 | 17 | 45.11 | 71.22 | L4 | 18 |
| | | | |
| --- | --- | --- | --- |
|   |   |   |   |
| Scoring Leaders | School | Grade | PPG |
| Ryan, K. | Sutherland | Sr. | 20 |
| Council, Jr. M. | Athena | Jr. | 19.5 |
| Cook, D. | Mendon | Sr. | 19 |
| Harrington, M. | Mendon | Sr. | 18.7 |
| Reaves, Jr. K. | Athena | Sr. | 16.9 |
| | | | | | | | | | |
| --- | --- | --- | --- | --- | --- | --- | --- | --- | --- |
|   |   | |   | Overall |   |   |   |   |   |
| Monroe County IV | CL | Win | Loss | Win | Loss | PF Avg | PA Avg | Strk | GP |
| Greece Odyssey | B1 | 5 | 1 | 14 | 3 | 70.41 | 55.94 | W2 | 17 |
| Eastridge | A1 | 3 | 3 | 10 | 8 | 65.22 | 61.94 | W1 | 18 |
| Honeoye Falls-Lima | A2 | 3 | 3 | 9 | 9 | 54.50 | 58.61 | W1 | 18 |
| Greece Olympia | B1 | 2 | 4 | 11 | 7 | 69.72 | 62.94 | W5 | 18 |
| Batavia | B1 | 2 | 4 | 8 | 9 | 56.59 | 55.83 | L2 | 17 |
| | | | |
| --- | --- | --- | --- |
| Scoring Leaders | School | Grade | PPG |
| McFollins, M. | Batavia | Sr. | 21.6 |
| Jung, Jr. J. | Olympia | Sr. | 21.3 |
| James, C. | Olympia | So. | 18.4 |
| Hartsfield, J. | Odyssey | Jr. | 15.9 |
| Chamberlain, T. | HF-L | Sr. | 15.1 |