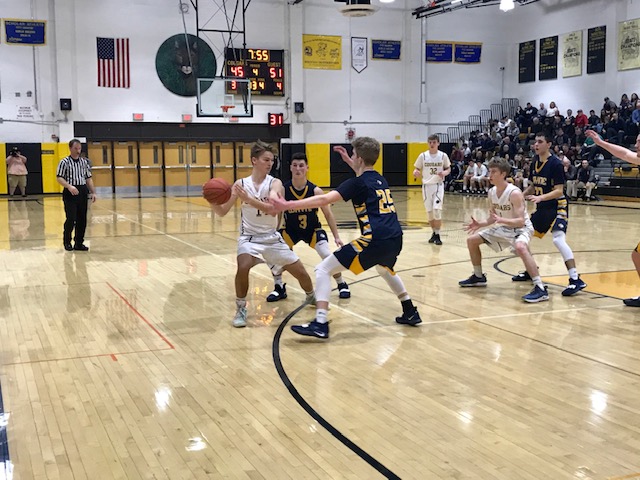 By PAUL GOTHAM
HONEOYE FALLS, N.Y. — Hayden Smith rediscovered his shooting touch just in time. The Honeoye Falls-Lima junior connected three times from long range in the Cougars win over divisional rival Batavia earlier this week, but couldn't find the measure in Friday's loss to Greece Olympia. That trend continued for nearly 30 minutes Saturday night.
Then came winning time and Smith delivered twice from 3-point land.
"The first one I caught it, and it was the first one I made in while," Smith said after HF-L's 65-61 win over Wayne. "When I released it, I knew it was going in. The second one I had to pick it up from a bad angle. That one felt great when I let it go."
Part of an overall effort which saw HF-L connect 11 times behind the 3-point arc, Smith's triples capped an 11-1 run to close the game.
With less than 2:30 remaining in the game, the 6-foot-2 guard's first trey cut a six-point deficit in half. His second, coming out of a timeout, proved to be the game winner.
"It feels great," Smith said of the win. "We wanted it. We all work hard for this. It feels great when we can all celebrate it at the end."
Smith's corner three for the win started in the middle of the floor where teammate Trevor Chamberlain worked the ball into the teeth of Wayne's 2-3 zone defense.
Hayden SMITH connects on his first of two late triples. This one cut a 6-point deficit in half. Smith's second trey, 2 possessions proved to be the game winner. @HFLCSDAthletics 65 Wayne 61 pic.twitter.com/cA2wMHZrgQ— Paul Gotham (@PickinSplinters) February 10, 2019
"Trevor went through three guys and he found me," Smith noted. "I thought it was going to get tipped. It did, but it still made its way to me."
Chamberlain never doubted his teammate.
"I knew it was going in," the senior guard commented. "When we came out of the timeout, I said 'trust each other. We're going to make the right play.' That's what happened."
"We stayed with what we were trying to do," HF-L head coach Kevin Neenan said. "We were trying to get the ball to the baseline or get it to the middle. When we got it there, we had shooters on the wings. We trust our shooters."
The assist was one of eight Chamberlain had on the night – the bulk of which came from in the paint.
"It was just us moving the ball on the outside," Chamberlain said of HF-L's efforts on offense. We had to swing it a couple times. It wasn't always right on the first pass. Then we got it in and I just picked my head up and my teammates were open and I threw it to them. I trust them."

Sandwiched by Smith's pair of trifecta, sophomore Patrick Lustyk knotted the game with his fifth 3-ball of the night.
"We had a gameplan to get it in the middle and kick it out," Lustyk noted. "We executed and it worked out well.
"If you get the ball in the middle of the zone, it just opens everything up because it draws the defense. Then you can make plays. You can either go strong in the lane and get free throws, or it opens it up for shooters."
Patrick Lustyk knots the game with a triple. 56.0 to go @WCSD_Athletics 60 @HFLCSDAthletics 60 pic.twitter.com/szoiVRY3kj— Paul Gotham (@PickinSplinters) February 10, 2019
The win was the fourth in five games for HF-L (9-9) which not too long was mired in a seven-game losing skid.
"We're young this year," Neenan stated. "We lost nine seniors. We're trying to get the kids to keep hanging in there.
"We've been talking we've got to punch back to a certain degree. We got to counter their runs, and I thought the kids did a great job."
Lustyk iced the game converting a pair of one-and-one free throws with 5.4 seconds on the clock. He finished with team and a season-high 23 points.
"He hit huge threes for us," Neenan said of Lustyk. "Just kept us in it. He goes to the line at the end of the game. He wants the ball. It's to have the confidence he's got right now."
Chamberlain added 17 points. Derek Childs scored 12. Josh Vogt, like Smith, hit a pair of 3-pointers and chipped in with six points. Jack Emerson converted a free throw.
Billy Thomson connected on three 3-pointers and converted two free throws in the third quarter when Wayne erased a seven-point deficit and went on to take a 51-46 lead heading into the fourth quarter.
Logan Blankenberg and Logan Holgado running the break. End 3rd: @WCSD_Athletics 51 @HFLCSDAthletics 46 pic.twitter.com/6w1Hg8B4yo

— Paul Gotham (@PickinSplinters) February 10, 2019
Nick Carmichael paced Wayne with 23 points. Logan Blankenberg added 12 points. Jaiden Burlee scored six points. Logan Holgado had five.
The loss snapped a nine-game Wayne (15-3) winning streak.