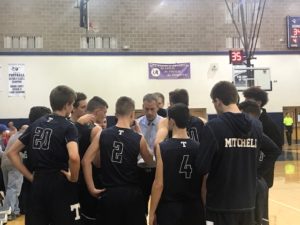 WILSON MAGNET (6-11) 34
PITTSFORD MENDON (16-0) 70
A 20-2 first quarter set the tone immediately as Pittsford Mendon's (No. 3 NYSSWA Class A/No. 1 PS LS Poll) powerful attack (83.0 ppg) got to work, with three players scoring in double-digits. Monroe County III top five scorers Daniel Cook (19.7 ppg) and Michael Harrington (18.9 ppg) put in 16 and 14 points respectively. Cook had more rebounds (18) than points in his 15th double-double of the season. Jacob Shadders also scored 16 points, which included two 3-pointers, to go along with six rebounds and six assists. Harrington also hit a pair from beyond the arc. Nate Strauf added six points, Connor Krapf had five, while Caleb Arena contributed four. William Orzell knocked down a three, with Isaiah Cotton, Tommy Birmingham and Charles Bennett all finished with two points apiece for Mendon. Brennan Clark paced all Wilson Magnet players with 12 points. Christian Harmon put in six points and Tory Bradley had five. RCAC Upper top five scorer Robert Davis (19.4 ppg) only struck once, from three. Four players scored two points (Desi Floyd, Malikk Johnson, Latief Holmes and Rashi Smith-James) to round out the scoring for Wilson Magnet. 
GENESEO (8-9) 46
SCHOOL OF THE ARTS (12-4) 57
Ke'vion Mitchell forced a turnover at half-court. Instinctively, the School of the Arts (SOTA) guard fired a one-handed diagonal bounce pass that caught teammate Reggie Smith in full stride 25 feet ahead. Without hesitation, Smith shuttled the rock across the lane to Logan Hayes for an easy layup. Read More. 

EDISON TECH (1-17) 47
IRONDEQUOIT (11-4) 57
Keenan Robertson and Patrick Thomas combined for nine third-quarter points as Irondequoit erased a three-point halftime deficit to take a 37-33 lead into the fourth quarter. Robertson finished the game with 10 points while Thomas scored a team-high 13 in his return to the lineup after missing four games due to an injury. Luke Melidona added 11 points for the Eagles. Javonte McKnight scored four of his 13 points in the first quarter to help Edison Tech to a 10-4 first quarter lead. The Inventors Edgar Bass IV led all scorers with 14 points. Other scorers: Irondequoit – Josh Stenglein (10), Kenny Gonzalez (10) and Connor Shafer (3). Edison Tech – Torrean Lewis (5), Natnell Colbert (4), Nahjhime Kirton (4), Shaheem Elles (4) and Shaheem Fowlks (3).

SODUS (8-8) 58
EARLY COLLEGE (4-12) 62
Marquis Crawford scored 10 of his game-high 25 points in the first half when Early College grabbed a 30-24 lead and went on to win for the second time in three games. Crawford connected four times from 3-point land in the game.  Teammate Kemar McCloud chipped in with eight points in the first-half. Jaivan Ortiz paced Sodus with 17 points. Paul James added 16. Other scorers: Early College – Sam Jackson (13), Jaequon Nesmith (10), Jovan Sargeant (6) and Joe Williams (3). Sodus: John Molisani (9), Lonnie Logins (4), Amanti Jones (3), Marquese Burton (3), Marcelus Burton (3).
WEBSTER THOMAS (9-8) 51 
BROCKPORT (7-9) 47
Dannie Palmer and Tyler Williams combined for 12 first-half points to pace Webster Thomas to 20-13 lead going into the break. Williams finished with 12 points on the night. Andrew Mason converted 9-of-11 free throws, including eight in the final stanza, to lead the Titans with 13 points. As a team, Thomas connected on 22 of 30 from the charity stripe. Brockport hit eight of 14 from the free throw line. Brockport's Troy Liebert scored six of his team-high 10 points in the fourth quarter. Other scorers: Webster Thomas – Stephen Katz (8), Evan Mitchell (7), Palmer (7) and Nick Linder (4). Brockport: Sam Velletri (8), Ishmael Hannah (8), Shamar Lee (6), Esten Schalge (6) and Willie Ball (4).
BATAVIA (8-7) 64
VERTUS (0-16) 54
Mason McFollins put in 11 of Batavia's 19 third quarter points to create seperation from a Vertus team which refused to go away after falling behind 18-7 by the end of the first. The senior guard, who is second in Monroe County IV scoring (20.2 ppg), finished with 31 points (five 3-pointers), six rebounds and four assists. Camden White, who contributed six points in Batavia's strong first quarter, added on 11 total to go with his five rebounds. Caeden White sunk two from beyond the arc and Andrew Francis connected once from outside as both had 10 points and grabbed four boards. Francis dished out five assists while Caeden White had one helper. Zach Gilebarto hit both of his free throws to round out all Batavia scorers with two points. Gilebarto pulled down five rebounds and collected four assists as well. Amauri Smith led Vertus with 21 points with three makes from distance. The junior guard was one of five Vertus players to put up points in the second quarter as his squad narrowed the gap to four points by the half. Rashawn Williams finished eight points. Eric LeBrane and Jabez Thompson both added seven points. Xalen Lucas had six, Cesar Ostolaza scored three and Quanmay Early put in two to wrap up the scoring for Vertus.
DESTINY CHRISTIAN (0-9) 58
GANANDA (15-2) 99
In the first quarter, Castrechini finished an alley-oop layup off a back screen against a zone defense. With the bucket, the senior guard became the second player in program history to reach 1,000 career varsity points, joining Ted Yonker, who accomplished the feat in 2000 and finished with 1,012 career points. READ MORE.
ROCHESTER ACADEMY (7-10) 53
HARLEY-ALLENDALE-COLUMBIA (7-9) 49
Albert Tomlin scored just over half of his team's total points to pace Rochester Academy. Daniel Garcia added eight points. Noah Mendola led Harley-Allendale-Columbia with 14 points. Ryan Hilton also scored in double figures, finishing with 11.
MARCUS WHITMAN (13-2) 44
MYNDERSE ACADEMY (8-9) 64
Darren Miller unleashed 18 of his game-high 24 points in the second half as Mynderse Academy turned a 26-18 halftime scoreline into a double-digit lead. Sal Franzone finished with 13 points while Jared King added 11, shouldering the load in the first half where he scored nine points. Jake Smith had a pair of 3-pointers. Griffin Herron put in four points, with Nick Jones and Troy Kabat both striking from outside once to round out the scoring for Mynderse. Liam Prendergast scored 10 points to lead Marcus Whitman (No. 13 NYWSSA Class C/No. 6 PS SS Poll), which were winners of 12 in a row going into the contest. The Wildcats also owned one of Section V's top defenses, only allowing opposing teams 39.36 ppg. Connor Tomion finished with eight points and Jon Donovan put in seven. Seth Benedict and Noah Hildreth both had six points apiece, Jordan Lahue scored five points and Aidan Royston wrapped up the scorers for Marcus Whitman with two.
MARION (2-14) 53
ROMULUS (7-8) 55
Camden Derby and Daryl Morrell combined for 12 of their team's 19 fourth quarter points after Romulus trailed by three entering the final frame. Derby finished with a team-high 23 points (two 3-pointers) to pair with six rebounds. Morrell added 15 while recording a single rebound. Max Mapstone contributed 12 points, 12 rebounds and sent back three shots. Hunter Hansen had five points to finish the scoring for Romulus. Jake Fico fired in six 3-point makes as a part of his team-high 22 points to pace Marion. He was held to three points in the second half after 19 in the first. Jon Binau and Chris Dobbie also put up double-digits, scoring 13 and 10 respectively. Brandon Dobbie and Kevin Hobbs both had four points for the rest of Marion's scoring.
EAST ROCHESTER (12-6) 66
WILLIAMSON (5-12) 42
BRADFORD (6-10) 65
LIMA CHRISTIAN (3-15) 34
HINSDALE (4-10) 61
OLEAN WALSH (5-3) 74
LIVONIA (6-8) 57
DANSVILLE (6-10) 44