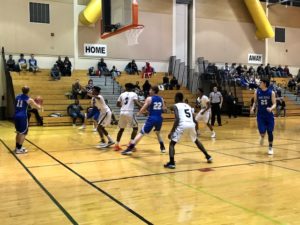 By PAUL GOTHAM
ROCHESTER, N.Y. — Less than a minute remained in the third quarter of Monday's non-league matchup at School No. 33. Ke'vion Mitchell forced a turnover at half-court. Instinctively, the School of the Arts (SOTA) guard fired a one-handed diagonal bounce pass that caught teammate Reggie Smith in full stride 25 feet ahead. Without hesitation, Smith shuttled the rock across the lane to Logan Hayes for an easy layup.
With that bucket, a seven-point deficit had vaporized in the matter of 4:30. Three possessions later, SOTA held a six-point lead. It might as well have been 11, the final margin of victory.
That Mitchell collected a steal came as no surprise. The sophomore guard had four thefts on the evening.
But it was the way his teammates reacted. Smith saw the play develop and moved ahead to be ready when Mitchell released a pass. Hayes never stopped running. Three individuals acting in unison as if they were sharing the same breath.
"Reggie could have tried to attack, but he saw Logan. He hit him in stride," SOTA head coach Al Nash said after the Silverhawks' 57-46 win over the Geneseo Blue Devils. "I preach sharing the ball, moving the ball and giving up a good shot for a better shot. Give a little bit of yourself for the betterment of the team. They're buying in. They're sharing."
Over a span lasting nearly eight minutes, the Silverhawks forced seven turnovers and allowed just one field. They trailed 32-27. By the time, Geneseo called for its second timeout during the run, SOTA led 47-36.
"Our energy level, our intensity started picking up on defense," Mitchell explained. "We dropped into a 1-2-2 and pressed the ball handler, getting steals by pressing a little bit more."
Smith hit a floater in the lane on the first possession of the fourth quarter to give SOTA a lead it did not surrender. Ethain Clarke-Desouza converted a pair of free throws then followed with a steal and layup. Hayes connected from behind the 3-point arc along the left side of the floor, and Mitchell finished an and-one to give SOTA a double-digit advantage.
After managing just seven points in the first quarter and 20 in the first half, the Silverhawks had compiled 20 points in eight minutes. They forced nine turnovers over the final 12 minutes of the game while allowing just five field goals during that same span.
"We're still young," Nash said of his team. We're still making mistakes, but I think that being down and the time shrinking on us and the possibility of not going home with a W, it really energizes them."
Hayes finished with 17 points, eight rebounds and three assists. The junior guard scored the last seven SOTA points in the third quarter.
"The difference was we were playing with more intensity," he said. "We came out of the gate not swinging at all. Our energy was just different from the first half to the second half.
His 3-ball from the top of the key pulled SOTA within two at 32-30. He followed with a rebound and putback on the next possession to tie the game.
"It just energized me to play harder," Hayes said of the 3-pointer. "That's why I had the next two buckets."
Geneseo's Noah Reilly scored eight of his team-high 14 points in the first quarter to stake the Blue Devils (8-9) to an early 12-7 advantage. Nick Hammond connected on a transition 3-pointer from the left corner to push the Geneseo lead to seven at 15-8.
Jake Hamilton hit a 3-pointer early in the third quarter, and Reilly converted on an inbound play to match the seven-point advantage at 27-20.
SOTA (12-4) started its rally soon after that.
"At this stage of the season, any win is a good win," Nash noted. "We'll take it ugly or pretty."
Clarke-Desouza grabbed seven rebounds to go along with a game-high 20 points. Joe Denegal added eight rebounds and seven points. Mitchell scored seven and handed out four assists. Smith chipped in six points.
Adam Wright scored 11 points for Geneseo. Hamilton and Danny Kelly had eight apiece. Hammond chipped in with five points.