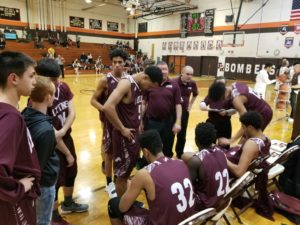 By JOHN LIKANE
ROCHESTER, N.Y. – The Lyons boys' varsity basketball team has three goals with 16 days remaining in the regular season: win the Wayne County division title, Class C2 sectional title and a state title.
"One game at a time, but we have our eye on the prize," Lyons head coach Dean Schott II said after the 82-44 win over East Rochester, Tuesday night.
The reigning Class C2 sectional championships tallied their eighth consecutive victory. The Lions' only loss of the season was an 88-84 setback to Northstar Christian (16-0/No. 8 NYSSWA Class A/No. 3 PS LS Poll) on December 28.
"It's my first time getting a win in ER (East Rochester) in my high school career, so it felt really good to come out and get the W," senior guard Justice Smith said after the victory.
Leading 30-25 coming out of the locker room, the Lions (15-1/No. 4 NYSSWA Class C/No. 1 PS SS Poll) outscored the East Rochester Bombers, 52-19, in the second half, including 30-9 in the third quarter.
"At halftime, we talked about getting more pressure on the ball and speeding the game up," Schott explained. "We were playing way too slow in the first half and in the second half, we got out into the passing lane and got steals and just ran. That's the way we have to play."
Senior forward David Weaver converted a pair of layups and knocked down a three-pointer during an 11-3 run to start the third quarter for a 41-28 lead. Sophomore forward Justin Smith made a layup of his own and Justice Smith hit a mid-range jumpshot. During the run, the Lions held the Bombers to four missed field goals and forced four turnovers in nine possessions.
Justice Smith bullied his way to four layups and made two free throws as part of a 19-4 surge to end the third period with a 60-34 edge.
"We came out and we couldn't make any shots," the senior guard explained. "We knew that we weren't hitting, so we just wanted to come out and keep playing our game and try to make shots and that's what we did in the second half."
Weaver finished a pair of layups. Justin Smith made two layups of his own, including one for a three-point play. During the spurt, the Lions forced the Bombers into four missed field goals and three turnovers in nine possessions.
"We went to a 1-2-2 press in the second half when Benji (Kemp) could come back into the game because he had two fouls in the first half," Schott said when explaining his squad's second half adjustments. "They (East Rochester) turned it over about five, six straight times and that pretty much ended it."
Senior forward Aaron Romero had three layups during a 14-2 run in the second quarter as the Lions built a 28-17 lead. Justice Smith made a layup and two foul shots. Senior guard Hunter Bastian knocked down a long-range shot from the right corner and Justin Smith hit an attempt from the charity stripe. The Lions held the Bombers to seven missed field goals and six turnovers in 14 possessions.
Justice Smith scored 18 of his game-high 29 points in the second half on six layups, a mid-range jumper, and went 4-of-4 from the free throw line. The senior guard hit 11 shots from inside the arc, went 7-of-7 at the foul line, hauled in 13 rebounds, swiped six steals, dished out six assists and blocked a shot.
"They were double-teaming me the whole first half and I just had to adjust to it and I finally did and played well in the second half," he said of his second-half performance.
"He's the best player in Section V," Schott said about his senior guard. "If anyone wants to argue with me, I'll argue to death for him. He's my captain, great kid, and nobody else I'd rather have on my team."
Romero netted 15 of his 19 points in the second and fourth quarters combined, including eight in the final period on four layups. The senior forward made nine shots from inside the arc, grabbed nine rebounds, collected three assists, and had three steals.
Weaver chipped in nine of his eleven points the third period on three layups and a long-range shot from the right corner. The senior guard had a steal as well. Justin Smith contributed eight points, hauled in ten rebounds, swiped five steals, handed out three assists, and blocked a shot.
Bastian (9), Benji Kemp (4), and Ahmir James (2) rounded out the scoring for the Lions, whose largest lead of the game was 39.
For the Bombers, senior forward Austin Mack knocked down a three-pointer to spark an 8-2 run to end the second quarter trailing 30-25. David Warren made a layup and Alex Rans, Allen Otero, and Chuck Domm each hit a free throw. During the run, the Bombers held the Lions to six turnovers and five missed field goals in 12 possessions.
Mack finished the game with a team-high 14 points and four shots from beyond the arc.
Warren (7), Otero (7), Rans (4), Chuck Domm (3), Brandon Gray (3), Russell Domm (2), and Devin Caulkins (2) rounded out the scoring for the Bombers.
Lyons will host North Rose-Wolcott Thursday night at 7:30 PM.