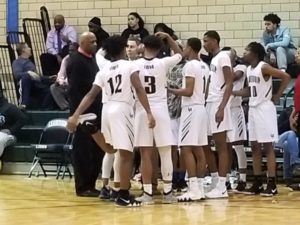 By JOHN LIKANJE
CHARLOTTE, N.Y. – Monday night, the Leadership Academy Lions jogged out of the locker room during halftime looking to expand on their double-digit lead. Head coach Reggie Simmons's squad used a balanced inside-outisde attack to surge out to a 27-point lead and an 87-66 victory over the Aquinas Institute L'il Irish.
"They are a huge team and we are a small team," Simmons explained about his squad's style of play. "We know we're going to be outsized every game. We're committed to our shooters and we're committed to playing fast and I think that's really going to take us over the top and just help give us the rhythm going into sectionals and for the rest of the season."
Hardeman scored the Lions' first eight points of the third quarter on two free throw line jumpshots, a layup, and a floater during an 11-5 run for a 54-32 lead. Senior guard Rondell Watson swished a long-range shot from the left corner to cap off the spurt. During the run, the Lions (7-5) held the L'il Irish (3-8) to five missed field goals, one turnover and two made field goals in eight possessions.
At the end of the third quarter, Watson responded to the L'il Irish's 6-0 run with back-to-back three-pointers and junior guard Calvin Washington followed up with a long-range shot of his own as part of a 17-6 spurt to give the Lions a 71-44 edge, the largest of the game. Shamir McCullough finished two layups and Onajae Anderson and Maurice McKinney each made one of their own during the run as well. During the spurt, the Lions forced the L'il Irish into four missed field goals and three turnovers in 10 possessions.
"We practiced our man-to-man defense," Simmons explained. "The guys were committed to it and we just executed."
Anderson capped a 9-2 run to end the first half with a floater and a layup for 43-27 lead. McKinney knocked down a three-pointer and Watson hit a floater in the lane to begin the spurt. During the run, the Lions held the L'il Irish to four missed field goals, two turnovers, and one made field goal in nine possessions.
The Lions made eight of their 13 three-pointers in the first half and shot 46 percent from the field (35/76) throughout the game. In the second quarter, head coach Reggie Simmons's squad netted six straight field goal attempts. Watson and McKinney each converted two while Washington and Anderson had one of their own. The Lions followed up by making seven consecutive shots in the third as well. Watson and McCullough scored two each. Anderson, Washington, and McKinney made one field goal during the stretch.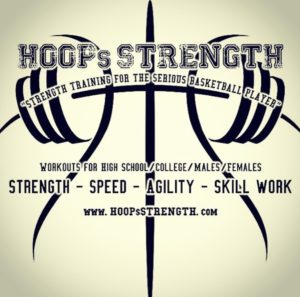 Watson splashed eight three-pointers, two mid-range jumpers-one of which resulted in a three-point play, a floater and a layup to finish with a game-high 30 points.
"He's been our ace throughout the entire season," Simmons said about his senior guard. "When he plays well, it's very easy for us to win."
Hardeman netted 17 on four jumpshots from the free throw line, three layups, and a floater in the lane. The junior guard hauled in 13 rebounds to tally a double-double.
"We knew the free throw line was the weakest part of their zone. Last week against Bishop Kearney, Kennyh struggled," Simmons commented about Hardeman. "He was committed to doing better this game."
McKinney scored eight of his 12 points in the first half. The sophomore guard swished two shots from beyond the arc, a floater, a layup and a pair of free throws. McKinney also collected 11 assists and seven steals. Washington netted three long-range shots and a layup en route to 11 points. McCullough contributed eight points and grabbed nine rebounds.
Anderson (6) and Nate Doyle Jr. (3) rounded out the scoring for the Lions.
Myles Blackwood had 10 of his team-high 15 points in the second half for the L'il Irish. The freshman guard finished four layups-one resulting in a three-point play, a shot from beyond the arc, and went 4-of-5 at the foul line.
Steve Mahar scored nine of his 11 points after the first quarter. The junior center finished five layups in traffic and hit a free throw. Junior center Tyler Warner converted five layups in the low post for 10 points and grabbed seven rebounds.
"We just played help side defense," Simmons explained about how his squad defended against Aquinas's size. "That means we had to give something up, so we let their shooters on the outside go and we just doubled the big man."
Ruben Torres (7), Jack Scanlon (7), Gabe Miller (5), Luke Putnam (5), Andrew Forsyeth (2), James Jones (2), and Jack Bleier (2) rounded out the scoring for the L'il Irish.
Leadership will travel to Rush-Henrietta Wednesday night to take on the Royal Comets. Game set to tip off at 7:15 PM.