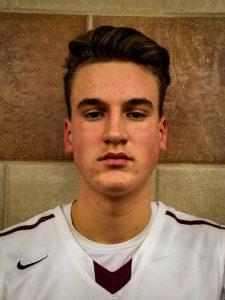 AQUINAS (3-7) 64
BISHOP LUDDEN (III) 60
Junior center Tyler Warner posted his seventh double-double (18 points/22 rebounds) of the season, and Aquinas went on the road to win its second straight game. Warner converted 4-of-4 free throws and scored 10 of his team-high 18 points in the fourth quarter to hold off Bishop Ludden. Jack Scanlon connected on four 3-pointers for the game. The junior scored eight of his 14 points in the first quarter when AQ grabbed an 18-13 lead. The Li'l Irish led 30-18 at halftime. Freshman Jack Bleier finished with eight points, seven assists, four rebounds and two steals. Justin Johnson added nine points for the Maroon and White. Steve Mahar (6), Ruben Torres (5) and Myles Blackwood (4) rounded out the scoring for Aquinas. Monte Johnson scored 20 points and led three in double figures for Ludden. Nic Button had 19 points. Champ Reid chipped in 10.
McQUAID (8-3) 65
LIVERPOOL (III/6-7) 58
Jermaine Taggart paced four in double figures with 23 points as McQuaid (No. 12 NYSSWA Class AA) downed the reigning NYS Class AA champions. The junior guard averaging 22.6 per game topped the 20-point mark for the fourth straight game and eighth time this season. The Jesuit Knights led 13-9 after the first quarter and 28-23 at half. Kobe Long converted 10-of-10 free throws in the fourth quarter and finished with 15 points in the game. Connor Zamaria hit 5-of-6 from the charity stripe in the final stanza and scored 12 points in the game. Harry Bruu scored six points in the first quarter and 11 for the game. Alex Ruston led Liverpool with 17 points. Jacob Works added 10 for the Warriors.
Good road win by @McQuaidBball (8-3) over Liverpool tonight at @OnondagaCC! Knights win, 65-58 led by 23 points from @JTaggart02. @McQuaidJesuit @SecVBBasketball #ROC pic.twitter.com/gKr9rj8New

— Varsity Media (@VarsityMedia) January 13, 2019
UTICA-NOTRE DAME (III) 76
BISHOP KEARNEY (6-6) 69
Kidtrell Blocker connected on four 3-pointers and finished with a game-high 30 points, but Bishop Kearney came up short in an effort to win its third straight game. Blocker, averaging 23.8 points per game, reached the 30-point mark for the second time in three games. Michael Gentile also connected four times from long range including back-to-back triples in the fourth quarter when Kearney cut a nine-point deficit to two. Gentile finished with a season-high 16 points. Jamal Williams and Miles Monechecourt added six points apiece for BK. Deiontray Dixon had five points, Miles Rose two. Kearney led 40-38 at halftime. Utica-Notre Dame's Trijen Garrett scored 19 of his team-high 28 points in the second half. Jaylen Warmack added 18 points for the Jugglers, and Patrick Espinosa had 15. Derek Lindsay scored nine.
Miles Rose finds Michael Gentile underneath to get the second half started. @KearneyBoys lead 42-38 pic.twitter.com/1CWLjxWaML

— Paul Gotham (@PickinSplinters) January 12, 2019
EASTRIDGE (6-5) 76
BRIGHTON (3-6) 64
Six different players scored in the third quarter when Eastridge turned a six-point edge at halftime into a 19-point advantage heading into the fourth quarter. Tony Arnold led a balanced scoring attack which saw five different Lancers reach double figures. Arnold converted four of five from the free throw line, hit a pair of 3-pointers and finished with 22 points. Terrence Reid scored 16. Jalen Rose-Hannah added 13. Jamel Demery had 12 and Jalen Young 10 points. Jaden Keech chipped in six points for Eastridge. Davahn Delazquez had five points and Paxton Reed two. Nate Sponsel paced Brighton with 21 points. Agathia Visveswaran hit three 3-pointers and scored all 13 of his points in the fourth quarter when the Barons held 27-20 advantage. Jack Falter scored seven for Brighton. Lukas Stanat had five points. Matt Falter nd Chase Seibold chipped in four apiece. Stevie McCloud and Najee Awad both scored three. Calvin Tourangeau and Casey McDermott both scored two points.
BLOOMFIELD (7-4) 47
HONEOYE (3-7) 35
Devin Campbell scored 16 points, grabbed eight rebounds, handed out two assists and collected two steals to lead Bloomfield. Alexander Roach added 11 points and eight rebounds for the Bombers. Simon Wille had 11 points. Tanner Kimball scored seven points to go with five rebounds and team highs of three assists and three steals. Ryan Hawkins matched Kimball with three assists. Trevor Farrell scored two points.
BELFAST 82
AVOCA (11-1) 77 OT
Adam Enders broke a school record scoring 54 points as Belfast upended Avoca (No. 1 NYSSWA Class D). Enders converted 24 of 27 free throws and hit a pair of 3-pointers on the career day. Enders scored 11 of Belfast's 13 pints in overtime. Kevin McCumiskey added 13 points. Stephen Struckton scored six points. Nathan Nunn paced Avoca with 25 points. LaDre Stanford added 15 points, and Devin Stowe 13. Thomas Derick and Tristian Stark chipped in eight apiece.
And there you have it our five Players of the Game from today here at @AlfredState:
Game 1: Fillmore's Hannah Roeske
Game 2: JT's Brayden Hill
Game 3: Belfast's Adam Enders
Game 4: Scio's Carter Scholla
Game 5: Prattsburgh's Mason Putnam

Allegany takes Showcase, 4-3. #SectionV pic.twitter.com/CZd84ceawP

— Chris Brooks (@iAmBrooksie) January 13, 2019
ROCHESTER ACADEMY CHARTER SCHOOL (2-8) 39
KENDALL (5-7) 55
Hunter Menze and JohnRath scored 11 apiece to lead Kendall. Derek Edick and Nathan Warters both scored 10 points. Mason Kuhn scored seven, Dale Steffen four and Nicholas Spellan had two.
GENESEE VALLEY (7-3)
PRATTSBURGH (10-0)
BATAVIA-NOTRE DAME (5-7) 64
CUBA-RUSHFORD (4-3) 61
Spencer Misiti and Colin McCulley scored 15 apiece to lead Batavia-Notre Dame. Misiti added five assists and four rebounds. Gabs McDonald, Keith Szczepanksi and Andrew Moore each grabbed nine rebounds in the win. McDonald had eight points, six assists and three steals. Szczepanski scored five and blocked four shots.
SCIO (7-2) 61
BRADFORD (3-8) 39
FILLMORE (5-3)
JASPER-TROUPSBURG (8-4)