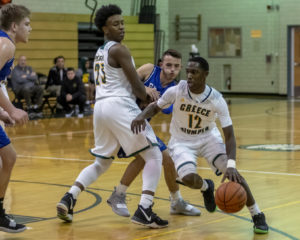 SODUS (6-5) 40
SCHOOL OF THE ARTS (9-4) 80
Logan Hayes knocked down five three-pointers en route to 24 points in the Silverhawks' fifth straight win. The junior guard poured 16 in the first half. Sophomore forward Ethain Clarke-DeSouza scored 19 points. Sophomore guard Reggie Smith chipped in 11 of his own. Marquese Burton, Marcelus Burton, and Prestige Irvin each scored nine points for the Spartans. Other scorers: School of the Arts – Ke'Vion Mitchell (9), Keshaun Chatman (6), Jayden Morgan (6), Joe Denegal (4), Saheed Miller (1), Sodus – John Molisani (5), Tim Rinaudo (3), Ryan Debadts (3), Amanti Jones (2)

EARLY COLLEGE (2-9) 61
VERTUS (0-9) 47
Marquis Crawford scored 14 of his 17 points in the first half as the Cobras snapped a two-game losing streak. The junior guard knocked down four shots from beyond the arc and went 3-of-4 from the free throw line. Junior forward Jaequon Nesmith hit six shots from 2-point range and netted all four of his attempts from the charity stripe. Sophomore guard Rashawn Williams scored a team-high 15 for the Warriors. Senior guard De'Andre Hunter swished four three-pointers as part of his 14 points. Other scorers: Early College – Ahmir Buckhannon (7), Sam Jackson (7), Kemar McCloud (5), Jaiden Daymon (3), Joe Williams (2), Jahan Richetts (2), Vertus – Quanmay Early (8), Eric LeBrane (4), Amauri Smith (4), Cesar Ostolaza (3)

UPREP (5-7) 65
WILSON MAGNET (4-6) 60
Jahki Lucas scored 14 of his 21 points in the first half to snap the Griffins' two-game losing streak. The senior guard poured in all nine of his field goals from two-point range. Senior guard Harold Boggs McCullough knocked down five three-pointers en route to 19 points. Senior forward Krystain Lee chipped in 10. Senior guard Robert Davis hit three shots from the beyond the arc as part of his team-high 19 points for the Wildcats. Junior forward Maurice Young contributed 14. Other scorers- UPrep: Na'Zea Folks (8), Kayshawn Ross (4), Kendrick Cheyshad (3), Wilson Magnet: Malikk Johnson (9), Arthur Wilson (8), Desi Floyd (6), Tory Bradley (2), Latief Holmes (2)
BROCKPORT (6-5) 53
PITTSFORD MENDON (8-0) 90
Dan Cook posted his seventh double-double for the Vikings (No. 5 NYSSWA Class A) with 40 points and 15 rebounds. The senior forward netted 14 in the first quarter, six in the second, 15 in the third, and five in the fourth. Cook knocked down 14 shots from 2-point range and all six of his attempts from the free throw line. Senior guard Michael Harrington netted 12 of his 20 points in the second half and grabbed seven rebounds. Connor Krapf contributed 16 points. Senior guard Kyle Palka scored a team-high 13 for the Blue Devils. Junior guard Esten Schalge chipped in 11 points. Other scorers- Pittsford Mendon: Charles Bennett (5), Caleb Arena (3), Jacob Shadders (2), William Orzell (2), Nate Strauf (2), Brockport: Kevin Lawrenz (7), Samuel Velletri (7), Shamar Lee (6), Willie Ball (5), Ryan Sigillo (2), Troy Leibert (2)
HILTON (8-1) 77
VICTOR (2-9) 69
Tah'Jae Hill continued his scoring binge for the Cadets, pouring in 34 points in a double-overtime victory. The junior guard got to the free throw line nine times and converted eight of them and hit 10 shots from two-point range. Junior guard Colin Burkis knocked down five three-pointers for his 15 points. Senior forward Mitchell Carr scored 13 and went 5-of-6 at the foul line. Junior guard Matt Caggiano netted a team-high 20 points and three shots from beyond the arc for the Blue Devils. Sophomore center Connor Williams scored 15. Freshman forward Phil Nwugwo contributed 12 points while senior guard Jeremy Summerson had 11. Other scorers- Hilton: Noah Malta (7), Najier Daniels (6), Jack Gombatto (2), Victor: Jaxen Roth (5), Will Stone (3), Chase Dickens (2), Will Tehan (1)
WEBSTER THOMAS (6-5) 64
GATES-CHILI (9-2) 69
Keith Slack topped Gates with 28 points, due in large part to a trio of threes and a 15-point fourth quarter, six boards and five assists. Slack's 15-point fourth quarter propelled the Spartans, who entered the final frame knotted at 48 with Webster Thomas, to a 21-16 scoring difference to earn the five-point victory. Adam Williams added a 17-point, 10-rebound double-double for Gates, while Traylan McCray contributed 10 points. The game saw a duel between the two teams, as Webster Thomas led by just three points exiting the first quarter at 18-15, and the score stood tied 31-31 at the half. Andrew Mason led the Titans with a season-high 37 points, knocking down eight three-pointers over the course of the contest. Dannie Palmer finished second on the Titans in scoring with 14 points. Other scorers: Gates-Chili- Devin Walton (6), Turner Harris (4), Tre Green (2), Andrew Newcombe (2), Webster Thomas- Stephen Katz (7), Tyler Williams (4), Evan Mitchell (2)
CHURCHVILLE-CHILI (5-4) 53
IRONDEQUOIT (8-1) 87
Freddie June, Jr. dropped a new season-high of 19 points to lead Irondequoit (No. 16 NYSSWA Class A), finishing the evening a perfect 5-for-5 from the free throw line and hitting a pair of threes. Josh Stenglein followed June Jr. with a season-high of 16 points, also going perfect at the line at 4-for-4. In all, the Eagles went 21-for-30 (87 percent) from the free throw line as a team. Though Irondequoit got off to a strong start, outscoring Churchville-Chili 17-9 in the first quarter, the Saints were able to hang around and go into the final quarter of play trailing 56-46. However, the Eagles closed out in resounding fashion, ending the game by outscoring Churchville-Chili 31-7 in the fourth. Marcus Postell topped the Saints with 17 points, including 11 in the third quarter. Griffen Stella added 14 points, eight in the second quarter, for Churchville-Chili. Other scorers: Irondequoit- Keenan Robertson (14), Luke Melidona (10), McGuire Craig (6), Kenny Gonzalez (6), Connor Shafer (5), Patrick Thomas (4), Nick Leonardo (3), Paris Holmes (2), Grayson Smith (2), Churchville-Chili- Kamerin Poromon (9), Garland Akins (4), Marcellus James (2), John Keele (2), John Bagley (2), Tylor Allen (2), Henri Koch (1)
VIEW MORE JENNIFER LAEMLEIN PHOTOS HERE.
RUSH-HENRIETTA (6-4) 34
FAIRPORT (8-3) 65
Stefan Milinkovic led the Red Raiders with 18 points, his second-highest point total of the season (21 points against Rome Free Academy), and six rebounds. Milinkovic scored nine of his 18 points during a first quarter in which Fairport outscored Rush-Henrietta 21-5. Andre Starks knocked down a pair of three-pointers and went 4-for-6 from the charity stripe en route to 16 points for Fairport. Ryan Lucey pulled in five rebounds and handed out four assists to go with four points. Fairport's defensive effort held the Royal Comets to its lowest point total of the season at 34, allowing them to lead wire-to-wire. Nyles Goodwin topped the Royal Comets, who were without starter Shamire Broyld due to an injury, with 11 points. Goodwin finished as Rush-Henrietta's lone double-digit scorer. Other scorers: Fairport- Brett Heininger (7), Ryan Kennedy (5), Max Molisani (5), Vanzell Johnson (4), Collin Espada (4), Jack Lindstrom (2), RH- Charles Bowden (6), Francisco Lawson (6), Ziemere Howard (5), Eddie Beverly (2), Jevonte Williams (2), Quinn Hargrave (2)
CANANDAIGUA (0-12) 58
SPENCERPORT (4-7) 65
The Spencerport Rangers roared back after trailing by six at halftime to score their fourth win of the season over the Canandaigua Braves, 65-58. Cartier Jefferson led the Rangers with 12 points. while the rest of the balanced attack included Nick Thibeau with 11 and Patrick Uebelacker, who contributed 10. The Braves were led by the sharp shooting of Chris Kurkowski, who poured in a game-high 26 points. Ryan Welch scored 16. Other scorers- Spencerport: Alex Anderson (8), Ben Reding (7), Gino Pellett (7), Mike Contestabile (6) , Jon Taylor (4), Canandaigua: Joey Brinza (6), Mitch Pfeiffer (5), Cody Aikey (3), Joey Urlacher (2)
HONEOYE FALLS-LIMA (5-6) 49
EASTRIDGE (5-5) 61
Terrence Reid scored 12 of his game-high 16 points in the first and fourth quarters combined for the Lancers. The senior forward netted four of his five attempts at the free line. Senior guard Jahmel Demery contributed 10 points. Sophomore forward Patrick Lustyk and Trevor Chamberlain each scored 14 points for the Cougars. Lustyk hauled in 10 rebounds while Chamberlain dished out four assists. Other scorers- Eastridge: Jalen Rose-Hannah (9), Tony Arnold (8), Jordan Capers (7), Jalan Young (5), Davahn Delazquez (3), Adrian Rodgers (2), Jaden Keech (1), Honeoye Falls-Lima: Turner Wilson (9), Reece Joint (6), Derek Childs (4), Josh Vogt (2)
GREECE ATHENA (10-2) 75
BRIGHTON (3-5) 49
Senior guard Kelvin Reaves, Jr. poured in 20 of his 22 points in the first and third quarters combined to lead the Trojans (No. 23 NYSSWA Class A) to their ninth win in their last 10 games. Melvin Council, Jr. knocked down a team-high four three-pointers. The junior guard netted 14 points in the third quarter and finished the game with 21. Senior center Nate Sponsel scored 17 points for the Barons. Other scorers- Greece Athena: DeAndre Newsome (7), Isaiah Brock (7), Austin Brown (4), Terrell Wilson Junior (4), Tyler Curtis (2), Brandon Smith (2), Noah Horn (2), Jake Cerone (2), Johnny Salone (2), Brighton: Jack Falter (9), Lukas Stranat (6), Najeeb Awad (4), Chase Seibold (4), Agathia Visveswaran (3), Matthew Falter (2), Calvin Tourangeau (2), Sam Zarkowsky (2)
BATAVIA (4-6) 60
GREECE OLYMPIA (5-5) 50
Batavia outscored Olympia 22-10 in the fourth quarter. Senior Mason McFollins knocked down six three-pointers for the night as part of his 24 points to go along with grabbed six rebounds. Camden White scored 12 points and grabbed five boards. Senior captain Andrew Francis who netted nine, collected five rebounds and dished out seven of his 10 assists in the second half. The Spartans were led by senior captain Jeff Jung, Jr. who scored 23 points and grabbed five rebounds and sophomore Collin James who tallied 13 points, 13 rebounds, six blocks, and five assists. Other scorers – Batavia: Caedon White (6), Luke Grammatico (6), Jake Humes (2), Joe Martinucci (1), Greece Olympia: Kris Perez (6), Ehnoc Tossah (4), Darnell Williams (4)
PENFIELD (3-8) 63
WEBSTER SCHROEDER (4-6) 67
Sophomore guard Luke Insley knocked down five three-pointers en route to a game-high 23 points for the Warriors. JoJo Plummer scored all 18 of his points in the first three quarters. The junior forward netted eight shots from two-point range. Senior guard Patrick Piampiano netted a team-high 22 points and four long-range shots for the Patriots. Javion Monroe contributed 14. Other scorers- Webster Schroeder: Josh Hauman (8), Collin Donnelly (7), Colin Merkey (7), Evan Ferrari (4), Penfield: RJ Green (8), Dan Vercruysse (7), Ethan Fici (5), Jayden Bulger (4), RJ Wilkins (2), Collin Pichany (1)
GREECE ARCADIA (0-11) 51
PITTSFORD SUTHERLAND (6-5) 83
Senior forward Kevin Ryan led with 20 points for a Knights squad which had every active player on their roster score. Junior guard Ben DiGiovanni netted 11. Senior forward Evan Caufield had a team-high 13 points for the Titans Other scorers- Pittsford Sutherland: Garrett Glanton (8), Lincoln Perinello (7), Matt Panara (7), Stratton Hancey (5), Conner Fitzsimmons (5), Owen Flisnik (5), John Messina (4), John Luther (3), Patrick Sanna (2), Nick Morabito (2), Torin Wilcox (2), Aiden Pelligrino (2),  Greece Arcadia: Jerell Robinson (9), Travers MacNeal (8), Sean Crowell (7), Cooper LaValley (5), Elijah Barnard (4), Evan Insley (4), Adam Hurlbutt (1)
C.G. FINNEY (11-2) 81
NORTHSTAR CHRISTIAN (11-0) 95
Miles Brown paced a Northstar (No. 13 NYSSWA Class A) offense which connected on a season-high 20 3-pointers. Section V's all-time leading scorer poured in 17 straight points to end the first half as the Knights took a 59-43 lead into the locker room. READ MORE.
NORTH ROSE-WOLCOTT (1-9) 39
GANANDA (11-1) 84
Jayden Castrechini poured in 17 of his team-high 20 points in the first half half as the Gananda Blue Panthers' won their ninth consecutive game. The senior guard knocked down a team-high three shots from beyond the arc as well. Senior center Tim McClare netted eight shots from two-point range en route to 19 points. Senior guard Kole Wright scored nine of his 11 in the first half. For the Cougars, sophomore forward Quintin Norris had all 10 of his points by halftime. Other scorers- Gananda: Zach Dier (8), Joel Bean (7), Jerry Brongo (6), Zachary Ciprich (5), Andrew Gabbard (5), Sergio Lopez (2), Sebastian Hergert (1), North Rose-Wolcott: Christian Scarborough (8), Nikos Solaropolus (7), Gordon Howie (4), Reece Morris (3), Cameron McCann (2), Brendon Reed (2), Nolan Sears (2), Joe Reed (1)
HAMMONDSPORT (1-10) 55
CAMPBELL-SAVONA (5-9) 58
Hammondsport took the lead in the third quarter, outscoring the Panthers by 12 points. The Panthers came back to win late in the fourth quarter. Senior forward Owen Jewell scored a team-high 22 points for the Panthers. Senior guard Parker Watson led the Lakers with 21 points and five steals.
CALEDONIA-MUMFORD (11-1) 42
AVON (10-1) 61
Connor Taylor led Avon to their second win in a row and handed Cal-Mum (No. 7 NYSSWA Class C) their first loss of the season. READ MORE
HARLEY-ALLENDALE-COLUMBIA (4-7) 30
MARCUS WHITMAN (10-1) 64
Senior guard Jon Donovan netted a game-high 16 points to lead the Wildcats (No. 12 NYSSWA Class C) to their ninth consecutive victory. Sophomore guard Aidan Royston contributed 12 of his own while junior guard Seth Benedict had 11. Junior guard Gifford Campbell scored a team-high nine points for the Wolves. Other scorers- Marcus Whitman: Ryan Herod (7), Connor Tomion (6), Noah Hildreth (4), DeCouteau Blueye (2), Liam Prendergast (2), Carson Miller (2), Dylan Pratt (1), Christian Daniels (1), Harley-Allendale-Columbia: Owen Tindall (4), Hao Truong (4), Noah Mendola (3), Henry Nicosia (3), Ryan Hilton (3), Max Brown (2), Rick Li (2)
BATH-HAVERLING (5-7) 42
LIVONIA (4-6) 81
Livonia led from the beginning and took a 38-15 lead into the half. Jalen Marshall led all scorers with 20 points along with 14 rebounds for the Bulldos. Alex Minnehan scored 17 and dished out five assists. Steffan Gwynn added 10 points and six rebounds. Austin Palmer led Haverling with 11 points.
PAVILION (5-8) 67
YORK (9-4) 71
Junior forward Riley Stella scored 21 points as the Knights won their second game in a row. Senior guard Matthew McFarland contributed 19 of his own. Sophomore guard David Cuozzo netted 11. "It was a battle right to the end," Knights head coach Ed Orman commented on the victory. "We buckled down at a couple of key moments and finished at the hoop. Both teams showed a lot of character and fight. Kudos to Pavilion on a great game and I feel really fortunate that we were able to make a few plays at the end and secure the win." Senior guard Colby Tillotson scored a game-high 24 points for the Golden Gophers. Junior forward Cameron Milligan netted 18 and senior forward Ryley Elliott had 13.
GENEVA (9-4) 58
MYNDERSE (5-6) 33
Junior guard Nick Askin scored 13 points, had six steals, grabbed three rebounds, and dished out an assist to lead the Panthers to their fourth straight win. Senior center Akim Hudson collected a team-high eight rebounds and contributed 10 points. Junior guard Liam Ryan handed out a team-high five assists. Senior forward Darren Miller scored a game-high 14 points for the Blue Devils. Other scorers- Geneva: Ryan (9), Dante Reid (6), Christian Tapscott (6), Jagger Kerr (5), Reid Patchett (4), Parker Bossard (3), Davonte Johnson (2) Mynderse: Troy Kabat (6), Sal Franzone (4), Jake Smith (4), Mike Bogart (2), Jared King (2), Kaleb Stenquist (1)
ALFRED-ALMOND (6-5) 54
HOUGHTON (2-5) 35
Junior forward Isaac Little netted 22 points, hauled in 16 rebounds, had two steals, and blocked a shot for Alfred-Almond. Senior guard Dylan Guthrie scored 13 along with four assists, three steals, and two rebounds. Other scorers- Alfred-Almond: Davon Bloom (9), Kyle Margeson (4), Arnold Saint-Phard (4), Zachary Patterson (2)
PEMBROKE (4-6) 62
BATAVIA-NOTRE DAME (4-7) 60
Senior guard Jordan Ludwig scored a game-high 19 points to snap the Dragons' three-game losing streak. Patrick Wolford and Noah Godzala each contributed 12. Jarrod Ludwig contributed 11 points. Junior guard Gabe Macdonald had a team-high 14 for the Fighting Irish. Senior guard Spencer Misit scored 13 points. Other scorers- Pembroke: Ben Perry (6), Matt Barry (2), Batavia-Notre Dame: Lucas Callarco (8), Andrew Moore (8), Keith Szczepanski (6), Ethan Chadbourne (6), Zach Cocking (5)
WAYNE (9-2) 72
PALMYRA-MACEDON (1-10) 34
Congratulations Logan.
1000 points in his career for Wayne pic.twitter.com/Jpd5dU6Qol

— Pal-Mac Athletics (@palmacsports) January 12, 2019
ARKPORT-CANASERAGA (3-9) 30
CANISTEO-GREENWOOD (6-7) 59
EAST ROCHESTER (8-4) 66
RED CREEK (3-10) 30
LYONS (11-1/No. 5 NYSSWA Class C) 78
WILLIAMSON (2-9) 45
GENESEO (7-5) 59
MOUNT MORRIS (9-3) 62
DANSVILLE (5-7) 44
WARSAW (4-9) 52
LEROY (7-4) 44
LETCHWORTH (0-10) 29
CLYDE-SAVANNAH (3-8) 54
MARION (2-10) 56
PENN YAN (6-6) 50
MIDLAKES (5-7) 62
WELLSVILLE (8-4) 61
HORNELL (8-3) 38
NAPLES (9-2) 59
RED JACKET (9-3) 53
BELFAST (1-4)
LIMA CHRISTIAN (2-7)
ROMULUS (5-5)
SOUTH SENECA (1-7)
BOLIVAR-RICHBURG (4-6)
WHITESVILLE (0-9)
PERRY (5-5)
KESHEQUA (2-10)