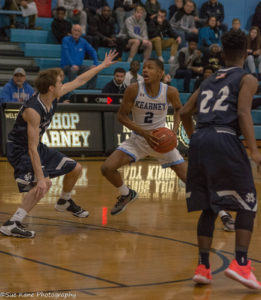 By PAUL GOTHAM
ROCHESTER, N.Y. – Kidtrell Blocker has, in his coach's eyes, earned a little bit of latitude when it comes to decision-making on the basketball court.
So when Bishop Kearney head coach Kevin Goode called timeout with 11.5 seconds remaining in a one-point game, there wasn't much doubt as to where the ball was going.
Blocker didn't disappoint.
The junior guard finished with a game-high 28 points including the winner in the closing seconds as Bishop Kearney edged Leadership Academy, 64-63 in non-league action from Ed Nietopski Gymnasium Thursday night.
"Sometimes I just got to let him play," Goode said of Blocker. "He's still playing within the structure, but he has a longer leash to where he can pretty much take over a game."
With 25.5 seconds remaining, Blocker took an inbound pass on the left side of the floor near midcourt. The 6-foot-4 guard worked his way to the right and hit a contested shot along the baseline.
"We needed a bucket," Blocker explained. "Coach drew up a play. It was a double screen and attack. If the man stepped up, I was going to kick it. If not I was to go to the bucket."
Blocker's basket capped a fourth quarter which saw Leadership erase a nine-point deficit for the second time in the game.
"I knew he was going to make it," Miles Rose said of his teammate. "I could see it in his eyes that he was going to hit the shot. That's just what he does."
Kidtrell Blocker gives @KearneyBoys a 64-63 lead with 11.4 to go. pic.twitter.com/F5GybIHeEk

— Paul Gotham (@PickinSplinters) January 11, 2019
Rose hit a 3-pointer late in the third quarter to give Kearney a 56-47 lead. The freshman guard's layup on the third possession of the fourth quarter made it a 58-50 game.
Miles Rose connects from behind the arc to give @KearneyBoys a 56-47 advantage over Leadership heading into the 4th. pic.twitter.com/Jr2PFG69na

— Paul Gotham (@PickinSplinters) January 11, 2019
"We came together as a team when they were on their run," Rose said. "Coach was just saying execute and make them take contested shots. Get a hand up on shooters and run them up the line. We did what we had to do to secure the W."
Leadership's Maurice McKinney connected on his fifth 3-pointer of the night and then set up teammate Kennyh Hardeman underneath for a basket on the next possession. Leadership was within one at 60-59. Hardeman gave Leadership its first advantage of the fourth quarter with 34.8 remaining.
Kennyh Hardeman finishes in the lane to give Leadership a 63-62 edge with 34.8 to go. pic.twitter.com/ZYPIp0UVFT

— Paul Gotham (@PickinSplinters) January 11, 2019
Goode called a pair of timeouts to set up the winning play.
"I just wanted to get it across half court and see what type of defense they were in," Goode explained. "Give me time to come up with something where we can get our best player going to the basket to create for himself or someone else.
Maurice McKinney connects on his 5th 3-pointer of the night. 3:00 remaining @KearneyBoys 60 Leadership 57 pic.twitter.com/vuUSBcKAme

— Paul Gotham (@PickinSplinters) January 11, 2019
"That was a needed win right there," Goode said. "It kinda makes a statement to the rest of Section V for the remainder of our games. You still got to worry about Bishop Kearney."
Kearney scored the first nine points of the game.
With McKinney and Rondell Watson pacing the offense, Leadership rallied for a six-point advantage late in the second quarter. Watson connected on a pair of pull-up jumpers, and McKinney converted one of two from the free throw line for a 27-21 Leadership advantage.
Rondell Watson spreads some jelly on his hop step. @KearneyBoys 43 Leadership 41 pic.twitter.com/lbbMjmYtUt

— Paul Gotham (@PickinSplinters) January 11, 2019
Kearney grabbed the lead early in the third quarter when Blocker hit a corner three. He followed with a bucket in the lane and the Kings were up 41-37. They did not trail again until Hardeman's basket in the final minute.
"We played a solid defense," Goode said of his team's effort. "We started off in man to try and limit the amount of shots they were getting. They were missing a lot of layups, but they were making jump shots. The speed at which they play caused us to get tired. By default, we had to go back into a zone. We just extended our zone out to the shooters and tried to make it a difficult time for them shooting the basketball."
Blocker finished the night with six rebounds, three blocks and two assists. He connected on 11 of 16 shots from the floor. It was his sixth game scoring 20 or more points.
Rose scored a season-high 14. The freshman grabbed five rebounds, handed out four assists and collected two steals. Michael Gentile had nine points, nine rebounds and two assists. Deiontray Dixon scored six points and had seven rebounds. Antwan Williams grabbed seven rebounds, blocked five shots and scored two points. Jamal Williams added five points for BK (6-5).
McKinney paced Leadership (6-5) with 19 points and six assists. Hardeman finished with a double-double (16 points/12 rebounds) and two steals. Watson had 15 and four steals. Shamir McCullough (6), Nate Doyle, Jr. (5) and Onajae Anderson (2) rounded out the scoring for the Lions. Of Leadership's five losses, three have been by a combined total of five points.
Maurice McKinney connects from behind the arc as first quarter ends. @KearneyBoys 15 Leadership 12 pic.twitter.com/cDkUOPpHqL

— Paul Gotham (@PickinSplinters) January 11, 2019