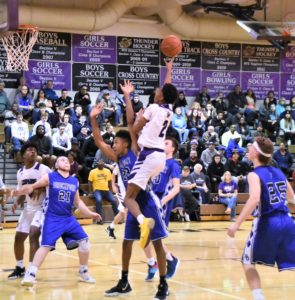 By JOHN LIKANJE
ROCHESTER – The Greece Odyssey Leopards (9-1/No. 16 NYSSWA Class B) bounced back from their first loss of the season to reel off five consecutive victories, including two this past week. Friday night, coach Jim Guzielek's squad defended home court against Brockport with an 85-59 win, snapping the Blue Devils four-game winning streak. On Saturday, the Leopards traveled to Wellsville (No. 8 NYSSWA Class B) and defeated a Lions' squad (63-51) which has been ranked among the state's best all season. All five wins in their current streak have been by double-digits, their largest margin by 44 on December 28 against Greece Arcadia (86-44).
Junior forward Jaden Hartsfield, averaging 16.3 points per game, broke out for 30 on Friday. Ray Colbert scored above his season average as well. The senior guard, netting 6.9 points per game, finished with 12. Over the previous five games, the Leopards are pouring in 74.2 points while only allowing 51. This upcoming week, coach Guzielek's squad has a tough road test Wednesday night at Pittsford Sutherland High School. Game set to tip off at 7:15 PM.
WE DIDN'T FORGET ABOUT…
East Eagles –  One of only eight undefeated teams left in Section V, the Eagles (11-0/No. 11 NYSSWA Class A) have found their rhythm and are showing no sign of slowing down. Coach Darrell Barley's squad started off the New Year with two double-digit victories against Edison Tech, 92-53, Wednesday night and World Of Inquiry, 89-67, Friday night. The Eagles now have eight double-digit wins this season and are averaging 86.8 points while only allowing 60.9 in those games. This upcoming week, East will host RCAC opponent Monroe Wednesday night at 6:15 PM.
Greece Athena Trojans – The Trojans (9-2) rebounded from their loss to the undefeated Hilton Cadets (on December 29th) with two wins this past week. After taking down local rival Greece Olympia, 88-59, Friday night, coach Mike Setzer's squad traveled to Onondaga Community College in Syracuse to play Horseheads High School (IV). There, Melvin Council, Jr. and Kelvin Reaves, Jr. nicknamed "The Kelvin and Melvin Show," netted 15 points apiece as the Trojans pulled out the 51-44 victory. Junior guard DeAndre Newsome contributed 12 of his own. This upcoming week, the Trojans travel to Brighton High School Friday night to take on the Barons. Game time set for 7:15 PM.
Northstar Christian Knights – Miles Brown continues to dominate Section V. After breaking Neil Weidman's all-time scoring record, the senior forward dropped 48 points against Aquinas Thursday night and followed up with 41 Friday evening as the Knights (9-0/No. 15 NYSSWA Class A) held off Mekeel Christian, 77-75. Brown is filling other parts of the stat sheet as well, combining for 14 rebounds, nine assists, eight steals, and two blocks in a pair of victories this past week. Sophomore guard Sean Smith scored 18 Thursday and Michael Brown, Miles's twin brother, netted 15 points in each game. This upcoming week, The Knights will clash with Jahki Lucas and the UPrep Griffins Tuesday night at Roberts Wesleyan College at 7:00 PM and host Charles G. Finney (No. 7 NYSSWA Class C) Friday night at 7:30 PM.
School Of The Arts Silverhawks – Wednesday night at School No. 33, coach Al Nash's squad emerged with a signature victory over the Avon Braves (No. 18 NYSSWA Class C). The Silverhawks (6-4) followed up with a 71-51 win at Early College, Friday night. junior guard Logan Hayes, scored 17 against Avon and broke that mark with 20 at Early College. This upcoming week, the Silverhawks play at Greece Olympia Monday night at 7:15 PM and World Of Inquiry Wednesday at 6:00 PM before hosting Sodus Friday at School No. 33. That game will also start at 6:00 PM.
STAYING UNDEFEATED
There are eight undefeated teams left in Section V: Addison (9-0), Avoca (10-0), Caledonia-Mumford (10-0), East (11-0), Hilton (7-0), Northstar Christian (9-0), Pittsford Mendon (6-0), and Prattsburgh (9-0).
MISERLY DEFENSE
Irondequoit leads all local defenses, holding opponents under 48 points per game. Chris Cardon's Eagles have held four of their seven opponents to 43 or fewer points. The next stingiest defenses include Batavia (49.7 points against per game), Pittsford Sutherland (51.9), and Greece Odyssey (52.5).
STATE-RANKED CLASHES
Tuesday night: Hilton (honorable mention last week, should move into Class AA rankings after improving record to 7-0) hosts Irondequoit (No. 19 NYSSWA Class A last week). Thursday night: McQuaid (No. 8 NYSSWA Class AA last week) travels to play Park School (VI/No. 2 NYSSWA Class A last week). Friday night: Charles G. Finney (No. 7 NYSSWA Class C last week) visits Northstar Christian (No. 15 NYSSWA Class A last week).
| | | | |
| --- | --- | --- | --- |
| Section V Career Active Scoring Leaders | School | Yr. | Total Points |
| Miles Brown | Northstar | Sr. | 2,538 |
| Adam Enders | Belfast | Sr. | 2,048 |
| LaDre Stanford | Avoca | Sr. | 1,547 |
| Justice Smith | Lyons | Sr. | 1,545 |
| Robert Davis | Wilson | Sr. | 1,450 |
| Keith Slack | Gates-Chili | Sr. | 1,417 |
| Mason Putnam | Prattsburgh | Jr. | 1,299 |
| Jakhi Lucas | UPrep | Sr. | 1,240 |
| Daniel Ames | Addison | Sr. | 1,088 |
| Jiahmere Mitchell | NE Douglass | Sr. | 1,082 |
| Chaz Washington | East | Sr. | 1,044 |
| Rondell Watson | Leadership | Sr. | 1,014 |
| | | | | | | | | | |
| --- | --- | --- | --- | --- | --- | --- | --- | --- | --- |
| | | | | Overall | | | | | |
| RCAC Upper | CL | W | L | W | L | PF Avg | PA Avg | Strk | GP |
| McQuaid | AA | 3 | 1 | 6 | 2 | 80.00 | 66.38 | L1 | 7 |
| Leadership Academy | A2 | 3 | 1 | 4 | 4 | 83.33 | 71.78 | W1 | 8 |
| Wllson Magnet | A2 | 3 | 1 | 4 | 5 | 70.78 | 66.00 | W1 | 9 |
| Edison Tech | AA | 1 | 3 | 1 | 12 | 57.75 | 76.08 | L10 | 8 |
| Franklin | A1 | 0 | 4 | 3 | 6 | 63.56 | 67.67 | W1 | 9 |
| | | | | |
| --- | --- | --- | --- | --- |
| Scoring Leaders | School | Grade | PPG | GP |
| Watson, R. | Leadership | Sr. | 26.0 | 9 |
| Long, K. | McQuaid | Jr. | 24.6 | 8 |
| Taggart, J. | McQuaid | Jr. | 21.0 | 8 |
| Davis, R. | Wilson | Sr. | 19.0 | 9 |
| Moore, B. | Franklin | Fr. | 18.3 | 8 |
| | | | | | | | | | |
| --- | --- | --- | --- | --- | --- | --- | --- | --- | --- |
| | | | | Overall | | | | | |
| RCAC Lower | CL | W | L | W | L | PF Avg | PA Avg | Strk | GP |
| East | A2 | 5 | 0 | 11 | 0 | 85.73 | 65.18 | W11 | 8 |
| NE Douglass | A2 | 4 | 1 | 8 | 2 | 77.40 | 61.00 | W1 | 7 |
| Monroe | A2 | 3 | 2 | 6 | 3 | 77.11 | 68.00 | L1 | 8 |
| School of the Arts | A2 | 2 | 3 | 6 | 4 | 69.10 | 65.10 | W2 | 6 |
| World of Inquiry | B2 | 1 | 4 | 2 | 6 | 62.25 | 69.13 | L2 | 7 |
| Early College | B2 | 0 | 5 | 1 | 8 | 46.67 | 75.67 | L1 | 6 |
| | | | | |
| --- | --- | --- | --- | --- |
| Scoring Leaders | School | Grade | PPG | GP |
| Dollar, T. | WOI | Sr. | 28.4 | 7 |
| Mateo, D. | Monroe | Sr. | 23.8 | 9 |
| Harris-Scott, Z. | East | Jr. | 21.64 | 11 |
| Glasgow, T. | Monroe | Sr. | 19.2 | 9 |
| Lovelace, L. | NE Douglass | Jr. | 19.0 | 9 |
| | | | | | | | | | |
| --- | --- | --- | --- | --- | --- | --- | --- | --- | --- |
| | | | | Overall | | | | | |
| Monroe County I | CL | W | L | W | L | PF Avg | PA Avg | Strk | GP |
| Hilton | AA | 3 | 0 | 7 | 0 | 73.43 | 53.86 | W7 | 7 |
| Fairport | AA | 3 | 0 | 6 | 3 | 64.33 | 56.89 | L2 | 9 |
| Rush-Henrietta | AA | 2 | 1 | 6 | 3 | 56.22 | 56.44 | L1 | 9 |
| Webster Schroeder | AA | 1 | 2 | 2 | 6 | 61.25 | 69.13 | L5 | 8 |
| Victor | AA | 0 | 3 | 2 | 7 | 58.67 | 61.56 | L2 | 9 |
| Penfield | AA | 0 | 3 | 3 | 7 | 54.20 | 58.50 | L1 | 10 |
| | | | | |
| --- | --- | --- | --- | --- |
| Scoring Leaders | School | Grade | PPG | GP |
| Hill, T. | Hilton | Jr. | 33.4 | 7 |
| Piampiano, P. | Penfield | Sr. | 17.4 | 10 |
| Caggiano, M. | Victor | Jr. | 15.1 | 9 |
| Monroe, J. | Penfield | Sr. | 15.0 | 10 |
| Starks, A. | Fairport | Sr. | 14.6 | 9 |
| | | | | | | | | | |
| --- | --- | --- | --- | --- | --- | --- | --- | --- | --- |
| | | | | Overall | | | | | |
| Monroe County II | CL | W | L | W | L | PF Avg | PA Avg | Strk | GP |
| Webster Thomas | AA | 3 | 0 | 6 | 3 | 64.00 | 61.89 | W1 | 9 |
| Gates-Chili | AA | 2 | 1 | 8 | 2 | 63.90 | 56.40 | W2 | 10 |
| Irondequoit | A1 | 2 | 1 | 6 | 1 | 64.14 | 47.43 | W2 | 7 |
| Churchville-Chili | A1 | 1 | 1 | 4 | 3 | 66.29 | 58.29 | W1 | 7 |
| Spencerport | A1 | 0 | 3 | 2 | 7 | 49.00 | 57.11 | L5 | 9 |
| Canandaigua | A1 | 0 | 2 | 0 | 10 | 51.30 | 71.70 | L10 | 10 |
| | | | | |
| --- | --- | --- | --- | --- |
| Scoring Leaders | School | Grade | PPG | GP |
| Mason, A. | Thomas | Jr. | 26.2 | 9 |
| Slack, K. | G-C | Sr. | 19.5 | 10 |
| Thomas, P. | Iron. | Sr. | 17.8 | 7 |
| Williams, A. | G-C | So. | 14.7 | 10 |
| Stella, G. | C-C | Jr. | 14.6 | 7 |
| | | | | | | | | | |
| --- | --- | --- | --- | --- | --- | --- | --- | --- | --- |
| | | | | Overall | | | | | |
| Monroe County III | CL | W | L | W | L | PF Avg | PA Avg | Strk | GP |
| Pittsford-Mendon | A1 | 3 | 0 | 6 | 0 | 77.33 | 54.50 | W6 | 6 |
| Brockport | A1 | 3 | 1 | 6 | 3 | 64.56 | 61.00 | L1 | 9 |
| Greece Athena | A1 | 2 | 1 | 9 | 2 | 65.55 | 54.36 | W2 | 11 |
| Pittsford Sutherland | A2 | 1 | 2 | 5 | 4 | 58.22 | 51.89 | W1 | 9 |
| Brighton | A1 | 1 | 3 | 3 | 4 | 57.00 | 63.43 | W2 | 7 |
| Greece Arcadia | A1 | 0 | 3 | 0 | 9 | 39.22 | 67.78 | L9 | 9 |
| | | | | |
| --- | --- | --- | --- | --- |
| Scoring Leaders | School | Grade | PPG | GP |
| Harrington, M. | Mendon | Sr. | 19.3 | 6 |
| Ryan, K. | Sutherland | Sr. | 18.8 | 9 |
| Council, M. | Athena | Jr. | 18.7 | 11 |
| Reaves, K. | Athena | Sr. | 16.8 | 11 |
| Falter, J. | Brighton | Sr. | 15.0 | 5 |
| | | | | | | | | | |
| --- | --- | --- | --- | --- | --- | --- | --- | --- | --- |
| | | | | Overall | | | | | |
| Monroe County IV | CL | W | L | W | L | PF Avg | PA Avg | Strk | GP |
| Greece Odyssey | B1 | 3 | 0 | 9 | 1 | 70.00 | 52.50 | W5 | 10 |
| Honeoye Falls-Lima | A2 | 2 | 1 | 5 | 4 | 54.33 | 57.78 | L3 | 9 |
| Eastridge | A1 | 1 | 1 | 4 | 5 | 66.22 | 66.44 | L1 | 9 |
| Batavia | B1 | 0 | 2 | 3 | 4 | 55.57 | 49.71 | W3 | 7 |
| Greece Olympia | B1 | 0 | 2 | 4 | 3 | 76.14 | 66.14 | L1 | 7 |
| | | | | |
| --- | --- | --- | --- | --- |
| Scoring Leaders | School | Grade | PPG | GP |
| Jung, J. | Olympia | Sr. | 22.1 | 7 |
| McFollins, M. | Batavia | Sr. | 20.5 | 4 |
| James, C. | Olympia | So. | 20.1 | 7 |
| Hartsfield, J. | Odyssey | Jr. | 15.9 | 10 |
| Chamberlain, T. | HF-L | Sr. | 15.3 | 9 |
| | | | | | | | | | |
| --- | --- | --- | --- | --- | --- | --- | --- | --- | --- |
| | | | | Overall | | | | | |
| Priv Parochial/Ind. | CL | W | L | W | L | PF Avg | PA Avg | Strk | GP |
| Northstar Christian | A2 | – | – | 9 | 0 | 87.22 | 72.11 | W9 | 9 |
| C.G. Finney | C1 | – | – | 10 | 1 | 73.55 | 52.91 | W8 | 11 |
| Wellsville | B2 | – | – | 7 | 4 | 53.10 | 54.00 | L1 | 11 |
| Bishop Kearney | AA | – | – | 4 | 5 | 67.00 | 68.78 | L3 | 9 |
| UPrep | AA | – | – | 4 | 6 | 63.30 | 64.60 | L1 | 10 |
| Rochester Prep | B2 | – | – | 2 | 7 | 54.78 | 75.89 | L4 | 9 |
| Rochester Academy | C2 | | | 2 | 7 | 57.33 | 66.44 | W1 | 9 |
| Aquinas | A1 | – | – | 2 | 7 | 68.11 | 70.56 | W1 | 9 |
| Lima Christian | D2 | – | – | 1 | 6 | 21.86 | 61.00 | L4 | 7 |
| Destiny Christian | D2 | – | – | 0 | 6 | 45.20 | 77.00 | L6 | 6 |
| Vertus | A2 | – | – | 0 | 7 | 51.43 | 65.29 | L7 | 7 |
| | | | | |
| --- | --- | --- | --- | --- |
| Scoring Leaders | School | Grade | PPG | GP |
| Brown, Miles | Northstar | Sr. | 37.1 | 9 |
| Lucas, J. | UPrep | Sr. | 27.0 | 10 |
| Ocorr, K. | Finney | Sr. | 21.7 | 11 |
| Blocker, K. | Kearney | Jr. | 21.1 | 7 |
| Robinson, M. | Finney | 8th | 21.0 | 11 |