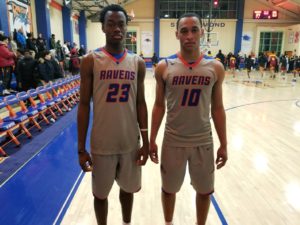 By JOHN LIKANJE
PARKCHESTER, N.Y. – The Saint Raymond's Ravens have been one of the hottest teams in the Catholic High School Athletic Association over the past month. Coming into Friday's matchup, coach Jorge Lopez's squad won six of their previous seven games with the lone loss to Long Island Lutheran (No. 1 NYSSWA Class AA) on December 22, 69-52. The Ravens (7-4/No. 11 NYSSWA Class AA) continued the hot streak Friday afternoon, outlasting the Cardinal Hayes Cardinals (8-2/No. 5 NYSSWA Class AA), 64-63, in overtime at Saint Raymond's High School for Boys in the Bronx, New York.
"I think it was a very important win because it was a top team in New York State," Ravens' junior forward Gary Grant said after the victory. "We got the win on them and it was a great one today."
The Ravens held the Cardinals to six missed field goals and one made field goal in seven possessions during the overtime period.
Final play of the game as @StRaysAthletics defeats @CardinalHayes 64-63 in overtime. @PickinSplinters @CHSAA_NYC @eliovelez @DanSerafin @gregthompson27 @patokeefe12 @KurtSemder pic.twitter.com/AbDWiueIdP

— John Mitchell Likanje Junior (@jml5798) January 4, 2019
Grant and junior forward Jalen Reneau combined to score 10 during a 15-4 run as the Ravens rallied from an eight point deficit to take a 60-57 lead with 48.7 seconds remaining in regulation. Grant converted three layups-one which was the go-ahead bucket-and Reneau had a couple of his own. Junior guard Reginald Hudson knocked down a long-range shot from the right corner and sophomore guard Tahron Allen hit two free throws during the spurt.
"Coach let us know what the lead was and what mistakes we made so we could correct them," Allen said about the Ravens' comeback effort. "And we just didn't panic. We went into the game like we were still down and we kept going and kept fighting and we pulled the win out."
Grant also had a layup and a highlight-reel dunk to send the crowd into a frenzy as part of a 9-4 run over the last two minutes of the second quarter to end with a 30-20 edge, the largest of the game. Sophomore guard Malachi Smith netted a three-pointer on the Ravens' last possession of the half while Allen had two shots from the charity stripe as well. Grant finished with a team-high 20 points on nine layups, including two dunks, and a couple of free throws.
"I get hard to the rim, I get offensive rebounds, and I do what coach tells me to do, which is to execute," Grant explained of his performance.
Allen got off to a quick start for the Ravens, scoring six of their first 12 points of the game for a 12-4 lead through four minutes of game play. Overall, he netted 15 on three layups, a shot from beyond the arc, and went 6-6 at the charity stripe. Hudson scored 10 points on two long-range shots and a couple of layups.
"I was an all-around player," Allen said while talking about how effective he was on the offensive end. "I was hitting jumpshots and also attacking but I was focused more on the defensive end and not worrying about offense."
Reneau (8), Smith (7), Luis Kortright (2), and Justin Hayes (2) rounded out the scoring for the Ravens.
For the Cardinals, junior forward Shamani Fuller netted six of their last eight points of the third quarter in which they outscored the Ravens 22-8 for a 42-38 lead. During the period, the Cardinals held the Ravens to 12 missed field goals, five turnovers, and three made field goals in 21 possessions.
Junior guard Joe Toussaint sparked the offense with two personal scoring runs. In the second quarter, he made a layup to snap a five-minute scoring drought for the Cardinals and went on to net six of the their last eight points of the period. In the first quarter, Toussaint scored six of the Cardinals' last 10 points to end the period after the team was held to one field goal made through the initial three and a half minutes of game play.
Toussaint finished with a game-high 21 points on six layups, two mid-range jumpshots, went 2-2 from the free throw line, and knocked down a buzzer-beating three-pointer at the end of regulation to tie the game at 60. He also dished out six assists, grabbed two rebounds, and had a steal. It was the second straight game Toussaint hit the tying shot in regulation for the Cardinals. On December 23 at Christ the King, he converted a layup to send that game to overtime tied at 66.
.@CardinalHayes and @StRaysAthletics going to OT tied at 60 on this buzzer-beating 3-pointer by Joe Toussaint. @CHSAA_NYC @PickinSplinters pic.twitter.com/Kk813mh0Kg

— John Mitchell Likanje Junior (@jml5798) January 4, 2019
Below is footage of Toussaint's buzzer-beating game-tying layup in regulation on December 23 at Christ The King.
Cardinals and Royals going to OT tied at 66 on this buzzer-beating layup by Joe Toussaint. @ctkroyals @CardinalHayes @CHSAA_NYC @eliovelez @PickinSplinters pic.twitter.com/Okw6ysZEAn

— John Mitchell Likanje Junior (@jml5798) December 23, 2018
Freshman guard Jaylen Murray netted 12 of the Cardinals' last 19 points of the game. Overall, he had 18 on four layups, two shots from beyond the arc, and a couple of free throws to go along with four rebounds, an assist, and a steal. Sophomore guard Jalen Smith contributed 12 points, a couple of steals, and a block. Sophomore forward Adam Cisse hauled in a team-high 11 rebounds and blocked four shots. Fuller grabbed nine rebounds of his own.
Fuller (8) and Cisse (4) rounded out the scoring for the Cardinals.
Both teams are back on the hardwood Sunday. Saint Raymond's will host Saint Peter's Prep for their homecoming game at 4:30 PM. Cardinal Hayes will match up with Brooklyn Law And Tech (PSAL) (No. 8 NYSSWA Class A) in the Apparel Challenge at Christ The King Regional High School. Game set to tip off at 1:00 PM.