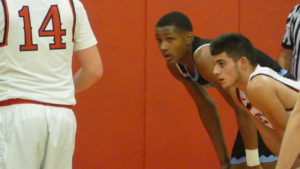 WHITESBORO (III) 71
NE DOUGLASS (7-2) 61
Junior guard Lamar Lovelace had 15 of his team-high 22 points in the fourth quarter for the NE Douglass Panthers. He knocked down four three-pointers, which also led the team. Senior guard Jiahmere Mitchell scored 20 while Trevion Miller contributed 13. For Whitesboro, Tommy Morreale dropped a game-high 34 points. He made 14 shots from 2-point range and was 6-8 from the charity stripe. Collin McAndrew scored his 15 points in the first and third quarters. Zack Britt contributed 11 Other scorers- Whitesboro: Nick Sardina (6), Joe Panuccio (5), NE Douglass: Maurice Glenn (4), Adonis Flagler (2).
EAST (9-0) 93
WILLIAMSVILLE SOUTH (VI) 55
Junior forward Zachariah Harris-Scott poured in 20 of his game-high 26 points in the second half, including 16 in the third quarter for the Eagles (No. 13 NYSSWA Class A). Dyllon Scott scored 14 of his 18 in the first half. He dropped 10 points in the second quarter. Junior guard Kaori Barley netted 13, including 10 in the second half, and a team-high two three-pointers. Senior guard Chaz Washington contributed 12 points. Freshman Damani Barley had 10. For Williamsville South, Michael DiGiulio scored 16 points. Sean Kerr netted 10. Other scorers- East: Seven McGee (6), Maurice Coney (4), Howard Eagle (2), Kai McCollough (2), Williamsville South: Michael Kelly (7), Kingsley Mitchell (6), Angel Torres (5), Harshone Eggleston Junior (4), Devin DeGree (3), Ethan Heil (2), Jamelle Jones (2).
EASTRIDGE (3-4) 60
GREECE ATHENA (7-1) 68
DeAndre Newsome led three in double figures, and the Greece Athena Trojans advanced to the finals of the 2018 Hilton Holiday Hall of Fame Tournament. READ MORE.
BISHOP KEARNEY (4-3) 67
HILTON (5-0) 89
For the fourth time this season Tah'Jae Hill topped 30 points, and Hilton (5-0) cruised to victory in the opening round of the 2018 Hilton Holiday Hall of Fame Tournament. READ MORE.
LIVONIA (3-4) 68
HONEOYE FALLS-LIMA (5-3) 66
Down 41-31 at halftime, the Bulldogs outscored the Cougars 37-25 in the second half to get the victory in the 10th annual Cougar Classic. Jalen Marshall had a game-high 25 points along with six rebounds and two steals to pace the Bulldogs. Alex Minnehan added 22 points and two steals and was 4-for-5 from beyond the arc. Livonia hit four straight three-pointers to start the fourth quarter-two from Minnehan and one from Nathan Genthner and Marshall each.
"This was a great team win for our guys," Bulldogs head coach Matt Young commented. "We need to build on this victory and continue playing as a team first attitude. We are proud of the way our guys played tonight, and will savior this victory tonight, but we know we have a lot of work ahead of us to be the team we want to be."
For the Cougars, sophomore forward Patrick Lustyk scored a team-high 18 points. Hayden Smith and Trevor Chamberlain each netted 15. Senior forward Derek Childs grabbed 13 rebounds. Other scorers- Livonia: Nate Genter (8), Noah Lasso (6), Steffan Gwyn (4), Shawn Minnehan (2), AJ Davin (1), Honeoye Falls-Lima: Childs (8), Jack Emerson (8), Josh Vogt (5)
GREECE ARCADIA (0-8) 44
GREECE ODYSSEY (6-1) 86
Senior forward Aric Williams led three players in double figures for the Leopards (No. 16 NYSSWA Class B) with 13 points. Junior forward Presten Mathis contributed 11 while senior guard Romell Griffin netted 10. Sophomore forward Anthony Stephenson led the Titans with 22 points. Other scorers- Greece Odyssey: Korey Canton (9), Jaden Hartsfield (9), Travon Harper (8), Josh Haff (6), Khyree Smith (5), Jonah Holloway (5), Dylan Kolmetz (4), Luke Schneider (4), Ray Colbert (2), Greece Arcadia: Joseph Desiato (5), Elijah Barnard (4), Adam Hurlbutt (4), Evan Insley (3), Evan Caufield (2), Kyle Blum (2), Casey Amato (2).
BRIGHTON (2-4) 73
SPENCERPORT (2-6) 60
Junior guard Matthew Falter poured in eight three-pointers en route to 31 points to lead the Barons. Five of his made shots from beyond the arc came in the first half. Falter also scored 16 of his 31 in the second half by netting eight points each in the third and fourth quarter. Senior guard Jack Falter had all 16 of his points in the first three quarters. For the Rangers, sophomore guard Cartier Jefferson scored 20 points. Junior guard Ben Reding contributed 14 while senior forward Nick Thibeau netted 13. Other scorers- Brighton: Nate Sponsel (9), Lukas Stanat (8), Chase Seibold (4), Agathia Visveswaran (3), Nate Miitin (2) Spencerport: Patrick Uebelacker (9), Mike Contestabile (2), Jon Taylor (2)
GATES-CHILI (7-2) 79
EDISON TECH (1-9) 57
Senior guard Keith Slack went 7-for-7 from the free throw line and hit three long-range shots en route to a team-high 20 points. He also dished out five assists. Sophomore forward Adam Williams scored 18 and grabbed 12 rebounds. Senior guard Traylan McCray had 13 points, five assists, and five steals. For the Inventors, senior guard Alton Knight scored 18 points. Junior center Torrean Lewis netted 14. Other scorers- Gates-Chili: Devin Walton (7), Andrew Newcombe (6), Damari McCutchen (4), Mair Morrison (4), Turner Harris (3), Mitchell Harris (3), Tre Green (1) Edison Tech: Edgar Bass (9), Natrell Colbert (4), Jawaun Holt (3), Kevin Jackson (3), Tahaj Washington (3), Kevis Heard (2), Jeremiah Montalvo (1)
CHURCHVILLE-CHILI (3-3) 61
BROCKPORT (6-2) 64
Senior guard Kyle Palka scored 17 of his 18 points in the second half, including nine in the fourth quarter to lead the Blue Devils to their fourth consecutive victory. He also had a couple of rebounds, a steal, and an assist. Junior forward Shamar Lee contributed 11 and had five steals, five assists, two rebounds, and a block. Troy Leibert grabbed a game-high 10 rebounds. For the Saints, junior forward Griffen Stella netted 12 of his 18 points in the third quarter. Marcellus James and Marcus Postell each contributed 10. Other scorers- Brockport: Leibert (8), Samuel Velletri (7), Willie Ball (6), Oscar Vandetta (5), Kevin Lawrenz (2), Churchville-Chili: Garland Akins (8), John Keele (5), Tylor Allen (5), Terrence Wilson (3), Kamerin Poromon (2)
PITTSFORD SUTHERLAND (4-4) 42
RUSH-HENRIETTA (6-2) 45
Junior guard Javonte Williams scored 13 points as the Royal Comets won their sixth straight game. Senior guard Tyshaun Searight contributed 12. For the Knights, senior forward Kevin Ryan scored 14 of his game-high 23 points in the second half. He went 11-15 from the free throw line. Other scorers- Rush-Henrietta: Charles Bowden (9), Eddie Beverly (3), Nyles Goodwin (2), Shamire Broyld (2), Tim Jackson (2), Francisco Lawson (2), Pittsford Sutherland: Ben DiGiovanni (7), Matt Panara (4), Conner Fitzsimmons (4), Owen Flisnik (3), John Luther (1)
FAIRPORT (6-3) 85
ROME FREE ACADEMY (III) 88
Senior guard Andre Starks poured in a school-record 43 points and 11 three-pointers made for Fairport. He scored 15 in the first half, 11 in the third quarter, and 17 in the fourth. 15 of his 22 shot attempts were from beyond the arc and he was 4-7 from 2-point range. Starks was named to the all-tournament team. Junior forward Stefan Milinkovic added 21 points. The Red Raiders had a three at the buzzer to tie the game but it was blocked. For Rome Free Academy, junior forward Andrew Recco scored a team-high 26 points while Damien Call had 25.
CHARLES G. FINNEY (9-1) 74
GENESEO (5-4) 48
Eighth-grader Markus Robinson scored 17 of his game-high 35 points in the third quarter to lead the Falcons (No. 8 NYSSWA Class C) to their seventh consecutive victory. Senior guard Keegan Ocorr scored 19 while Caleb Anger netted 12. For the Blue Devils, senior forward Jake Hamilton had a team-high 15 points. Junior center Noah Reilly contributed 10 Other scorers- Charles G. Finney: Tremell Hale (6), Josh Taylor (2), Geneseo: Adam Wright (7), Nick Hammond (6), Giovanni Cicoria-Timm (3), Michael McCaughey (3), Owen Lyons (2), Danny Kelly (2)
NORTHSTAR CHRISTIAN (6-0) 88
LYONS (7-1/No. 3 NYSSWA Class C) 84
Miles Brown drops 40 points as the Knights (No. 19 NYSSWA Class A) held off the Lions.
ATTICA (7-2) 50
BATAVIA (2-4) 70
Senior guard Mason McFollins netted 14 of his 19 points in the first half to lead Batavia to their second consecutive win. He went 4-4 from the free throw line, knocked down three shots from beyond the arc, grabbed a team-high 10 rebounds, and dished out two assists. Senior center Joe Martinucci scored 12 points and had five rebounds. Sophomore guard Zach Gilebarto dished out a team-high seven assists. For Attica, senior forward Dawson Nelson scored 19 points, including 15 in the second half. Junior guard Tyler Meyer netted all 11 of his points after the first quarter. Other scorers- Batavia: Andrew Francis (8), Caeden White (8), Jake Humes (8), Camden White (6), Luke Grammatico (5), Zach Gilebarto (4), Attica: Max Dufour (5), Frankie Bisceglie (5), Marco Magarelli (3), Trevor Goll (3), Devon Henderson (2), John Achatz (2)
YORK (7-3) 47
CALEDONIA-MUMFORD (10-0) 56
Junior forward Vin Molisani scored 13 points, grabbed five rebounds, and dished out five assists to lead the Raiders (No. 10 NYSSWA Class C). Senior guard Eric Wilson contributed 13 as well. Freshman guard Kyle Wade netted 12 points and grabbed six rebounds. Ethan Pies and Joe Laursen each scored eight points. Laursen hauled in 12 rebounds while Pies had seven of his own. "We played our best half of the season in the first half both offensively and defensively," Raiders head coach Dan Dickens commented. "York responded well and we got a little stale in the second half offensively but we dug in and made some plays to put the game away." For the Knights, sophomore forward James Kennedy had a game-high 15 points. Junior forward Riley Stella scored nine. Senior guard Matthew McFarland added six points.
AVOCA (10-0) 67
PALMYRA-MACEDON (1-7) 55
Avoca (No. 2 NYSSWA Class D) led 24-8 at the end of the first quarter but got into foul trouble in the second quarter, allowing Palmyra-Macedon an opportunity to get back into the game. The Tigers led 34-27 at halftime. Junior guard Brady Brandow scored 17 first half points, knocking down five three-pointers. He finished with a game-high 29 points and eight shots from beyond the arc. Senior forward Nathan Nunn scored 15 points. Junior Tristan Stark contributed 12 points while Devin Stowe chipped in with five while dishing out six assists. The Red Raiders was led by junior Tanner Thompson with 20 points. Zack Baker finished with 13 points. Avoca improves to 10-0 with the win. Other scorers- Avoca: LaDre Stanford (2), Thomas Derick (2), Zach Hammond (2) Palmyra-Macedon: Mike DeSain (6), Nick Patnode (5), Nick Sapienza (4), Ashton Raulard (4), Ashton Phippen (2), John Blazey (1)
CANISTEO-GREENWOOD (4-6) 44
DANSVILLE (4-4) 67
Junior guard Arrik Gerber dropped 37 points and knocked down seven three-pointers as the Mustangs won the Tink MacVean Tournament at Keshequa High School. He also grabbed three rebounds and had three steals. Junior forward Ben Caruso contributed 13 points and nine rebounds. Senior guard Jacob Failla dished out a team-high nine assists and grabbed five rebounds. Freshman forward Hunter McCaffery scored nine points to lead the Redskins. Other scorers- Dansville: Drew Morrow (6), Dylan Race (6), Noah Holland (2), Carter Davis (2), Brody Stone (1)  Canisteo-Greenwood: Mike Knight (8), Roque Santiago (6), Blake Updyke (6), Brennan Baker (5), Corey Barker (4), Austin Freberg (4), August Bryhn (2)
GREECE OLYMPIA (3-2) 94
SODUS (4-3) 44
Seniors Jeff Jung, Jr. (24), Kris Perez (16) and sophomore forward Collin James (18) led Olympia. The Spartans jumped out to 12 point first quarter lead than outscored Sodus 29-5 in the second quarter to take a 53-17 halftime lead and never looked back. Greece Olympia also had key contributing from junior Ehnoc Tossah (8) and sophomores Darnell Williams (6) and Zahir Green (7). The Spartans of Greece Olympia were rounded out by Torian Sheppard (5), Wesley Elmore Jr (3), Latrell Smith (3), Tre Sharpton-Clark (2) and De'jon Mitchell (2). Sodus was led by Ryan (11) and John Molisani (10) and were rounded out by Paul James (6), Preston (5), Marquese Burton (5), Amaunti Jones (4), David Ott (2) and Marcelus Burton (1).
ODESSA (IIII) 33
ADDISON (8-0/No. 16 NYSSWA Class C) 40
Senior guard Nick Sutryk scored 13 points, had three steals, grabbed three rebounds, and handed out two assists as the Knights continued the season with their eighth straight win. Daniel Ames contributed 10 points, six rebounds, four assists, and four steals. Junior center John Stierly hauled in 13 rebounds and blocked 10 shots to go along with his 10 points. For Odessa, Derrick Lewis scored 10. Zach Elliot grabbed 14 rebounds. Other scorers- Addison: Trevor Knapp (4), Shawn Ribble (2), Gage Ames (1), Odessa: Preston Harris (7), Elliot (7), Paden Grover (4), Jared Ramsey (3), DeShawn Johnson (2)

ROCHESTER PREP (2-6) 39
GENEVA (5-3) 60
Jagger Kerr, Reid Patchett, and Christian Tapscott each scored 13 points to lead the Panthers. Patchett grabbed a team-high eight rebounds as well. For the Tigers, senior guard Jaden Hayes netted 13 points. Sophomore guard Jaquis Robinson contributed 11. Other scorers- Geneva: Liam Ryan (7), Akim Hudson (6), Kaya Parara (3), Dante Reid (3), Dugan Doeblin (2), Rochester Prep: Bruce Lewis (8), Wesley Henderson (7)
GENESEE VALLEY (6-3) 54
JASPER-TROUPSBURG (6-4) 69
Noah Price and Tyler Flint each netted 16 points for the Wildcats as they won their second straight over the Jaguars (No. 12 NYSSWA Class D). Junior guard Brayden Hill added 10 of his own. Other scorers- Jasper-Troupsburg: Caleb Mills (7), Quincy Cornell (7), Weston Hayes (4), Aaron Flint (4), Devon Hawkins (3), Reese Draper (2)
KENDALL (3-4) 59
HOLLEY (2-5) 49
Senior guard Nathan Warters scored 17 points, grabbed four rebounds, and had one steal to lead the Eagles. John Rath netted 16 to go along with five steals, five rebounds, and five assists. Junior forward Mason Kuhn hauled in 10 rebounds. Other scorers- Kendall: Dale Steffen (7), Kuhn (7), Hunter Menze (6), Derek Edick (6)
WELLSVILLE (6-2) 31
ATHOLTON (MD) 69
MIDLAKES (4-5) 77
RED JACKET (7-2) 74
HINSDALE (1-5) 34
SCIO (4-1) 62
PEMBROKE (3-5) 41
CHEEKTOWAGA (VI) 48
RACS (1-7) 59
LYNDONVILLE (7-0) 88
OAKFIELD-ALABAMA (3-5) 61
ELBA (6-2/No. 6 NYSSWA Class D) 69
WHEATLAND-CHILI (0-7) 54
ALEXANDER (7-2) 68
ROY-HART (VI) 42
LEROY (3-4) 52
WARSAW (3-7) 55
KESHEQUA (2-7) 40
NORTHERN POTTER (PA) 51
BRADFORD (3-5) 63
FRIENDSHIP (1-7) 19
ALFRED-ALMOND (4-4) 50
WILLIAMSON (2-7) 61
MARION (1-7) 36
MOUNT MORRIS (4-3)
BATAVIA-NOTRE DAME (3-4)
COWANESQUE (PA)
CAMPBELL-SAVONA (3-5)
CLYDE-SAVANNAH (3-6) 68
SOUTH SENECA (1-5) 57