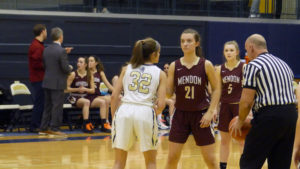 By JOHN LIKANJE
ROCHESTER, N.Y. — Pittsford-Mendon senior Alana Fursman signed her National Letter of Intent last month to play at Merrimack College next year. Friday night at the Rainbow Classic in the Louis Alexander Palestra, on the campus the University of Rochester, in front of a sold out crowd, she got a chance to display her full repertoire of skills. Fursman scored a game-high 22 points as the Vikings (No. 1 NYSSWA Class A) took down the Pittsford Sutherland Knights, 67-37.
Fursman netted 16 of her 22 points in the first half on five layups, three free throws, and a shot from beyond the 3-point arc. Senior Ellie Mooney knocked down two long-range shots en route to 10 points.
The Vikings used big runs to get off to a fast start. After giving up back-to-back layups in the beginning of the first quarter, Fursman and Mooney combined to score seven consecutive points in a minute and a half for a 10-4 lead. In the second quarter, the Vikings outscored the Knights 18-7 to extend their edge to 36-17 at halftime. Fursman, freshman Danielle Strauf, and seniors Courtney Naugle and Maddy Mike did all the scoring during an 8-0 run coming after the halftime break. The Vikings also finished the game on a 10-0 spurt and forced 36 turnovers.
Naugle (8), Lexi Green (7), Katie Bischoping (7), Mike (6), Ashley Bowler (3), Strauf (2), and Eliza Ryan (2) rounded out the scoring for the Vikings.
For the Knights, sophomore Maley Garcia netted eight of her team-high 14 points in the first half. She converted five layups and went 4-4 at the charity stripe. Junior Erika Newcombe scored 13 and knocked down two three-pointers.
Ellie Bergin (7) and Libby Kenneally (3) rounded out the scoring for the Knights (4-4).
Pittsford Mendon (7-0) will enjoy the holiday break before hosting a tournament next Thursday featuring Greece Arcadia, Hilton, and Fairport. The Vikings will match up with Arcadia in the nightcap of the first round at 7:30 PM.