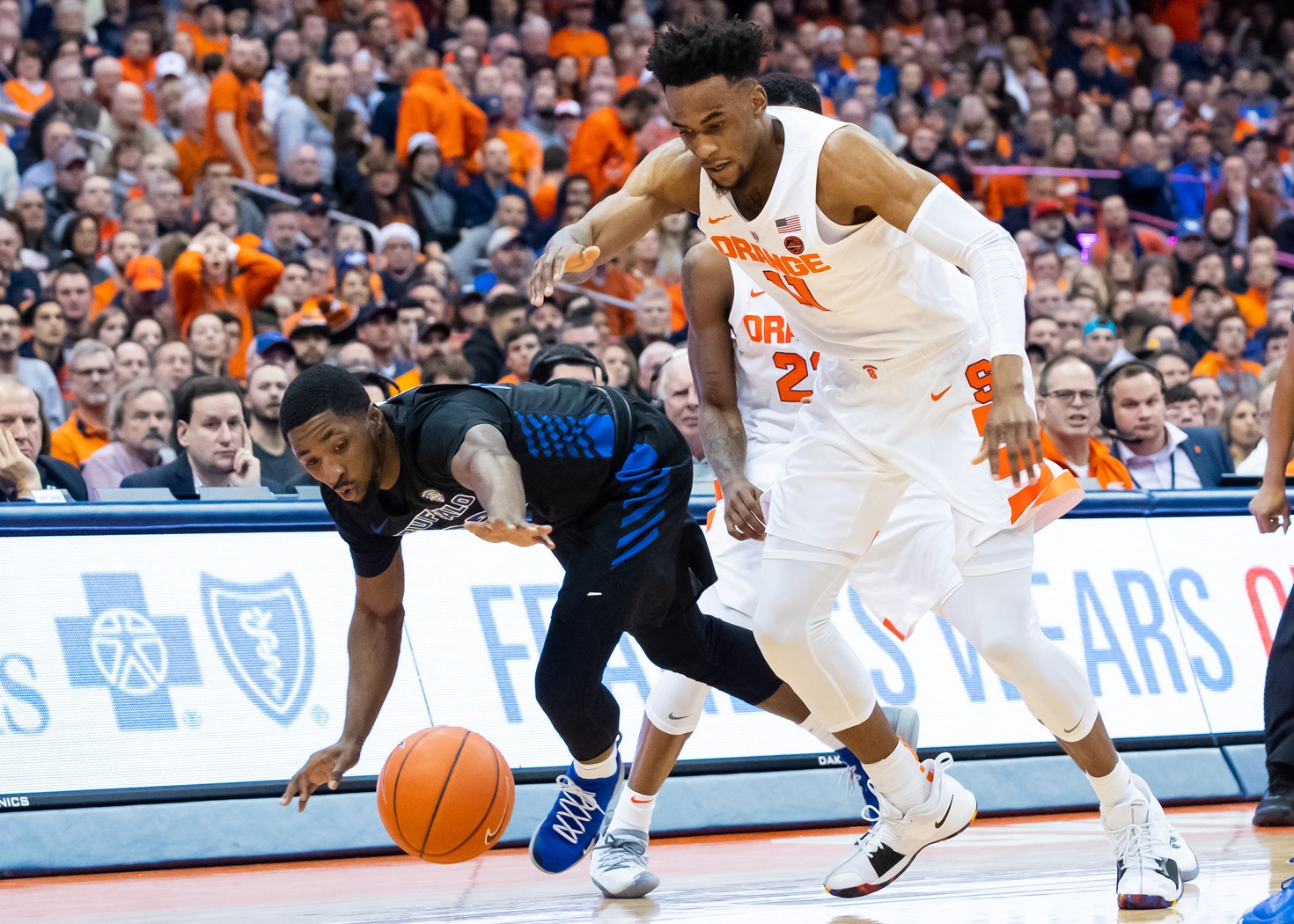 By BILLY HEYEN
SYRACUSE, N.Y. — With 4:25 to go on Tuesday, Buffalo's Dontay Caruthers heard the whistle after contesting Syracuse's Tyus Battle's jump shot. He sprinted down toward the other end of the floor in disbelief. That was his fifth foul, disqualification from a game about 90 minutes from his hometown in Rochester.
But he'd also done enough to that point. He'd helped shut down Battle in tandem with fellow UB guard Devonta Jordan. And that meant he, and fellow Rochester product Jeenathan Williams, would have a marquee New York win in their pockets.
"Caruthers fouled out, he plays so hard, but I thought he helped us get over the hump when he was in there," UB head coach Nate Oats said.
East High product Caruthers, and to a much lesser extent UPrep product Williams, were key bench pieces in No. 14 Buffalo's (11-0) 71-59 win over Syracuse (7-4) in the Carrier Dome on Tuesday night. Caruthers finished with three points and played lock down defense as the Bulls beat the Orange for the first time since 1963.
Caruthers showed his prowess on the offensive end early on, though, the same ability that led him to multiple 50-point games for East in high school. When he drove down the lane, the 6-foot-1 senior was dribbling toward SU's 6-foot-10 Bourama Sidibe. But he took it right into the big man's chest and finished through contact, even with no whistle.
That was about it for the standout plays. From there, it was just Caruthers helping hold Battle to 4-for-10 from the floor, preventing the SU junior from using his explosive first step to get to the rim.
"We've got really good perimeter defenders in Caruthers and Devonta Jordan," Oats said. "And when you look at Battle's numbers, this kid's their leading scorer, only gets 10 shots tonight."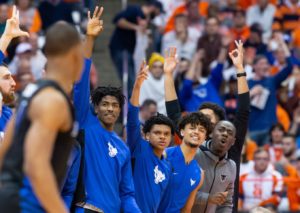 Williams only played a minute, but the freshman has impressed Oats early with his willingness to get in the gym. He's joined a senior-laden team, and that often means even a highly touted freshman won't get many minutes. But that hasn't stopped him from looking to improve, and before the game he knocked down jumper after jumper from the corners, showing a polished stroke.
"The two freshmen that didn't play much, Jeenathan and Ronaldo, they literally might get off the bus tonight and get right in the gym," Oats said.
Whatever happened on the stat sheet, Oats recognized after the game that none of that really mattered. He knew that his senior and freshman were playing not too far from home. Before the game, Williams had hugged a few well-wishers near the side of the court.
Especially for Caruthers, his collegiate game hasn't been about the stat sheet. It's been about wins. And as Oats said afterwards, that's what will remain in his players' memory banks for a long time.
"Caruthers fouled out, and he spoke up after the game, and he just said thanks to everybody because he's from this area," Oats said. "Which means a lot, Rochester kid, he's got bragging rights, he doesn't get to play them again.
"Last game, he can talk about it the rest of his life being from Rochester. It's big that way."