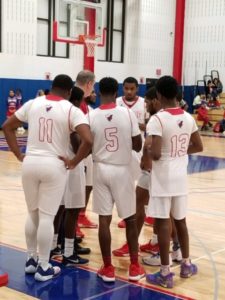 By JOHN LIKANJE
ROCHESTER, N.Y. — For the second time in four nights, the James Monroe Red Jackets faced a challenge from a fellow RCAC opponent in their new gymnasium. On Tuesday night, they rallied from a double-digit deficit to defeat the Leadership Academy Lions (No. 23 NYSSWA Class A) in overtime. Senior guard Fidel Brock led the charge with 13 points combined in the fourth quarter and overtime. On Friday night, "The Fourth Quarter Monster" stepped up and delivered once again.
Brock scored 12 of the Jackets (4-2) final 17 points as they held on for a 74-68 victory over the School of the Arts Silverhawks (3-2) at James Monroe High School, Friday night.
All 12 of those points came in the last five and a half minutes of the game. Brock made two floaters, a couple of layups, a shot from the top of the key, and netted two free throws down the stretch.
"I heated up in the fourth and was able to pull it together for my team," Brock commented on his performance. "My team always gives me confidence to see the ball and take shots and I was just trying to play my game and get us the win."
Jackets head coach Matt McCormick had positive words to say about his team captain after another huge fourth quarter.
"He's personally turned two games around," McCormick said about how important Brock has been in their victories. "Credit to him for being resilient and putting the team on his back."
The Jackets took advantage of building a comfortable lead early in the game. In the middle of the third quarter, senior guard De'vante Mateo gave them a 13 point lead twice. He finished a breakaway layup through contact for a 41-28 edge and knocked down a bomb from long range two and a half minutes later to give the Jackets a 46-33 lead right out of a Silverhawks' timeout.
The Jackets also used an 11-2 run from the end of the first quarter into the beginning of the second to quickly go up by 10 points.
After Brock converted a layup for an 8-7 edge early on, the Jackets made key stops throughout the game on the strength of forcing 25 turnovers and would not relinquish the lead afterwards.
"It all came down to defense, defensive stops, and easy buckets," McCormick explained on how the Jackets maintained the lead.
Brock finished with a game-high 21 points. Mateo scored 14 of his 18 in the second and third quarters combined. Battling through foul trouble, Tyquil Glasgow got off to a strong start, netting 11 in the first half en route to 17 points.
"Fidel and De'vante had some nice looks in the second half," McCormick said about his squad's two leading scorers tonight.
Jo-Nathan Jones (6), Jamar Williams (4), Trevon Glasgow (4), Kerone Kearse (2), and Jahmir Bloom (2) rounded out the scoring for the Jackets.
For the Silverhawks, sophomore guards Ke'Vion Mitchell and Ethain Clarke-Desouza each poured in a team-high 18 points. Both players scored double-digits in a quarter. Mitchell had 10 of his 18 in the fourth, including six straight to close the gap to three points. Clarke-Desouza netted 11 of the 20 points the Silverhawks scored in the third quarter.
"SOTA reminds me of my team two or three years ago," McCormick said as he congratulated the Silverhawks on a hard fought game. "Young, hungry, guard-oriented, can shoot threes, they go after the ball well, and they have great energy."
Keshaun Chatman (11), Logan Hayes (8), Reggie Smith (8), and Joe Denegal (5) rounded out the scoring for the Silverhawks.
Monroe will continue their stretch of home games on Tuesday night against Early College. Game is set to tip off at 6:00 PM. School Of The Arts will play East on Tuesday night at School No. 33 at 6:15 PM.