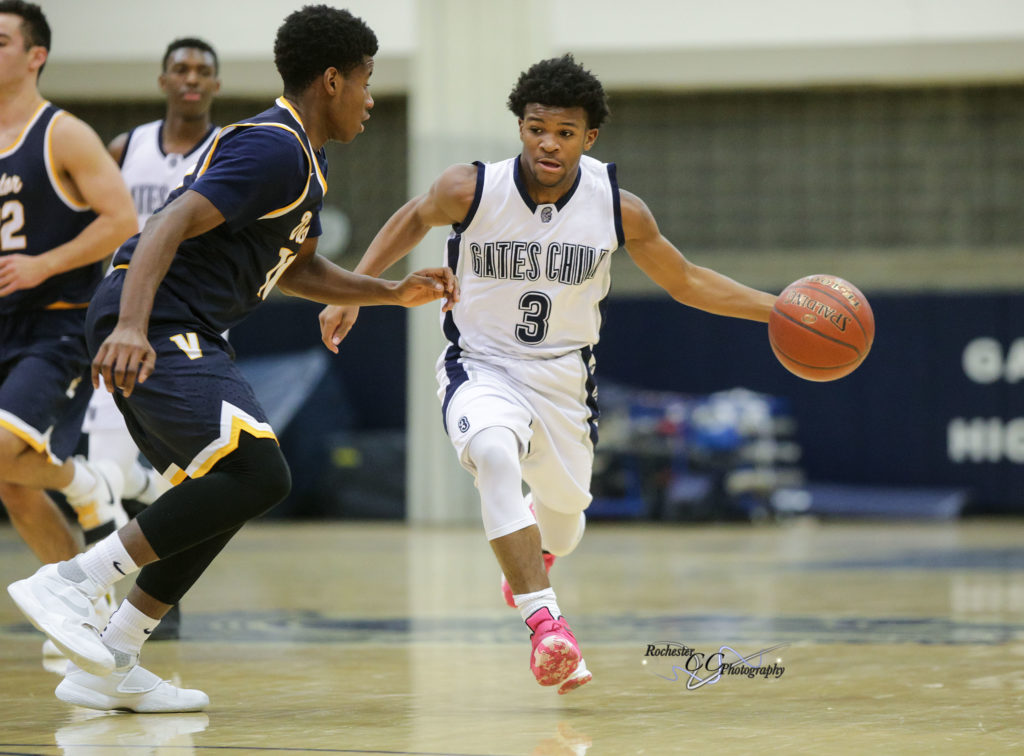 By CAITLIN McCLARE
Hilton's Tah'jae Hill opened the season with a career night. Keith Slack helped Gates-Chili get 2018-19 off to a hot start. Greece Athena's Melvin Council Jr. stuffed the stat sheet, and Jaden Hartsfield played a crucial role in Odyssey's comeback victory.
The four garnered 2018-19's first Monroe County Player of the Week (Dec. 3-7) honors as announced by the league earlier Monday.
Hill drained 41 of Hilton's 61 points in Friday's 61-47 win over Rush Henrietta. In his career performance, the junior guard was 12-for-23 from the floor and 4-for-9 behind the arc. In an effort to get Hill out of rhythm, Rush-Henrietta committed multiple fouls on him and he answered hitting 13 of 18 (72 percent) from the free throw line. He also corralled 12 rebounds and dished out two assists. READ MORE. Hill and the Hilton Cadets (1-0) are set to face Webster Thomas in Titan territory Wednesday night at 7:15 p.m.
Slack was a steady force for his squad this week, helping Gates-Chili start off the season at 2-0. The senior point guard totaled 38 points between the 69-63 win over Rush-Henrietta and the 60-52 win over Canandaigua. In the season opener, on Tuesday night, Slack added to teammate and game's leading scorer Adam Williams's 21 points with 16 for Gates-Chili. Keeping his momentum, Slack splashed five three-pointers in his 22-point performance against Canandaigua. He finished the week with 11 assists, 10 rebounds and three steals. Slack and the Spartans are home against Penfield on Tuesday, Dec. 11, for a 7:15 tip-off.
VIEW MORE CHRIS CECERE PHOTOS HERE. 
Council covered every side of the ball in Greece Athena's opening week games. Athena opened the week with a 65-61 loss to Pittsford Mendon, but bounced back for a 58-47 win over Brockport. The junior averaged 20.3 points, 7.7 rebounds, 3.3 assists, two blocks, and two steals per game. In the four-point defeat, Council scored 21 points. Against Brockport, he accounted for 15. Athena (2-1) is back in action on Wednesday, Dec. 12, at Batavia for a 7:15 p.m.
Greece Odyssey currently sits at 2-0 to start the season. Hartsfield is a big reason for that. The junior played a huge role in Odyssey's comeback win over Eastridge. Odyssey trailed 52-47 when Hartsfield returned to play in the fourth quarter. When all was said and done, he lifted Odyssey over Eastridge with 17 points in the fourth quarter, including four three-pointers. READ MORE. He finished with 25 overall, one point away matching his career-high that he set during the season opener against Alexander. Harts field finished the week connecting on 23 of 39 field goal attempts (59 percent) including six of 14 from long range. Hartsfield collected eight rebounds and six assists for the week. Odyssey tips off at 7:15 against Brighton on Wednesday, Dec. 12.
Division
Overall
Monroe County I
CL
GP
W
L
Pct.
W
L
Pct.
PFAv
PAAv
Strk
Fairport
AA
3
1
0
1.000
3
0
1.000
62.67
51.67
W3
Hilton
AA
1
1
0
1.000
1
0
1.000
61.00
47.00
W1
Webster Schroeder
AA
3
1
0
1.000
2
1
0.667
73.00
62.00
W1
Penfield
AA
2
0
1
0.000
1
1
0.500
48.00
49.00
L1
Victor
AA
3
0
1
0.000
1
2
0.333
57.67
65.00
L2
Rush-Henrietta
AA
2
0
1
0.000
0
2
0.000
55.00
65.00
L2
Division
Overall
Monroe County II
CL
GP
W
L
Pct.
W
L
Pct.
PFAv
PAAv
Strk
Gates-Chili
AA
2
1
0
1.000
2
0
1.000
64.50
57.50
W2
Irondequoit
A1
1
1
0
1.000
1
0
1.000
68.00
24.00
W1
Webster Thomas
AA
3
1
0
1.000
2
1
0.667
66.67
60.33
W2
Churchville-Chili
A1
2
0
1
0.000
1
1
0.500
68.50
57.50
L1
Spencerport
A1
3
0
1
0.000
1
2
0.333
41.67
53.33
L1
Canandaigua
A1
3
0
1
0.000
0
3
0.000
56.00
72.33
L3
Division
Overall
Monroe County III
CL
GP
W
L
Pct.
W
L
Pct.
PFAv
PAAv
Strk
Pittsford-Mendon
A1
1
1
0
1.000
1
0
1.000
65.00
61.00
W1
Pittsford Sutherland
A2
3
1
0
1.000
2
1
0.667
62.33
55.67
W1
Brockport
A1
3
1
1
0.500
2
1
0.667
65.33
57.67
L1
Greece Athena
A1
3
1
1
0.500
2
1
0.667
63.00
60.00
W1
Brighton
A1
2
1
1
0.500
1
1
0.500
61.50
56.50
W1
Greece Arcadia
A1
4
0
2
0.000
0
4
0.000
39.50
65.75
L4
Division
Overall
Monroe County IV
CL
GP
W
L
Pct.
W
L
Pct.
PFAv
PAAv
Strk
Greece Odyssey
B1
2
1
0
1.000
2
0
1.000
80.50
59.00
W2
Honeoye Falls-Lima
A2
2
1
0
1.000
2
0
1.000
46.50
43.00
W2
Greece Olympia
B1
1
0
0
0.000
1
0
1.000
63.00
45.00
W1
Eastridge
A1
3
0
1
0.000
1
2
0.333
63.67
64.00
L2
Batavia
B1
1
0
1
0.000
0
1
0.000
38.00
43.00
L1
Division
Overall
RCAC Upper
CL
GP
W
L
Pct.
W
L
Pct.
PFAv
PAAv
Strk
McQuaid Jesuit
AA
3
2
0
1.000
3
0
1.000
87.33
65.00
W3
Leadership Academy
A2
3
1
0
1.000
3
0
1.000
92.00
65.33
W3
Edison Tech
AA
4
1
1
0.500
1
3
0.333
65.00
74.33
L1
Wilson Magnet
A2
4
0
1
0.000
1
3
0.250
71.25
65.50
W1
Franklin
A1
3
0
2
0.000
0
3
0.000
51.00
65.33
L3
Division
Overall
RCAC Lower
CL
GP
W
L
Pct.
W
L
Pct.
PFAv
PAAv
Strk
East
A2
3
2
0
1.000
3
0
1.000
86.33
60.67
W3
NE Douglass
A2
3
1
0
1.000
3
0
1.000
78.00
59.67
W3
Monroe
A2
4
1
1
1.000
2
2
0.500
74.33
68.00
L1
School of the Arts
A2
2
1
1
0.500
1
1
0.500
57.00
70.00
L1
Early College
B2
2
0
1
0.000
0
2
0.000
41.50
84.50
L2
World of Inquiry
B2
3
0
2
0.000
0
3
0.000
52.00
60.50
L2
League
Overall
Priv Parochial/Ind
CL
GP
W
L
Pct.
W
L
Pct.
PFAv
PAAv
Strk
Northstar Christian
A2
2
 –
 –
 –
2
0
1.000
95.50
75.00
W2
C.G. Finney
C1
6
 –
 –
 –
5
1
0.833
73.33
57.00
W3
Wellsville
B2
4
 –
 –
 –
3
1
0.750
60.00
55.75
W1
Bishop Kearney
AA
2
 –
 –
 –
1
1
0.500
58.50
62.50
W1
Aquinas
A1
3
 –
 –
 –
1
2
0.333
59.33
60.67
W1
Rochester Academy
C2
3
 –
 –
 –
1
2
0.333
67.00
52.00
L1
University Prep
AA
5
 –
 –
 –
1
4
0.200
56.20
61.20
W1
Lima Christian
D2
2
 –
 –
 –
0
2
0.000
35.50
54.00
L2
Rochester Prep
B2
2
 –
 –
 –
0
2
0.000
63.50
87.00
L2
Destiny Christian
D2
3
 –
 –
 –
0
3
0.000
44.33
76.00
L3
Vertus
A2
3
 –
 –
 –
0
3
0.000
45.00
58.00
L3
League
Overall
Wayne County
CL
GP
W
L
Pct.
W
L
Pct.
PFAv
PAAv
Strk
Lyons
C2
4
3
0
1.000
4
0
1.000
86.25
61.50
W4
East Rochester
C1
5
2
0
1.000
3
2
0.600
56.60
58.60
L1
Gananda
C1
4
2
1
0.667
3
1
0.750
74.00
55.50
W1
Clyde-Savannah
C3
4
2
1
0.667
2
2
0.500
56.25
55.25
L1
Sodus
C1
2
1
1
0.500
1
1
0.500
53.00
46.50
W1
Williamson
C1
4
1
2
0.333
1
3
0.250
50.50
67.00
W1
Red Creek
C1
5
1
2
0.333
1
4
0.200
55.80
57.60
L1
Marion
C2
2
0
2
0.000
0
2
0.000
49.00
71.50
L2
North Rose-Wolcott
C1
5
0
3
0.000
0
5
0.000
39.25
65.00
L5
League
Overall
Finger Lakes East
CL
GP
W
L
Pct.
W
L
Pct.
PFAv
PAAv
Strk
Newark
B1
3
1
0
1.000
3
0
1.000
59.67
49.33
L3
Wayne
A2
3
1
0
1.000
2
1
0.667
65.33
60.67
W1
Geneva
B1
4
1
0
1.000
2
2
0.500
47.25
48.50
W1
Penn Yan
B2
4
0
1
0.000
3
1
0.750
51.50
49.00
L1
Mynderse Academy
B2
2
0
1
0.000
1
1
0.500
49.00
42.00
L1
Palmyra-Macedon
B1
2
0
0
0.000
1
1
0.500
31.33
29.00
 –
Waterloo
B1
2
0
0
0.000
1
1
0.500
41.67
37.67
 –
Midlakes
B1
3
0
1
0.000
1
2
0.333
51.00
52.33
W1
League
Overall
Finger Lakes West
CL
GP
W
L
Pct.
W
L
Pct.
PFAv
PAAv
Strk
Naples
C3
4
2
0
1.000
4
0
1.000
55.50
41.00
W4
Red Jacket
C2
4
2
0
1.000
4
0
1.000
56.75
47.75
W4
Marcus Whitman
C1
4
1
0
1.000
3
1
0.750
54.75
42.50
W2
Harley Allendale Columbia
C3
6
2
1
0.667
3
3
0.500
51.33
52.67
W1
Bloomfield
C2
3
1
1
0.500
2
1
0.667
52.00
46.67
L1
Romulus
D2
4
1
2
0.333
2
2
0.500
50.75
54.50
L1
Honeoye
D1
3
0
1
0.000
0
3
0.000
47.00
63.67
L3
Dundee
C3
3
0
2
0.000
0
3
0.000
40.67
57.00
L3
South Seneca
C3
3
0
2
0.000
0
3
0.000
52.50
67.00
L3
Division
Overall
Genesee Region 1
CL
GP
W
L
Pct.
W
L
Pct.
PFAv
PAAv
Strk
Attica
B2
1
1
0
1.000
1
0
1.000
59.00
55.00
W1
Alexander
C2
3
1
0
1.000
2
1
0.667
63.67
60.00
W1
Pembroke
C3
2
1
1
0.500
1
1
0.500
51.00
49.50
L1
Holley
C1
2
0
1
0.000
1
1
0.500
47.00
51.50
L1
Byron-Bergen
C2
4
0
1
0.000
1
3
0.250
63.25
62.25
L1
Division
Overall
Genesee Region 2
CL
GP
W
L
Pct.
W
L
Pct.
PFAv
PAAv
Strk
Lyndonville
C3
3
1
0
1.000
3
0
1.000
75.67
60.67
W3
Elba
D2
2
1
0
1.000
2
0
1.000
57.00
42.00
W2
Notre Dame-Batavia
D1
2
1
1
0.500
1
1
0.500
60.50
58.00
L1
Oakfield-Alabama
C3
3
1
1
0.500
1
2
0.333
52.67
56.33
W1
Wheatland-Chili
C3
1
0
0
0.000
0
1
0.000
25.00
66.00
L1
Kendall
D1
3
0
2
0.000
0
3
0.000
58.00
69.00
L3
League
Overall
Livingston County
CL
GP
W
L
Pct.
W
L
Pct.
PFAv
PAAv
Strk
Caledonia-Mumford
C3
4
3
0
1.000
4
0
1.000
72.25
54.25
W4
Avon
C1
4
2
0
1.000
4
0
1.000
70.00
46.00
W4
Hornell
B1
3
2
0
1.000
3
0
1.000
47.67
39.33
W3
Geneseo
C2
4
2
0
1.000
3
1
0.750
46.00
37.75
W3
Bath-Haverling
B2
5
1
0
1.000
1
4
0.200
48.20
61.80
W1
York
C3
3
1
1
0.500
2
1
0.667
61.33
56.00
W2
LeRoy
B2
2
1
1
0.500
1
1
0.500
43.00
28.50
L1
Mount Morris
D1
2
1
1
0.500
1
1
0.500
51.50
47.00
L1
Warsaw
C1
5
1
1
0.500
2
3
0.400
49.00
56.20
W1
Livonia
B1
3
1
1
0.500
1
2
0.333
55.00
54.00
L2
Perry
C2
3
1
1
0.500
1
2
0.333
53.67
63.33
W1
Pavilion
C3
6
0
2
0.000
3
3
0.500
57.33
61.17
L2
Keshequa
C3
4
0
2
0.000
2
2
0.500
38.00
38.50
L1
Dansville
B2
3
0
1
0.000
1
2
0.333
51.67
46.33
W1
Letchworth
C2
2
0
2
0.000
0
2
0.000
38.00
51.00
L2
Wayland-Cohocton
B2
4
0
2
0.000
0
4
0.000
58.50
67.75
L4
League
Overall
Steuben County
CL
GP
W
L
Pct.
W
L
Pct.
PFAv
PAAv
Strk
Avoca
D1
6
3
0
1.000
6
0
1.000
76.50
46.83
W6
Prattsburgh
D2
2
2
0
1.000
2
0
1.000
64.50
43.50
W2
Addison
C1
3
1
0
1.000
3
0
1.000
61.67
47.00
W3
Campbell-Savona
C2
3
1
0
1.000
1
2
0.333
50.67
49.00
L2
Jasper-Troupsburg
D1
4
1
1
0.500
3
1
0.750
50.75
40.25
W1
Alfred-Almond
D1
3
1
1
0.500
2
1
0.667
45.00
61.33
L1
Hammondsport
D1
5
1
1
0.500
2
3
0.400
43.80
47.40
W1
Arkport-Canaseraga
D1
5
0
0
0.000
2
3
0.400
31.00
43.00
L2
Bradford
D2
4
0
2
0.000
1
3
0.250
51.75
57.25
L3
Canisteo-Greenwood
C1
3
0
2
0.000
0
3
0.000
46.00
71.67
L3
Division
Overall
Allegany County
CL
GP
W
L
Pct.
W
L
Pct.
PFAv
PAAv
Strk
Fillmore
D1
2
1
0
1.000
2
0
1.000
67.50
39.00
W2
Scio
D1
1
1
0
1.000
1
0
1.000
30.00
27.00
 –
Genesee Valley
D1
2
1
0
1.000
1
1
0.500
38.67
38.00
 –
Bolivar-Richburg
C3
4
0
1
0.000
2
2
0.500
54.00
44.75
W1
Cuba-Rushford
C2
4
0
1
0.000
2
2
0.500
56.00
57.25
W1
Division
Overall
Allegany County
CL
GP
W
L
Pct.
W
L
Pct.
PFAv
PAAv
Strk
Andover
D2
4
2
0
1.000
2
2
0.500
60.50
52.75
W2
Friendship
D2
1
0
0
0.000
0
1
0.000
16.00
24.50
 –
Houghton
D2
2
0
1
0.000
1
1
0.500
21.67
36.33
 –
Hinsdale
D2
2
0
1
0.000
0
2
0.000
44.00
55.50
L2
Whitesville
D2
5
0
1
0.000
0
5
0.000
25.20
64.20
L5