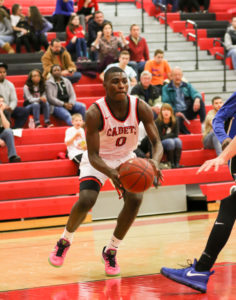 By JOHN LIKANJE
ROCHESTER, N.Y. — Nine months after falling in the Section V Class AA semifinals, the Hilton Boys Basketball team took the floor Friday night looking to build off last season's success. The Cadets turned to Tah'jae Hill for leadership and the junior guard did not disappoint.
Hill poured in 41 points in a career-high performance as the Cadets (1-0) downed the Rush-Henrietta Royal Comets (0-2), 61-47, in Monroe County Division One action Friday night.
"I let the game come to me," Hill explained on finding his offense during the game. "I created space for myself a lot. Guys, when they pressured me, I went by them and when they sagged off me, my shot was going in."
Hill converted on two free throws to start his night. He finished a layup for his first field goal and proceeded to score seven points that quarter as the Cadets got out to an 11-7 lead. That was the opening act for the rest of his performance.
VIEW MORE CHRIS ROACH PHOTOS HERE. 
"At first, my shots weren't going in, but then I settled down," Hill said. "Once Coach ran one set and I came off and I hit a 3. I was like yeaH, it was fine for me to just basically try and take over and get the win for our team."
Hill scored 13 points in the second quarter, including his own personal 6-0 run in which he hit a pair of three-pointers, to cap off a 20-point first half as the Cadets led the Royal Comets 26-20. In the third quarter, he gave the Cadets their first double-digit lead of the game on a four-point play to extend the lead to 35-23.
Finally, in the fourth quarter, after scoring seven points through the first five minutes and going scoreless for the next two, Hill capped off his career night by converting a three-point play with 49.3 seconds remaining to reach the 40-point mark.
Cadets head coach Troy Prince praised Hill's effort and leadership.
"When there were open looks that we didn't score, Tahj just went and scored," Prince explained about how Hill led the team to victory. "In every which way, he put on a show tonight."
Senior forward Mitchell Carr scored 13 points. He netted seven points in the fourth quarter, including knocking down a three-pointer from the right corner to give the Cadets a 55-40 lead.
"He's an inside-outside guy," Prince said about Carr's effectiveness tonight. "When you have the second scoring option and eventually we're getting some third scoring options, it really makes it hard to focus on Tah'j."
Colin Burkis (3), Sean Alabaugh (3), and Najier Daniels (1) rounded out the scoring for the Cadets. Hill scored 40 in a double overtime game last season.
Jevonte Williams led the Royal Comets with 11 points, including a team-high three shots from beyond the arc. Tyshawn Searight scored 7 of his 10 points in the third quarter on a three-pointer, a layup, and converted two free throws. Shamire Broyld netted 10 points as well.
Nyles Goodwin (5), Eddie Beverly (3), Patrick Sherron (3), and Ziemere Howard (3) rounded out the scoring for the Royal Comets.
The Hilton Cadets play at Webster Thomas next Wednesday night at 7:15pm. The Rush-Henrietta Royal Comets host Victor on Monday night at 7:15pm.