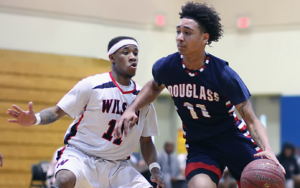 By PAUL GOTHAM
The first full week of local high school hoops saw several teams not yet take the floor for 2018-19. That's not to suggest there was a shortage of talent on the hardwood. The first weekly installment of the student-athletes who stood out over the last seven days while yours truly was in attendance.
Melvin Council, Jr. 6-foot-3 Jr. G Greece Athena (Monroe County Division III) – Unique combination of skill and athleticism with an endless motor, he blends a deadly first step off the dribble with the ability to see the floor, excellent passer with a quick release and always manages to have the correct pace on his leads, finishes strong with contact using either hand, developing jumper, his ability to stop and pop has few rivals locally; willing defender who wants to guard the opposition's best player, uses his prodigious wingspan to take away court vision from opposing ball handlers, stays balanced on the ball and anticipates well off it; relentless rebounder who resists first contact, with strong hands he gathers 50/50 opportunities.
Adonis Flagler 6-foot-1 Jr. G NE Douglass (RCAC) – Sturdy frame on a guard who continues to grow, thrives on contact in the lane, uses solid upper torso to ward off defenders, confident finisher around the cup, possesses impressive range with the ability to score in bunches, willing to let the game come to him, he thinks pass first and facilitates opportunities for teammates; responsible defender who frequently steps out on the opponent's top scorer, uses feet well to stay in front of the ball handler but remains balanced to defend shooter; uses strong hands to grab rebounds that most can't get; strong passer with above average court vision.
Jakhi Lucas 6-foot-1 Sr. G UPrep (Private/Independent) – A repeat performer in the Starting Five, Lucas has seamlessly stepped into the role of UPrep's primary scorer, as a sophomore he played behind current UB Bull Jeenathan Williams, at times last year he deferred to Elroy Clark, has the ability to distort an opposing defense, uses low center of gravity to create space, has to be defended three feet behind the arc, but strong first step and solid torso allows him to get to the basket where he finishes with either hand, thrives on contact, scored his 1,000th career point last week; crafty defender who despite playing a high volume of minutes frequently draws the assignment of guarding the opponent's best player, he fulfills that responsibility without fail; active rebounder who gets good position in the lane and can run down long caroms.
Jayden Peters 6-foot-2 Sr. G Newark (Finger Lakes East) – Deadly shooter who can score from any where on the floor, but he resists the temptation to shoot his team out of a game, willing passer who sees the floor well and understands how to create angles to put teammates in best position to score, solid off the dribble and makes sound decisions with the ball in his hands; responsible defender who moves well on the flight of the ball, uses active feet to stay between ball and rim; deceptive rebounder who keeps moving while the ball is in the air.
Kelvin Reaves, Jr. 6-foot-2 Sr. G Greece Athena (Monroe County Division III) – Double dose of Black and Gold, Reaves together with Council will give opponents headaches this year; showing now his ability to step into the role as a primary scorer, he went from playing behind four seniors a year ago to knocking down a 3-pointer on Athena's first possession Friday night. He later scored the game winner on a layup in transition with 1.7 seconds on the clock, he wants the ball and knows what to do with it, not afraid to use an upfake to create for a mid-range jumper that he can finish; versatile defender who can stay in front of smaller guards, at the same time he easily can body up in the lane with forwards; aggressive rebounder with a quick and accurate outlet, makes weight room plays on 50/50 balls.
#ATHENA vs #UPREP / #BUZZERBEATER 11/30/2018
"When the game is on the line, the #Stars have to #SHINE
S/O to my young homie KELVIN REAVES @reaves_kelvin02 on making a #Bigplay during a #clutch moment!#Staytuned #WeoutHere @PickinSplinters @sectvbb pic.twitter.com/MnfiDBC8lT

— NEW RECRUIT MEDIA (@NewRecruitMedia) December 1, 2018