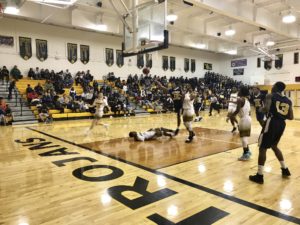 LEADERSHIP ACADEMY (1-0)  81
FRANKLIN (0-1)  61
Rondell Watson propelled Leadership with 31 points, 13 of which came in the third quarter. Watson finished 8-for-10 from the free throw line. Maurice McKinney added 16 points, with Kennyh Hardeman dropping 14 points in his varsity debut. The Lions scored 48 of its 81 points in the second half. Brandon Moore made the best of his debut, scoring 24 points to lead Franklin. Tahjir King chipped in 11 points for the Quakers. Other scorers: Leadership- Jamez Aiken (9), Shamir McCullough (7), Onajae Anderson (2), Franklin- Tyrone House (3)
WORLD OF INQUIRY (0-1) 56
SOTA (1-0) 72
Logan Hayes led SOTA with 18 points, including four threes, while Ethain Clarke DeSouza added 16. Ke'van Mitchell contributed 14 points and Reggie Smith netted 12 for SOTA. The Silverhawks hit 12 threes as a team in the contest. Tremier Dollar topped WOI with 17 points, followed by Bobby Searight with 11 points. The Griffins came up short despite outscoring SOTA 22-12 in the fourth quarter. Other scorers: SOTA- Jamari Hills (2)
EDISON TECH (0-1) 64
MCQUAID (1-0) 94
Kobe Long fueled McQuaid with 34 points, while Jermaine Taggert added 20 points and five rebounds of his own. Harry Bruu and Rueben Daniel combined for 14 points and 22 rebounds for the Knights. Alton Knight led Edison with 15 points, including three 3-pointers. Other scorers: Edison- Kevis Heard (8), Kevin Jackson (7), Jawaan Holt (6), Torrean Lewis (6), Edgar Bass IV (4), Nahihime Kirton (4), Jordan Leslie (3), Javonte McKnight (3)
NE DOUGLASS  (1-0) 79
WEBSTER THOMAS (0-1) 74
Junior forward Adonis Flagler compiled a double-double of 33 points and 14 rebounds as the NE Douglass Panthers (1-0) took down the Webster Thomas Titans (0-1) 79-74 in double overtime. READ MORE.
VERTUS (0-2) 51
EASTRIDGE (1-0) 64
Tony Arnold dropped 16 points to top Eastridge on the evening, finishing 4-for-6 from the free throw line. Terrence Reid (11) and Jalan Young (10) rounded out the Lancers double-digit scorers. Eastridge opened the game by outscoring Vertus 21-15 and would not be outscored in any of the four quarter of play. Cesar Ostolaza scored 13 points to lead Vertus, while Jabez Thompson contributed 10 points. READ MORE.
GREECE ARCADIA (0-1) 40
BROCKPORT (1-0) 72
The Blue Devils rolled out to a 23-5 lead after one and increased the lead to 48-21 at halftime thanks in part to Willie Ball and Esten Schlage who combined for 21 first half point in the first round of the MTAG Hoops For Hospital Tournament in Spencerport. Ball, who finished with 17 points and Schlage 11, led a balanced scoring attack which saw nine players score. Troy Leibert and Kevin Lawrenz each added eight points. For Arcadia, Adam Hurlburt led the Titans with nine points, while Anthony Stephenson and Ricky Sutton scored eight and seven points, respectively. Brockport will take on Webster Schroeder in the tournament's championship game.
Arcadia        5  16  10  9  40
Brockport 23  25  18  6  72
WEBSTER SCHROEDER (1-0) 65
SPENCERPORT  (0-1) 51
Junior JoJo Plummer scored 26 points — including 12 in the opening period — grabbed eight rebounds and logged four steals to pace the Warriors to a win in the MTAG Hoops For Hospital Tournament at Spencerport. Sophomore Ky'Mere Meeks added 16 for Schroeder, including all six of his free throws. For Spencerport, Gino Pellett scored 15 and Ben Reading 12 for the Rangers. After an explosive first quarter by both teams which saw the Warriors up 23-20, Spencerport cooled down, scoring just 16 points over the next two quarters while Schroeder steadily built its lead to 53-36 heading into the fourth quarter. Spencerport will play Greece Arcadia in the consolation round of the tournament.
Schroeder     23 13 15 12 65
Spencerport 20  10  6  15  51
UPREP (0-3)  68
GREECE ATHENA (1-0) 70
Melvin Council, Jr. and Kelvin Reaves, Jr. combined to score 25 points apiece in their season opener to knock off a UPrep squad which has reached the Class AA finals the past two years. READ MORE.
PITTSFORD SUTHERLAND (1-1)   60
WAYNE (1-0)  63
Nick Carmichael led Wayne with 19 points, followed by Logan Blankenberg with 13 points and eight rebounds. Billy Thomson also scored 13 points for the Eagles, adding nine steals and six assists. The Knights were topped in scoring by Matt Pinera with 17 points.
C.G. FINNEY (2-1) 55
WELLSVILLE (1-0) 69
The Wellsville Lions outscored CG Finney 43-19 over the second and third quarters to run away in the first round game of the IAABO Tournament at Genesee Valley. Trailing 16-14 after one period, the Lions buried multiple three pointers in the second quarter to take a 34-26 halftime lead. Wellsville extended the lead to 57-35 after three quarters. Finney cut the lead to 63-47 late in the game. Max Juisinaic finished with 22 points and 13 rebounds for Wellsville. Finney lost for the first time this year.
C. G. Finney 16 10 9 20 55
Wellsville 14 20 23 12 69
ROCHESTER PREP (0-1)  57
AVON  (2-0) 80
RED CREEK (0-3)  48
EAST ROCHESTER (1-1) 57
PERRY (0-1) 52
LIVONIA (1-0) 76
Alex Minnehan led all Livonia scorers with 26 points, with Jalen Marshall adding 15 points and Steffan Gwyn netting 10 for the Bulldogs. Livonia trailed 38-35 at the half, but went on a 21-6 run in the third quarter and outscored Perry 41-14 over the whole second half to take the victory. Mike Hockey topped Perry with 19 points, followed by Michael John Grover with 14 and Mitch Hockey with 12.
JASPER-TROUPSBURG (2-0) 55
WHITESVILLE (0-4) 26
BARKER  34
HOLLEY (1-0) 49
DUNDEE (0-1)  44
HAMMONDSPORT (1-1)  56
Parker Watson scored 27 points, including five three-pointers, and swiped five steals to lead the Lakers in their home opener in a non-conference tilt. CJ Hill added 15 points and 10 rebounds for Hammondsport. Dundee was led by Austin Gibson's 16 points, including three three-pointers. Michael Hand added 10 points for the Scots.
Dundee 7 16 6 15 44
Hammondsport 17 8 18 13 56
ANDOVER (0-2) 51
ALFRED-ALMOND (1-0) 53
GENESEO  (0-1) 35
HORNELL (1-0)  48
PAVILION (3-1)  62
WAYLAND-COHOCTON (0-2) 60
Pavilion won its third-straight game.
ARKPORT-CANASEREGA 21
KESHEQUA 40
DANSVILLE (0-1) 50
YORK (1-1) 66
York had four players in double figures to lead a balanced attack and notch its first win of the season. Matt McFarland, Lucas Maggio and Riley Stella each scored 13 points and Josh Davis added 12 for the Knights. Arrik Gerber led Dansville with 22 points – including four three-pointers – and gabbed four rebounds and dished out three assists. Ben Caruso had 11 points and eight rebounds in Dansville.
"We are really happy to get our first win of the season on the rod tonight," York coach Ed Orman said. "It was far from a perfect effort, but we battled and made corrections on the run and were able to play a solid second half."
Dansville 14 16 8 12 50
York 16 12 21 17 66
FILLMORE (1-0)  59
HONEOYE (0-2)  53
Cameron Mills scored nine of his game-high points in the fourth quarter to rally Fillmore to a 59-53 win over Honeoye in non-conference action. Trailing 44-41 heading into the final period, hit a three pointer and all four of his free throws to seal the win. Tobias Webb chipped in 12 points for the Eagles. For the Bulldogs, Tyler Rudolph dominated on the inside, scoring a game-high 28 points, grabbing 14 rebounds and blocking five shots. Dom Trippi added 12 points for Honeoye.
Fillmore 22 4 15 18 59
Honeoye 15 15 14 9 53
AVOCA (3-0) 68
ODESSA-MONTOUR (IV)  63
Avoca senior Nathan Nunn buried all eight of his three-point attempts and finished with 32 points, grabbed 10 rebounds, four assists, three steals and three assists to head Avoca to its fourth win of the young season. Nunn, who scored 20 points in the first half, was only part of the Tiger attack as senior Ladre Stanford finished with 24 points, 10 rebounds and seven steals.
Odessa-Montour 10 21 20 12 63
Avoca 22 18 18 10 68
ROCHESTER ACADEMY (0-1) 69
LYNDONVILLE (1-0) 82
Four Lydonville players scored in double figures — Zach Johnson 18 points, Nathan Hydock 15, Nathan Poler 15 and Nathan Dillenbeck 10 — to lead the Tigers to the season opening win.
CAMPBELL-SAVONA (1-0)  59
BRADFORD (1-2)  53
Ethan Park scored 17 points and registered nine steals for Way-Co which won its season opener. Jarred Kibler and and Owen Jewell scored 10 and 12 points, respectively, for the Eagles. Bradford was led by Steven Spina who had 20 points – including six three pointers. Kobi Wakeman netted 16 points and Blaze Machuga 10 for Bradford.
FAITH HERITAGE (III) (1-0) 63
HAC (0-2) 44
Ryan Hilton scored 15 points and freshman Owen Tindall drained three three-pointers in a losing effort for the Wolves in the first round of the Manlius Pebble Hill Tip Off Tournament in Syracuse. Bobby Shearer added seven points for HAC. The Wolves take on Blessed Virgin Mary (III) in Saturday's consolation. Manlius Pebble Hill, winners of two straight after dropping its previous 33 games, plays Faith Heritage in the championship.
Faith Heritage (III) 15 20 18 10 63
Harley Allendale Col 10 11 8 15 44
CUBA-RUSHFORD (1-1) 48
GENESEE VALLEY (1-0) 60
BOLIVAR-RICHBURG (0-1) 46
PORTVILLE (VI) 53