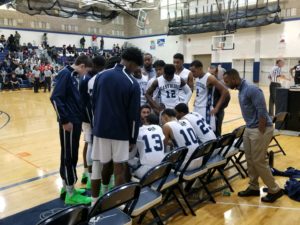 By JOHN LIKANJE
ROCHESTER, N.Y.- The Eastridge Lancers (1-0) held Vertus (0-2) to 23 points in the second half en route to a 64-51 victory in the first round of the Al Masino Memorial Tournament.
The Lancers had multiple instances of holding Vertus scoreless over a long period of time. After giving up five quick points to start the third quarter, the Lancers hounded Vertus with a full court press and did not allow them to score for over three minutes. The Lancers used that to their advantage as they tallied 12 consecutive points over that span to build a 46-33 lead. Junior guard Tony Arnold had seven of those points on three free throws and two layups, including converting a three-point play. He finished the game with 16 points.
Tony Arnold and Jalen Rose Hannah combine for 13 of the 17 points Eastridge scored in the 3rd quarter as they lead Vertus 51-38 @PickinSplinters @sectvbb

— John Mitchell Likanje Junior (@jml5798) December 1, 2018
After Cesar Ostolaza hit a three-pointer for Vertus with a minute and a half remaining in the third quarter to cut the deficit to 49-38, the Lancers did not allow them to score again until the middle of the fourth quarter. Overall, the Lancers held Vertus scoreless for nine out of 16 minutes played in the second half.
Lancers head coach Dan Roser was proud of his team for ramping up their defense in the second half.
"We capitalized on the turnovers," Roser explained. "We went pretty deep with our bench and the fact that we were able to go deep kept us fresh and keep the pressure up throughout the game."
Terrence Reid (11), Jalen Young (10), Jalen Rose-Hannah (8), Jordan Capers (6), Adrian Rodgers (5), Talib Kinlock (2), Jaden Keech (2), Percy Robinson (2), and Jahmel Demery (2) rounded out the scoring for the Lancers.
For Vertus, Ostolaza finished the game with 13 points on four free throws and three shots made from beyond the arc. Jabez Thompson scored 10 points.
Trevon Burkett (7), Eric LeBrane (6), Amauri Smith (6), Rashawn Williams (5), and Quanmay Early (4) rounded out the scoring for Vertus.
The Lancers will play the NE Douglass Panthers in the tournament championship game Saturday night. The Panthers defeated the Webster Thomas Titans in the first round, 79-74, in double overtime.