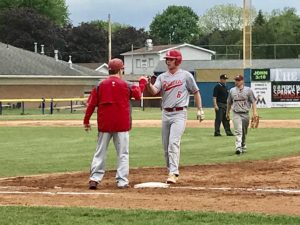 By PAUL GOTHAM
ROCHESTER, N.Y. — Tanner Cooper honed his baseball skills on the diamonds of the Canandaigua Central Schools District. His future endeavors will take him to Medlar Field on the campus of Penn State University.
Cooper announced Monday evening on Twitter that he has committed to the Penn State Nittany Lion baseball program starting in the fall of 2019.
"I really feel like I'm going to be able to develop myself as a player there," Cooper said Tuesday by phone. "Every college player aspires to be a pro guy. That's something that they can help me get along the way."
A First Team All-State performer as a senior at Canandaigua, Cooper allowed one run over 20 innings in the postseason that year leading the Braves to their second of now three straight sectional titles. The right-hander struck out 59 in 38 innings of work during the 2017 regular season and won five games.
"I'm really excited that I was able to do this so quickly," said Cooper who is currently playing at Finger Lakes Community College. "One of my goals was I wanted to be able to have it out of the way come spring time.
"I've been able to see what the guys at Finger Lakes are working toward, and I'm happy now that we can just focus on ourselves. I don't want to be thinking about myself come the spring time."


Cooper's decision came after a recent trip to the Penn State campus in Happy Valley.
"I went down and threw a bullpen for them and it was like it was meant to be," the 6-foot-2 right-hander said. "I could just see the excitement in the coaches, and I felt they wanted me there. It was great to feel that as a player especially going through this whole process again."
Cooper pointed out the tools that Penn State staff has to develop players.
"The technology that they have going into their pitching staff and everything is incredible," Cooper said referring to the Rapsodo machine the PSU staff uses to help hurlers understand spin rate and pitch trajectory. "They are able to get their hands on something like that because the money that they bring in that can pay for it."
Cooper spent his freshman season at Stony Brook University before transferring to FLCC.
"I don't take back any of my time there," he said of his freshman year at Stony Brook. "I'm really happy that I was blessed to use that year of eligibility. It allowed me to travel with the team and create some of the friendships that I've gained just through my time there."
Over the past summer, Cooper struck out 61 and walked 20 in 39 innings of work to earn Interstate Collegiate Baseball League Pitcher of the Year.
"I took this (past) summer as almost my senior year (of high school) part two," he explained. "I needed to prove myself more than anybody else, and  I had to change my mindset of developing over the summer into a college baseball player all over again."