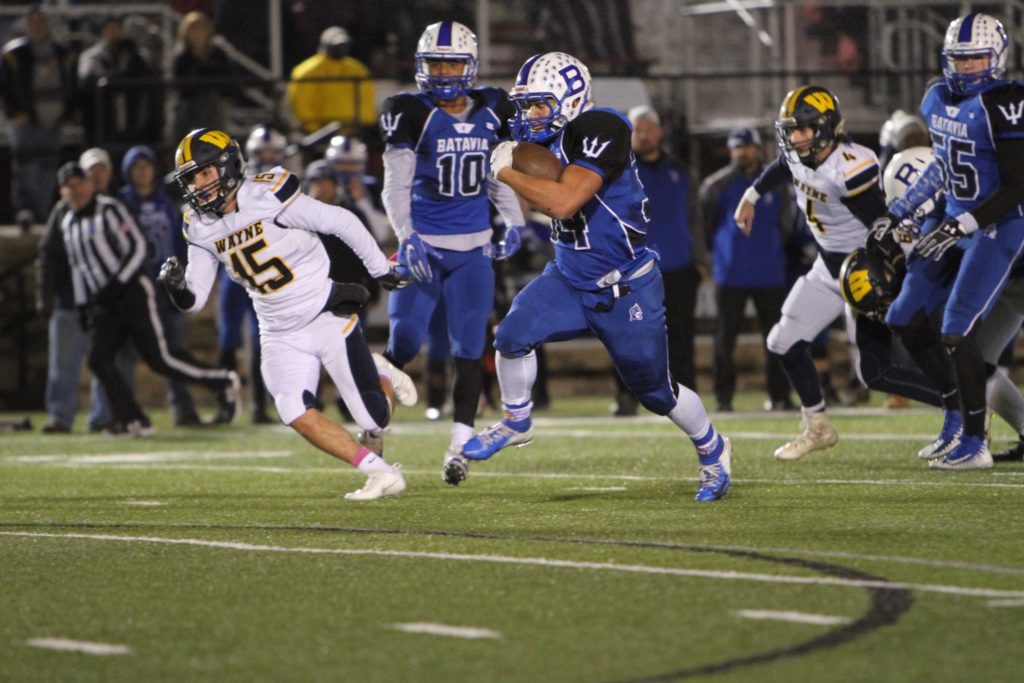 CLASS AA
MCQUAID (8-2) 18
AQUINAS (9-1) 49
The sectional title is the 15th in the storied Irish history, and 11th in the last 13 years. The title puts Aquinas (No. 7 NYSSWA Class AA) in rare air, as now the Irish, LeRoy and Clyde-Savannah each have 15 titles, the most in Section V history. With the win, Aquinas has earned a trip to the Class AA Regionals, against Lancaster (9-1/No. 10 NYSSWA) of Section VI. That game will be played at 3:15 pm Saturday at Clarence High School in Buffalo. Lancaster defeated Bennett 17-6 on Friday, for its third consecutive Class AA title in Section VI. READ MORE
CLASS A
VICTOR (7-3) 14
IRONDEQUOIT (10-0) 21
Freddy June Jr. was considered the most dangerous player in Section V coming into the season and Friday night he showed why: breaking five tackles to score the winning touchdown with three seconds left and Irondequoit (No. 4 NYSSWA Class A) went on to win its fifth sectional title, and first since 2014. With the win, the Eagles have earned a trip to the Class A Regionals, against West Seneca East (9-1/No. 18 NYSSWA) of Section VI. That game will be played at 8 pm Friday at Clarence High School in Buffalo. On Thursday night, West Seneca East upset West Seneca West 20-13. WSW was the state's top-ranked team in Class A. READ MORE
CLASS B
WAYNE (8-2) 14
BATAVIA (10-0)49
This is the fifth Sectional title for the Blue Devils and fourth in the last five years. With the win, Batavia (No. 6 NYSSWA Class B) has earned a trip to the Class B Regionals, against Cheektowaga (9-1/No. 9 NYSSWA) of Section VI. That game will be played at 6:30 pm Saturday at Clarence High School in Buffalo. Cheektowaga rallied for two touchdowns in the fourth quarter to beat Pioneer 14-7 Friday.
CLASS C
ATTICA (7-3) 7
LETCHWORTH/WARSAW (9-1) 13
Running back Adrian Figoura carried the ball seven times for 14 yards and a touchdown to help Letchworth/Warsaw (No. 10 NYSSWA Class C) win the Section V Class C title over Attica (No. 9 NYSSWA Class C). Figoura's touchdown, which came immediately after halftime on a nine-yard run, would be the game winner.
Quarterback Tom Standera went 3-for-6 for 46 yards, but also had nine carries for 45 yards and a rushing touchdown to open the scoring in the second quarter. Running back Dalton English contributed 10 carries for 55 yards. Mason Johnson led the defense with eight tackles while CJ Hallopeter contributed two and a half tackles along with an interception.
For Attica, quarterback Edward Strzelec was 4-for-10 for 71 yards and a touchdown to wide receiver Dawson Nelson to tie the game in the second quarter. Nelson finished the game with three catches for 36 yards. Running back Mason Compton carried the ball 13 times for 67 yards.
On defense, Strzelec led the team with 18 tackles and forced a couple of fumbles as well. Tyler Meyer contributed eight tackles and recovered a fumble while Nelson had six tackles. This was the fourth sectional title for Letsaw, which three-peated back in 2009-10-11.
With the win, Letsaw earned a trip to the Class C Regionals, against Cleveland Hill (9-1/No. 4 NYSSWA) of Section VI. That game will be played at 5 pm Friday at Clarence High School in Buffalo. Cleveland Hill won its first Sectional title Friday night with a 32-28 win over Southwestern.
CLASS D
YORK/PAVILION (6-4) 0
ALEXANDER (10-0) 36
Defense carried the day for Alexander holding York/Pavillion's Nate Sweed and Sebastian Hackett to 25 yards and 24 yards respectively. At the 3:22 mark of the first quarter, sophmore running back Terrez Smith opened the scoring for the Trojans on a 56 yard run right up the middle.  Then senior running back Chris McClinic ran in the 2-point conversion making it 8-0 Alexander.  At the 10:01 mark of the second quarter Smith scored again on a 29-yard touchdown run off the right side of the O-Line.  The 2-point conversion failed and it was 14-0.
The next score came from SR Chris McClinic again on a 8-yard run.  Smith then ran the 2 pt conversion in making it 22-0.  Late in the second quarter, Alexander took advantage of a fumble recovery and went to work with the 2 minute drill.  A drive that started with 1:17 on the clock at midfield ended up with a 18 yard touchdown throw from junior quarterback Dylan Bush to McClinic who caught the ball at the 5-yard line and made a move to score it.
Freshman kicker Eric Cline came on and drove the extra point home making it 29-0 at the half. In the second half, York/Pavilion mounted a nice drive but the Trojans' safetyTakari Lang-Smith intercepted a McFarland pass in the end zone for a touchback. In the fourth quarter, a fumble on the next Alexander drive gave York the ball at the Trojans 30.  Unfortunately for York/Pavilion, Ethan Heineman stripped sacked McFarland and linebacker Dylan Busch caught the fumble and returned it 85 yards for a touchdown. Again Cline came on and made the PAT kick.
In all, Alexander had three running backs with 100 yards of rushing or more.  Junior fullback Hayden Walton had 8 carries for 100 yards.  McClinic had 106 yards on 12 carries and Terrez Smith had 116 yards on seven carries.  Busch ended the night passing 6-for-7 for 59 yards and the one touchdown to McClinic. Defensively, Kam Lyons also had an interception.  Jake Jasen led the Trojans with 15 total tackles.  Ty Woods had 11 tackles and Hayden Walton had nine tackles and one fumble recovery. Defensive lineman Nate Luker had  eight tackles.
This is the second sectional title in two years for the Trojans (No. 2 NYSSWA Class D) and second overall. With the win, Alexander has earned a trip to the Class D Regionals, against Clymer/Sherman/Panama (10-0/No. 1 NYSSWA) of Section VI. That game will be played at 12 pm Saturday at Clarence High School in Buffalo. CSP won its first Sectional title with 35-7 rout of Maple Grove Friday night.