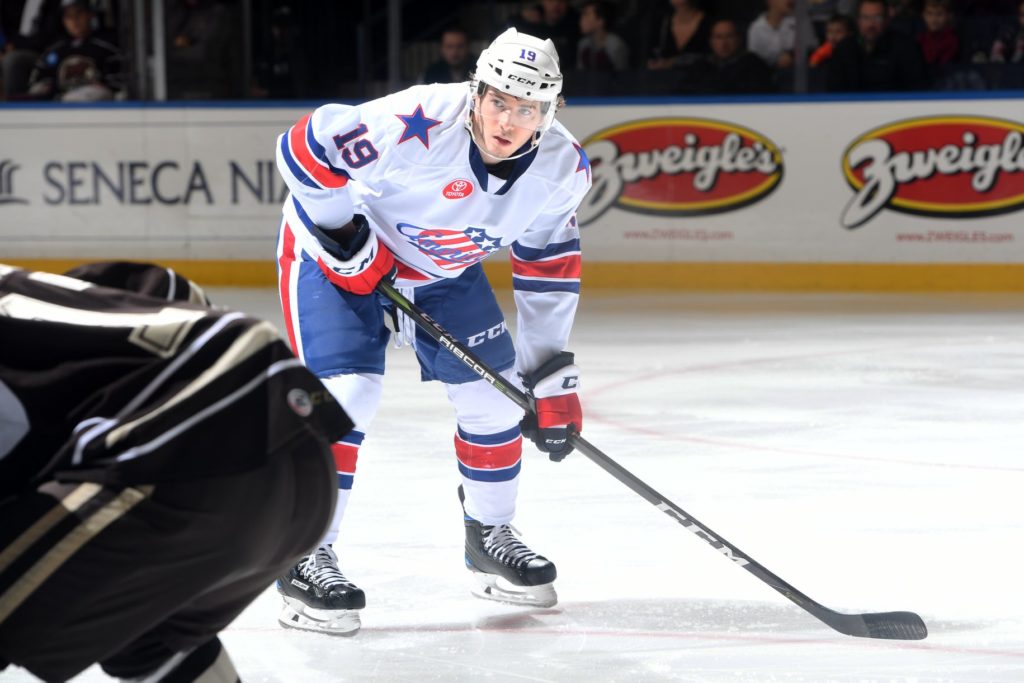 By KEVIN OKLOBZIJA
There's a pretty good chance an alarm clock will be missing from a Hershey, Pa., hotel on Saturday night.
Rochester Americans coach Chris Taylor could very well be using it at the Giant Center to make sure his team knows it's time to play the Hershey Bears.
The Amerks didn't seem to know when puck drop was on Friday night. They spotted the Bears a 3-0 lead in the first 18:24 and couldn't recover, losing 4-2 in front of 6,013 fans at Blue Cross Arena at the War Memorial.
"We didn't start going until the second period," said winger C.J. Smith who scored his fifth goal of the season before Victor Olofsson connected on his sixth in a fallen-short third period rally. "We showed up too late."
How they continually start poorly on home ice is becoming troublesome and the Amerks know it.
"It starts in warmups," Smith said. "It doesn't start when the puck drops. It starts days before the game. It starts hours before the game."
The loss, the Amerks first in regulation since opening weekend, ended their streak of earning points in eight consecutive games (7-0-1).
"I don't care if we've won 10 games in a row, 20 games in a row, we have to prepare a little better," captain Kevin Porter said. "That's on the leadership group."
Tonight's six-pack of post-game notables
1. Old-time Amerks vs. Bears … sort of
Ah, just like the old days. A mere five seconds after the opening faceoff, the penalty box door opened.
Except unlike games in this rivalry two or three decades ago, when the penalties may very well have been for fighting, this one was for delay of game as Zach Redmond flipped the puck out of play.
That penalty was costly, too, because the Bears scored on the ensuing power play as Mike Sgarbossa tipped in a Travis Boyd point shot and with just 57 seconds elapsed, Hershey led 1-0.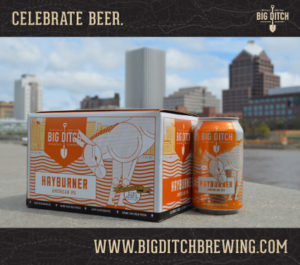 2. Old-time Amerks vs. Bears … for real this time
With the Amerks down 3-0, Dalton Smith and Yannick Veilleux tried to provide a spark on their shift in the 19th minute of the first period.
Smith barged into defenseman Lucas Johansen a moment after a whistle and in an instant all 10 skaters were in the corner. Smith fought Liam O'Brien and as that scrap began, Veilleux fought Connor Hobbs.
"We just needed somebody to hit somebody," Taylor said. "We need a lot more of that."
The Amerks even ended up on the power play but couldn't take advantage of the spark or man advantage.
3. C.J. had plenty of jump
C.J. Smith may have been the Amerks best player. He fired seven of the Amerks' 34 shots at goalie Ilya Samsonov and scored once, his fifth goal of the season. His top-shelf wrister at 5:47 of the third period ended Samsonov's shutout bid and gave the Amerks hope.
"He shoots in stride and is very deceptive," Taylor said. "When you plant your feet, the goalie knows where it's going. C.J. keeps his feet moving and it throws the goalie off."
4. Wedgewood gets the hook
Scott Wedgewood started in goal but lasted only one period. He stopped six of nine shots. Adam Wilcox took over to start the second period, his fourth game action of the season and second on home ice.
Was Taylor pointing a finger at Wedgewood?
"It was everybody," Taylor said. "I'm not going to blame one goal, I'm not going to blame 10 guys."
5. A little desire and care is necessary
Riley Barber scored Hershey's second goal at 16:44, firing a shot past Wedgewood from high in the right circle after Danny O'Regan lost a faceoff to Sgarbossa.
But since faceoffs are often a 50/50 proposition, it's what happens after the draw that is so critical. Alex Nylander didn't do nearly enough to try to get to the puck or deny a shot.
He was easily tied up by Shane Gersich, allowing Barber a clear path to the puck, and then a shot.
Taylor also didn't like Andrew Oglevie's effort to get to the puck, either.
"I thought both guys got pushed to the sides, the didn't fight through it enough," Taylor said.
6. The crowd of 6,013 was a high for the season
Are fans figuring out the Amerks are (usually) pretty entertaining? Well, maybe, but that wasn't necessarily the case on Friday.
More than 1,000 fans took part in the annual Word of Life event, which is why the upper bowl on the Broad Street end was so full.