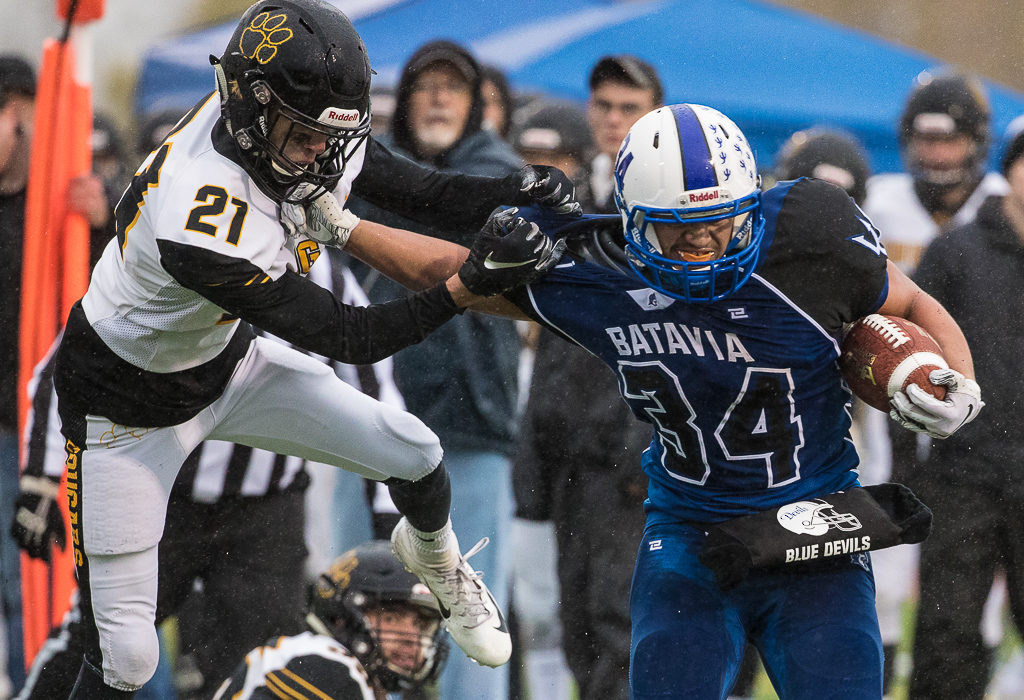 Finals
It's Finger Lakes East versus Livingston County when Wayne and Batavia meet to decide the Section V Class B football title.
No. 1 Batavia vs. No. 3 Wayne, 8 PM, Saturday, November 3, St. John Fisher College
No. 1 seed BATAVIA BLUE DEVILS (Livingston County I)
Record/NYSSWA Rank: 9-0/No. 6
Semifinals Result: def. Honeoye Falls-Lima 29-0
Last Week: The Blue Devils won their ninth straight game, defeating HFL in the semifinals to remain undefeated. Batavia is the top scoring team in Section V (44.6 points per game).
Notable: Seeking first sectional title since they won three consecutive titles from 2014-2016
Key Players: Ray Leach will be a load to stop as he averages 14.9 yards a carry and he does it in all phases of the game — 1,505 all-purpose yards and 23 touchdowns (80 carries for 1,191 rushing yards and 20 rushing touchdowns; 10 catches for 262 receiving yards and three receiving touchdowns; 52 yards on returns). Ethan Biscaro brings experience under center.
VIEW MORE JIM BURNS PHOTOS HERE. 
No. 3 seed WAYNE EAGLES (Finger Lakes East)
Record/NYSSWA Rank: 8-1/NR
Semifinals Result: def. Livonia 24-21
Last Week: Facing a 21-0 deficit, the Eagles stormed back with 24 unanswered points to stun the No.2 seeded Livonia Bulldogs.
Notable: Seeking their first ever sectional title
Key Players: Grayson Zenelovic (117-for-156 for 1,727 yards and 23 touchdowns), Billy Thompson (117 carries for 815 yards and seven touchdowns), Logan Blankenberg (41 catches for 758 yards and 12 touchdowns) and Anthony Muratore (32 catches for 535 yards and five touchdowns).