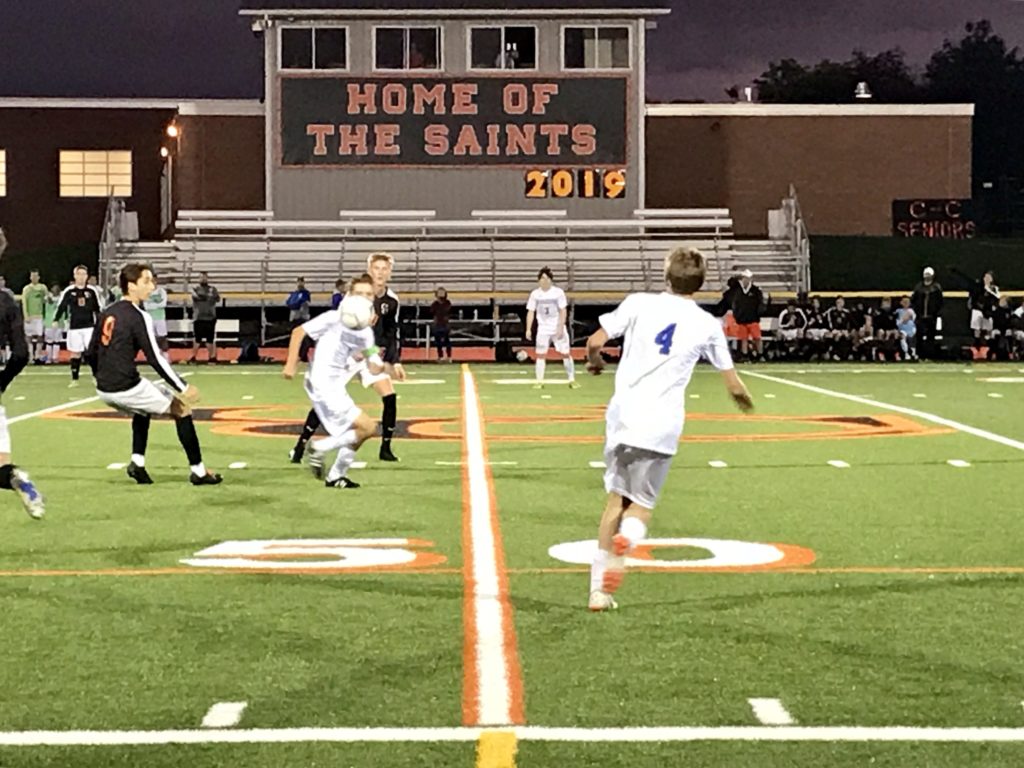 By PAUL GOTHAM
CHURCHVILLE — Nearly a year has passed, but the memory remains.
A four seed in the 2017 Class AA sectionals, the Churchville-Chili boys' soccer team was coming off a 12-win regular season in which they won the Monroe County Division II title. That all came to an abrupt end  when the Saints lost to Webster Thomas in overtime.
"I think everyone still has that feeling, that awful feeling," Churchville senior Andrew Vannest said after the Saints 4-0 win over Webster Schroeder, Thursday night. "I've been on varsity since sophomore year. Every year we've lost in the quarterfinals. Last year we were really close to getting through the quarterfinals, but we lost. I think everyone is going to put it out on the line (this year) for all of us seniors."
Divisional co-champs again this year, C-C will be the top seed (official seedings will be announced on Saturday) when Class A sectionals begin next week.
"The message is the regular season is over," head coach John Mahoney said. "We are 14-2 and that's a really, really good season. In sectionals everybody is 0-0. You got to enjoy the 14-2 and then move on."
Since falling to Spencerport, 1-0 on September 27th the Saints (No. 7 NYSSWA Class A) have rattled off five straight wins. The last four by the combined score of 20-1.
"Our focus since Spencerport beat us is that we have to lock down and defend," Mahoney stated "If we do that, this is a talented enough group that we're going to score goals."
The Saints followed the script against Webster Schroeder.
Schroeder's first good scoring opportunity didn't come until the second half.
Meanwhile C-C applied pressure early. Mario Cozzo sent a cross through the box in the match's third minute. Schroeder cleared the attempt, but Churchville ended up with a corner kick. Moments later, Cozzo sent a shot just wide of frame. Dylan Rippe followed with a pair of shots that just narrowly missed.
Dylan Rippe was this close pic.twitter.com/KUXVdqiqyV

— Paul Gotham (@PickinSplinters) October 11, 2018
Cozzo connected on a second-chance opportunity off a corner kick with 10:15 remaining in the first half.
30' Mario Cozzo with the deft touch goes side netting to give @CCCSDbsoccer a 1-nil advantage pic.twitter.com/yDQzsG9oE1

— Paul Gotham (@PickinSplinters) October 11, 2018
"I was thinking about crossing it and it went off my foot and went in," said Cozzo with a smile. "They all count."
Less than three minutes later, Vannest found back of the net on the rebound of another Cozzo shot.
"Mario hit the post and I was like oh shoot it's going to have a volley," Vannest explained. "I just saw it coming and I got sideways on it and put it top right."
With their markers, Cozzo (10 goals/eight assists) and Vannest (11 goals/eight assists) joined teammates Colby Egan (10 goals/eight assists) and Rippe (14 goals/10 assists) to form a dynamic offense that features four players who have scored 10 or more goals apiece.
33' Mario Cozzo DRILLS the post. Andrew Vannest finishes the second-chance opportunity. @CCCSDbsoccer 2 @SchroederSports 0 pic.twitter.com/GDVr2TWh2n

— Paul Gotham (@PickinSplinters) October 11, 2018
"I as a coach have never had one guy with 10 goals and 10 assists on varsity. I did on JV years ago. I have the potential of having four guys with 10 goals and 10 assists. I've never seen anything like that in Monroe County."
Rippe redirected a Gaven Egan cross to make it 3-nil game with 15 minutes remaining. Vannest one-timed a diagonal ball from Alex Wellin for the final margin of victory.
"There are a lot of soccer fans in this group," Mahoney said of his team. "You can tell. They love the game of soccer. They can read it.
"When we switch fields, some of the balls that they play you don't normally see in high school soccer. The guys do it routinely."
Churchville opened the season with a 2-0 loss at Hilton (ranked No.5 in the most recent NYSSWA poll). They rattled off nine straight wins before falling to Spencerport. What does that mean for next week and beyond?
"It just gives us a bye which we can't take for granted," Cozzo remarked. "We're O-and-O going into sectionals like everybody else. We have something to prove being the number one seed. We just got to work our butts off every game."