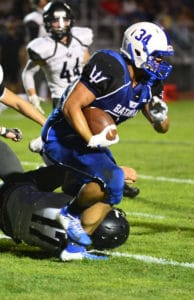 BY PAUL LIOTTI
Thanks to a convincing 36-7 victory over Greece Athena, the stingy Cadet squad moved up from 4th to 2nd in the latest Class AA Sectional standings, released by Section V Sunday night.
This year the Section went to a Power Seeding Points (PSP) system, where a team's total points are based on the aggregate strength of schedules of each team's opponents. While this week is just a snapshot of the current standings, how the final seeding will end up may be completely different from where it currently stands. The Section has said it would release the final Sectional standings and thereby the 5 classes' seedings next Sunday.
Aquinas' 22-19 win over McQuaid put the Irish back on top of Class AA, while the Knights dropped to 5th. Pittsford and Fairport are currently tied (33 points), but Pittsford holds the tie-breaker because of the Panthers win over the Red Raiders. Pittsford's win over Fairport could end up deciding the 4th and final spot in the final seedings.
Class A is paced by Canandaigua, but the Braves won't gain much with a victory over 0-6 Churchville-Chili and could open the door for East, which moved up into a tie with Irondequoit for 2nd. East's game against McQuaid on Friday is crucial for the Eagles, who, with a win, could earn the top seed. Wilson fell to 7th after losing 3 times in the span of 9 days last week and must win this week against Edison and hope it's 2018 schedule of opponents fair well if it is to make the playoffs and defend it's A crown.
Batavia edged out Livonia in Class B and will be heavily favored against 1-5 Bath-Haverling, but it may be enough to hold off hard-charging Livonia. If the two teams finished tied, Batavia gets the edge by virtue of its win over Livonia in Week 2. By the Power Point System aggregate scores through Week 6, Batavia has played the toughest schedule to date, as evident by its 44 cumulative points. Canandaigua and Livonia are second with 40 points.
Class C is in a near-dead heat as Penn Yan and Letchworth/Warsaw are tied with 37 points and Wayne is third with 36 points. Attica is in striking distance at 31 points and by Sunday night, any of those 4 teams could end up the top seed.
Alexander needs to beat a 4-2 Perry/Mt Morris team to secure the top spot Class D, but a win by Perry/Mt. Morris could vault it from 4th to 1st in the Sectional and send Alexander to #2.
A complete list of Sectional standings are here (LW = last week's position):
#
Class AA
GP
Rec
Pts
Avg
LW
1
Aquinas
6
5-1
39
6.50
T1
2
Hilton
6
5-1
34
5.67
4
3
Pittsford*
6
4-2
33
5.50
5
4
Fairport
6
5-1
33
5.50
3
5
McQuaid
6
5-1
31
5.17
T1
6
Penfield
6
1-5
21
3.50
8
T7
Rush Henrietta
6
1-5
19
3.17
6
T7
Edison/SWW
6
1-5
19
3.17
7
9
Leadership Academy
6
0-6
14
2.33
9
* Head to Head Tie Breaker
#
Class A
GP
Rec
Pts
Avg
LW
1
Canandaigua
6
6-0
40
6.67
T1
T2
East
6
6-0
37
6.17
T1
T2
Irondequoit
6
6-0
37
6.17
T1
4
Victor
6
4-2
33
5.50
T4
5
Greece Arcadia
6
5-1
31
5.17
T4
6
Eastridge
6
4-2
29
4.83
7
7
Wilson
6
3-3
27
4.50
6
8
Brockport
6
3-3
25
4.17
8
T9
Webster Schroeder
6
3-3
24
4.00
T12
T9
Greece Athena
6
2-4
24
4.00
9
11
Gates-Chili
6
2-4
22
3.67
T10
12
Webster Thomas
6
2-4
21
3.50
T10
13
Brighton
6
2-4
20
3.33
T12
14
Olympia/Odyssey
6
2-4
18
3.00
14
15
Spencerport
6
0-6
15
2.50
16
16
Churchville-Chili
6
0-6
14
2.33
15
* Head to Head Tie Breaker
#
Class B
GP
Rec
Pts
Avg
LW
1
Batavia
6
6-0
44
7.33
1
2
Livonia
6
5-1
40
6.67
2
3
Wayne
6
5-1
34
5.67
3
4
Honeoye Falls-Lima
6
5-1
33
5.50
4
5
University Prep
6
5-1
32
5.33
5
6
Hornell
6
3-3
27
4.50
6
7
Monroe
6
3-3
26
4.33
7
8
Newark
6
3-3
23
3.83
9
9
Geneva
6
2-4
20
3.33
8
10
Palmyra-Macedon
6
1-5
16
2.67
10
11
Midlakes
6
0-6
13
2.17
11
* Head to Head Tie Breaker
#
Class C
GP
Rec
Pts
Avg
LW
T1
Penn Yan
6
5-1
37
6.17
3
T1
Letchworth/Warsaw
6
5-1
37
6.17
2
3
E.Rochester/Gananda
6
5-1
36
6.00
1
4
Attica
6
4-2
31
5.17
4
T5
Mynderse
6
4-2
29
4.83
T5
T5
Wayland-Cohocton
6
4-2
29
4.83
T5
7
Waterloo
6
3-3
25
4.17
8
T8
Dansville
6
3-3
23
3.83
T5
T8
LeRoy
6
3-3
23
3.83
9
10
BKearney/Roc Prep
6
3-3
22
3.67
11
11
Cal-Mum/B-Bergen
6
2-4
21
3.50
10
T12
Wellsville
6
1-5
20
3.33
T12
T12
Bath-Haverling
6
1-5
17
2.83
T12
T14
S.Seneca/Romulus/Tru
6
1-5
16
2.67
13
T14
Avon
6
1-5
16
2.67
15
* Head to Head Tie Breaker
#
Class D
GP
Rec
Pts
Avg
LW
1
Alexander
6
6-0
38
6.33
1
2
Canisteo-Greenwood
6
4-2
32
5.33
T3
3
Notre Dame-Batavia
5
3-2
26
5.20
2
4
Perry/Mt. Morris
6
4-2
30
5.00
T5
T5
Lyons
6
3-3
27
4.50
8
T5
York/Pavilion
6
3-3
27
4.50
11
T5
Geneseo
6
3-3
27
4.50
T3
8
Dundee*
6
3-3
26
4.33
T5
9
Red Jacket
6
3-3
26
4.33
7
10
Pembroke
6
2-4
24
4.00
T9
11
Clyde-Savannah
6
2-4
21
3.50
T9
12
Bolivar-Richburg
6
1-5
18
3.00
12
13
Cuba-Rushford
6
1-5
16
2.67
13
* Head to Head Tie Breaker
#
8 Man Football
GP
Rec
Pts
Avg
LW
1
Oakfield/Elba
4
4-0
22
5.50
1
2
Marcus Whitman*
4
2-2
15
3.75
T2
T3
C.G. Finney
4
1-3
15
3.75
T2
T3
Holley
4
1-3
14
3.50
T2
* Head to Head Tie Breaker