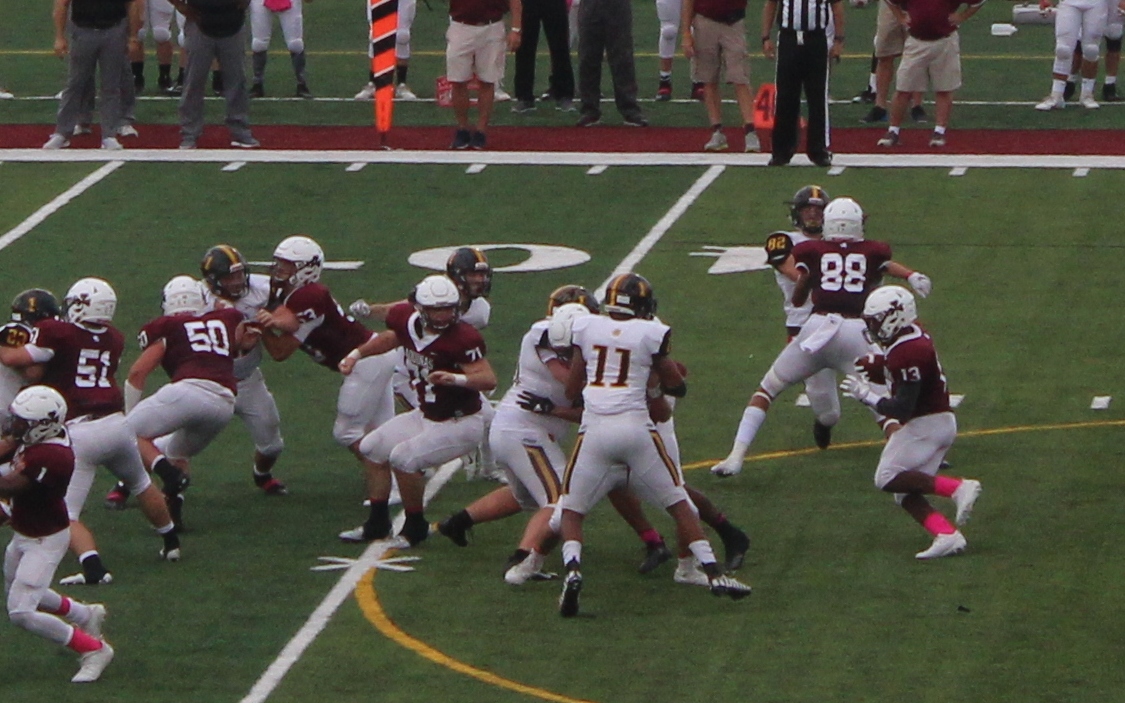 BY PAUL LIOTTI
It's been a long time since the Knights of McQuaid have tasted victory against Aquinas.
Since 2006 in fact.
And while the Irish (5-1) beat McQuaid (5-1) for the 14th consecutive time — 22-19 on a sun-drenched  80-degree October afternoon – the teams might not have to wait another 12 months for the next meeting the way both squads are playing.
It might happen sometime in the next 3 or 4 weeks in a game that has more than bragging rights on the line.
"They are a great football game and we knew Bobby would have his kids ready to play and he did," AQ head man Derek Annechino said. "They have a lot of great players over there and we had to fight our tails off to get this win."
With Sectionals looming in two weeks, Saturday's game was a brutally physical affair that featured helmet-rattling tackles and excitement in the battle for the annual Fr. John Onorato Trophy. From the opening kickoff to the final drive, a standing-room only crowd was thoroughly entertained.
"They're a heckuva football team," McQuaid head coach Bobby Bates said. "There is a reason why they are one of the top 5 teams in the state; it's because of the product they put on the field. But I'm proud of the way our kids played. Again we were resilient and fought back when we got down. We never felt we were ever out of it, we just ran out of time. I wouldn't be surprised if we were matched up with them again in another 4 weeks."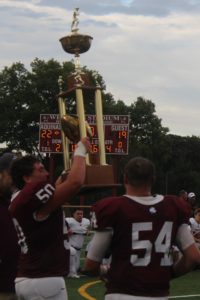 Aquinas, ranked 5th in the latest Class AA NYS Sportswriters Association poll, led 22-12 after Damon Montgomery scored from 3 yards out with 3:47 left
But with Knights' senior QB Hunter Walsh at the helm, no lead is safe.
Walsh followed Montgomery's score by driving McQuaid 65 yards in 1:12, completing 6-of-8 passes using the sideline effectively and trusting his sure handed receivers, before hitting Connor Zamiara from 3 yards out. The extra point by Eric Schertler cut the Aquinas lead to 22-19 with 2:35 left.
The Knights – also ranked in the NYSSWA poll at #12 – had their full complement of time outs left and all they needed was one stop to get the ball back.
But it wasn't to be.
The Irish offensive line opened up just enough gaps for Damon Montgomery to grind out 5 consecutive rushes, gain 2 first downs, and run out the clock.
"We're banged up, but it's a next man up mentality for us and these guys came out and fought the entire game," Annechino said. "Our offensive line did a great job getting us the push and all 5 guys opening holes when we needed it. It was great to see the whole offensive line get the MVP award. They earned it, that's for sure."
The Irish played the game with their #1 and #2 running backs and a starting offensive lineman, who were sidelined with injury. But in the vein of 'next man up,' 3rd-string running back Montgomery and 4th-string freshman running back Will Benjamin were up to the task; especially running behind senior captain Joe Debonis. Debonis, who is a standout defensive lineman, was tasked with playing on the offensive line as well on Saturday.
"I haven't played O-Line all year this year, but I had to step up for my team," Debonis said. "There were ups and downs throughout the game, but we stayed together as team and that allowed us to work together at the end of the game to get a couple of first downs and for the victory."
The 2 first downs in the last 2 minutes were critical because Walsh had the hot hand. It would have been the second game in a row where the senior co-captain led the Knights back from the brink of defeat. Last week against Wilson, he directed a late-game drive that saw him march the Knights down the field in less than 2 minutes to score the game-winning touchdown with 25 seconds left.
"This was a great game. It was tough at the end, but I couldn't be prouder of this team," said Walsh, whose poise was evident on the field as well as off it. "We just wanted to get the ball in hands of our playmakers and when we took over that last drive we had confidence that we would get into the end zone. We just needed to get the ball back one more time."
Walsh finished the game 23-of-33 for 207 yards and a TD. Ben Beauchamp was his favorite target and was on the receiving end  of 11 of those completions for 102 yards. But while Walsh completed a high-percentage of his passes, 20 of them went for 14 yards or less: which was all part of the Irish game plan.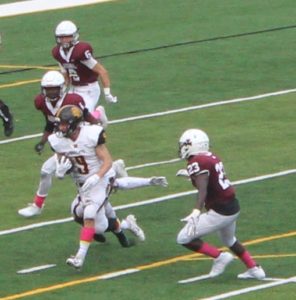 "That's the way we wanted to play it: Give them the underneath stuff because we have the athletes to make the tackles," Debonis said. "Then when they got close we stopped them a few times which is what we do best. They did what they do best and we did what we do best."
While Debonis and his defensive mates were locked in a battle trying to stop Walsh, they didn't forget about the run game, and didn't allow McQuaid to gain any consistent traction on the ground. The Irish front 7 stopped the Knights all afternoon, limiting them to just 34 yards on 16 carries. Leading rusher Mark Passero was held to 38 yards on 13 totes.
"We were moving the ball real well passing the ball and while we may not have had a lot of yards rushing I thought Mark got us the yards making things out of nothing," said Bates. "But their defense was solid, they swarmed to the ball, and we have to make sure we're ready for them the next time."
The Irish took an early 2-0 lead when Tyler Szalkowski's punt pinned the Knights at their own 2 yard line just 2 minutes into the contest. Two plays later Walsh fell on a loose ball in the end zone and the Irish were on top.
Aquinas took advantage of the early momentum and drove 75 yards in 9 plays after the free kick, with a good mix of the run and pass. The Irish scored on their own version of the Wildcat Offense, as James Jones took the direct snap and scooted around right end from 26 yards out. Joe Bronco's PAT clanged off the upright and the Irish had the early 8-0 lead midway through the first.
That's how the game progressed for almost the rest of the first  half as both defenses held the other in check. That is until Ben Beauchamp stepped in front of a Szalkowski's pass in the flat and returned it 58 yards to the house with :58 left in the quarter. Aquinas' Kobe McNair stole some of the thunder by blocking his second point after try in two weeks, preserving an 8-6 halftime lead for Aquinas.
Almost 11 minutes of action unfolded in the third quarter before McQuaid took the lead. After Josh Hill recovered an Irish fumble at the AQ 47, Walsh led the Knights downfield with a mixture of runs and passes and Passero took it in untouched from 4 yards out with 1:21. The conversion pass fell incomplete and McQuaid was up 12-8 and the partisan homecoming crowd was a little tense.
Montgomery's 38-yard return on the ensuing kickoff gave the Irish great field position, and 2 plays later Benjamin broke free 42 yards up the middle, outrunning the Knight secondary to paydirt. Bronco's kick made it 15-12.
"As soon as I hit the linebacker area, I knew I had to speed up because I saw (Passero) coming and I knew he is very fast. I'm glad I got to the end zone before he got to me," said Benjamin, who was the game's leading rusher with 116 yards on 15 carries.
The Irish defense forced a 3-and-out on the next series and Aquinas scored what turned out to be the game-winning touchdown when Montomery cut back from 3 yards out, capping an 11-play, 47-yard drive that consumed 6:24.
The hard-fought close victory was good for the Irish, who were unsuccessful in last week's 34-27 overtime loss to Friendship Collegiate out of Washington DC. It showed them that yes, they can win a tight game.
"It's good to get this team win," Debonis said. "When we win close games it brings the team more together than winning by blowout. It proves we get a victory even in crunch times."
And the Irish may need this confidence boost, because the Knights are sharpening their swords, itching for Round 2 trying to snap the 14-game losing streak which spans 12 regular season and 2 Sectional games.
McQuaid
0
6
6
 7 
19
Aquinas
8
0
0
14
22
Scoring
Aquinas
Safety – Hunter Walsh recovers fumble in end zone
Aquinas
James Jones 26 run (kick failed)
McQuaid
Ben Beauchamp 58 interception return (kick blocked)
McQuaid
Mark Passero 4 run (pass failed)
Aquinas
Will Benjamin 42 run (Joe Bronco kick)
Aquinas
Damon Montgomery 3 run (Joe Bronco kick)
McQuaid
Connor Zamiara 3 pass from Hunter Walsh (Eric Schertler kick)
Rushing
McQuaid
Mark Passero 13-38, Andrew Passero 1-(-2), Hunter Walsh 2-(-2)
Aquinas
Will Benjamin 15-116, Damon Montomgery 19-75, James Jones 3-30, Tyler Szalkowski 2-(-8)
Passing
McQuaid
Hunter Walsh 23-33-207-1-0
Aquinas
Tyler Szalkowski 12-23-171-0-1
Receiving
McQuaid
Ben Beauchamp 11-102, Connor Zamiara 7-49, Casey Howlett 2-29, Mark Passero 3-27
Aquinas
Kobe McNair 5-90, Damon Montomgery 2-36, James Jones 3-31, Ulysees Russell 1-9, Steve Mahar 1-5
Al and Lucie Joseph Game MVP Award
McQuaid
Ben Beauchamp
Aquinas
Nick Annechino, Joe Debonis, Tyson Foster, Kyle Melito, Ricky Todd