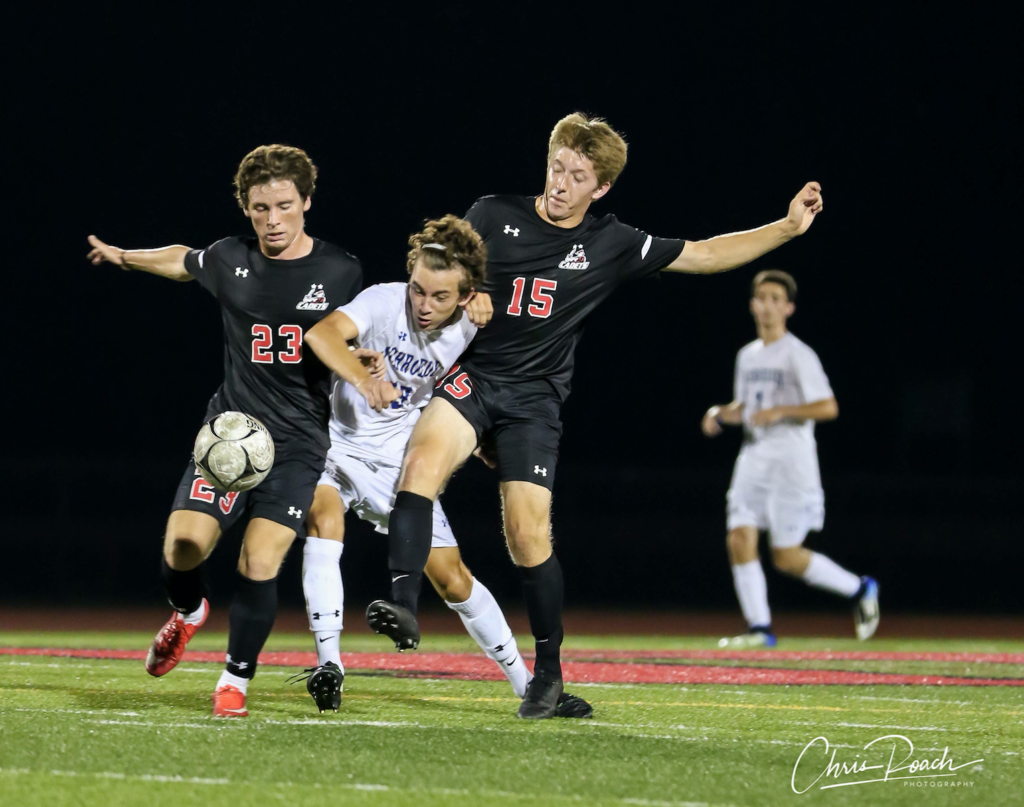 By PAUL GOTHAM
HILTON, N.Y. — Mike Ellicott and the Hilton boys' soccer team didn't need a introduction to Monday's opponent. The Cadets knew well what to expect with the Brighton Barons.
"We had that game circled as potentially the hardest challenge we'll have all season," Ellicott said. "It certainly did not let down. It lived up to its billing."
With a light rain cascading over LeBeau Field, Noah Malta converted on a free kick in the 62nd minute, and Hilton (No. 5 NYSSWA Class AA) improved to 10-0-1 on the season with a 3-2 decision.
"They play some attractive soccer," Ellicott said of the Barons. "I was really impressed by them. I thought if you came to a soccer match for the first time in Section V you'd be impressed with Section V soccer."
It was a game where Hilton never trailed but also could not get any separation. The Cadets had leads of 1-nil and 2-1. Each time Brighton offered a quick response.
"We had a team that came in there and actually played us at our game and outplayed us in the first half," Ellicott noted. "That is the first time that we've had a team out play us in the first half in our opinion."
Charles Barker nodded in a Malta corner kick to get the scoring started less than 10 minutes into the match. With Joshua Ranke, who usually takes the corner kicks sidelined because of illness, Malta took the duties for the first time this season. He didn't let his team down.
VIEW MORE CHRIS ROACH PHOTOS HERE.
"I know I can put the ball in a dangerous place," Malta explained. "When you got hungry guys in the box like that who just want to score it's pretty easy honestly. I knew it was going to get some contact. Maybe a goal, maybe a deflection. I was happy with it."
Brighton answered less than six minutes later when Torin Broderick took a Matt Ochs feed along the left flank, cut back inside the 18-yard box and tucked a shot inside the near post to level the contest.
Barker freed Justin Arilotta along the right wing, and the senior attacker went opposite side netting for a 2-1 advantage with 7:25 remaining in the first half. Caio De Medeiros connected on the equalizer less than two minutes later with a point blank blast from just outside the 18.
"We knew it was going to be a game like that," Malta said. "We knew they would be tough."
The teams remained deadlocked until Malta connected from left side, 30 yards away.
"I'm thanking Charles for that goal," Malta said of his teammate. "He ran right past the keeper, and the keeper kinda froze for a second. It just delayed him and went in like that.
"I was trying to put it back post. It was slippery, maybe get some contact and just go in like it did. It turned out for the best."
62' Noah Malta gives @HiltonCadets a 3-2 lead. pic.twitter.com/BKSAioAbnm

— Paul Gotham (@PickinSplinters) October 2, 2018
Hilton has outscored opponents 27-6. Brighton is the first side to find the back of the net more than once in a game against the Cadet defense.
"Another team I'm glad I'm not seeing in sectionals," Ellicott noted. "Athena was the first. I have to give them credit without a shadow of a doubt, that was the best team we played all year."
Brighton, which appeared for the first time in the NYSSWA rankings that were released just prior to kickoff at No. 8 Class A, fell to 8-4-0 on the season.
"We'll be fine," Barons head coach Adam Hiller said. "We've had four losses all by one goal, two of this came on PKs."
Both teams return to divisional play. Brighton travels to take on  Pittsford Sutherland, Wednesday.
Hilton goes to Penfield, also on Wednesday.