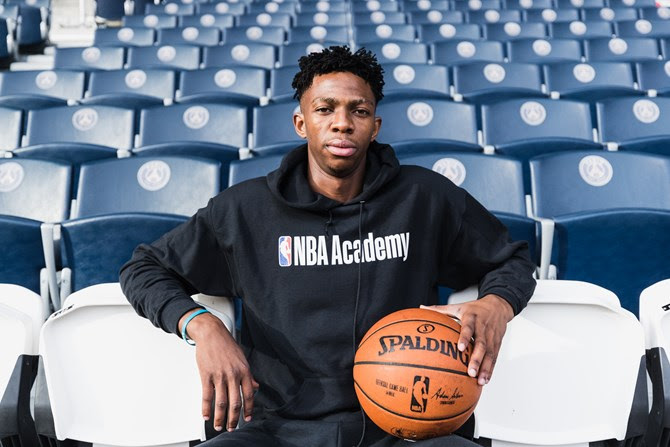 Courtesy of UTAMavs.com
By JASON McBAIN
ARLINGTON – When the UT Arlington men's basketball team holds its first official practice of the 2018-19 season this coming Monday, one of first-year head coach Chris Ogden's newcomers will be Patrick Mwamba – who uniquely paved his way to UTA from The NBA Academy Africa.
The 6-foot-6 Mwamba is the first NBA Academy Africa graduate to sign with an NCAA Division-I school and just the fourth overall from the seven NBA Academies throughout the world. The elite training academy in Africa – located in Senegal – is a partnership between the NBA and non-profit SEED Project (Sports for Education and Economic Development), which uses basketball as a platform to engage youth in academic, athletic and leadership programs.
NBA Academies include educational development for top prospects from outside the United States and mark a signature elite player-development initiative for the NBA. The initiative exposes elite prospects to NBA-level coaching and facilities and competition, while providing a global framework for them to maximize their success. As part of the program, the prospects compete against top competitors throughout the year and have an opportunity to be selected for travel teams that play in international tournaments and exhibition games.
Employing a holistic, 360-degree approach to player development with focuses on education, leadership, character development and life skills, NBA Academies build on the league's existing grassroots programming, including Basketball Without Borders (BWB) – the NBA and the International Basketball Federation's (FIBA) global basketball development and community outreach program that has seen more than 55 former campers drafted into the NBA or signed as free agents.
"I chose UTA because it's going to help me improve my basketball skills and my English," said Mwamba, who is a native of the Democratic Republic of Congo. "It's also going to give me the opportunity to learn from, and meet, a lot of new people."

This past spring, Mwamba participated in the first NCAA-sponsored Next Generation Sunday at the Final Four in San Antonio in partnership with the NBA Academies. The event was designed to provide unprecedented opportunities for potential future student-athletes, and that is exactly what transpired for UTA and Mwamba as Mavericks' coaches saw him participate in educational, life skills and competitive programming as part of the Final Four experience.
That experience – coupled with high praise from several NBA scouts – led the UTA staff to watch several games on film before flying to see Mwamba's team compete in an NBA Academy showcase in Australia while Mwamba was prepping for his Baccalaureate exam. Despite Mwamba not in attendance due to his exam, the coaches could glean enough about the talent around him and who he was competing against to know they had a tough, talented player.
Patrick Mwamba, an NBA Academy Graduate, has committed to the The University of Texas at Arlington, the Alma Mater of @okcthunder's 57th pick from the 2018 NBA Draft, @kevinhervey pic.twitter.com/7Cmkg5l5KX

— NBA Africa (@NBA_Africa) August 31, 2018
"Greg Collucci, who works for the NBA, and Brian Benjamin with SEED Project were both very helpful throughout the recruiting process not just from a basketball standpoint as Patrick has been well-prepared academically," said Ogden. "The academy was a great situation for Patrick as it provided excellent structure academically, in addition to high-level coaching and preparation for basketball and student life beyond high school."
Of Mwamba's outlook as a player, Jonathan Givony of Draft Express had the following to say after the Basketball Without Border Global Camp at NBA All-Star 2017 in New Orleans:
"He showed impressive sparks of talent as the camp moved on; he has good fundamentals and a nice framework of skills to grow into. He found a comfort level in the second, and especially the last, day of the camp, and showed nice versatility in a few different areas. He seems to be making significant progress at The NBA Academy in Africa. He's got plenty of work to do on his all-around polish, but looks to be at an early stage of development still and seems to have plenty of upside to continue to improve."
Each NBA Academy is staffed with NBA-trained coaches who foster the development of student-athletes on and off the court, during and after their basketball careers. NBA Academy coaches implement a curriculum developed by leading player-development coaches that teaches the fundamentals of the game so student-athletes improve individually and as teammates. Each NBA Academy is also staffed with an experienced strength and conditioning coach who helps the student-athletes improve their athleticism and stay healthy.
Depending on the location of the academy, student-athletes either attend a local public school or receive a scholarship to a local private school, and all student-athletes receive academic support as needed. In addition to academic development, the student-athletes receive life-skills training, including health and wellness education, financial management and career development.
"Patrick's commitment to UT Arlington is a testament to his hard work over the past few years and an important milestone for the NBA Academies program," added Brooks Meek, NBA Vice President, International Basketball Operations & Head of Elite Basketball. "One of the first prospects to enroll at The NBA Academy Africa in 2017 following two appearances at Basketball Without Borders, Patrick has shown a consistent focus on improving his game while serving as a leader for his teammates. As the first graduate from The NBA Academy Africa to commit to a D-I school, Patrick has set an example for aspiring players from Africa and around the world to follow, and we wish him the best in Arlington."
Mwamba and his new teammates begin their 2018-19 season at the College Park Center on Tuesday, Nov. 6, against UT Tyler. That contest will be the first of four in a row at home to commence the year as the Mavericks will also welcome perennial mid-major force Northern Iowa (Nov. 10), in-state foe Texas A&M-Corpus Christi (Nov. 16) and UC Davis (Nov. 18) before heading out on the road. For the complete schedule, ticket links and more information, visit UTAMavs.com.