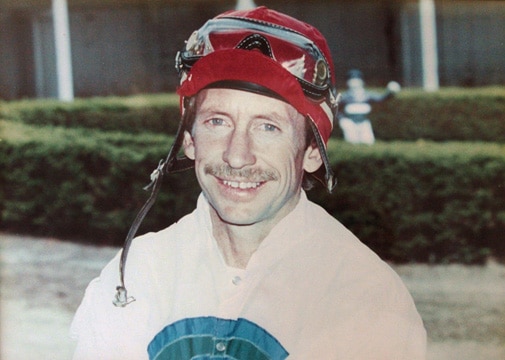 By KEVIN OKLOBZIJA
Former Finger Lakes Race Track jockey Les Hulet, whose Hall of Fame riding career was defined by dignity and integrity, died on Friday after a short battle with brain cancer. He was 69.
As Mr. Hulet's obituary at southernutahmortuary.com says, "Ever the winner, Leslie J. Hulet beat us all to the finish line."
Mr. Hulet was a five-time riding champion at Finger Lakes. He rode horses for 33 years, spending the majority of his career at Finger Lakes. He arrived in Farmington in 1972 and didn't leave until 1999.
He was destined for greatness, winning the first race in which he ever rode, in 1966 on the bush tracks out west. He rode his final race, mount No. 25,286, on Oct. 19, 1999, at Finger Lakes. Over his career he entered the winner's circle 3,818 times and finished in the money 42 percent of the time.
As he neared his final day of racing in 1999, Mr. Hulet recounted his three favorite horses in a chat we had about his career:
Fio Rito, the first New York-bred to win a Grade I stakes race. With Hulet aboard, Fio Rito stunned the field in the 1981 Whitney Handicap at Saratoga.
Sagely, who won 51 of 123 starts, with 26 of those victories coming after age 11. "Nearly every time I tried to get on him, he tried to kick me," Mr. Hulet said. "But I won more races on that horse (36) than any rider won on any horse in America."
Lordofthemountain, one of the greatest sprinters in Finger Lakes history and a two-time Horse of the Year at the track.
Mr. Hulet was inducted into the Finger Lakes Hall of Fame in 1999, the first of just three jockeys so honored. The others are Jose Olivares and Kevin Whitley. Mr. Hulet entered the Frontier Field Walk of Fame in 2000.
When he retired, then-Finger Lakes jockey Adrian Barron told me, "He's everyone's grandfather in here (the jockeys' room). We're losing a great person."
And trainer John Progno, who named Hulet on his horses year after year after year, said in 1999, "He's there a half hour before he has to be and he stays a half hour after he's supposed to be done."
A native of Cedar City, Utah, one reason Finger Lakes became his second home for nearly three decades was the proximity to Hill Cumorah. He was a member of the Church of Jesus Christ of Latter-Day Saints.
That, of course, created a strange dichotomy: a devout Mormon participating in a sport that relies on wagering to survive.
Mr. Hulet, however, reasoned that he was setting a great example of how to live and serve.
"My perception, because the church definitely discourages gambling, is if I do the best I can do to promote a good image for the church, for Christ, then I'm doing a service no one else can do," he told me back in 1999.
Following his final ride at Finger Lakes, Mr. Hulet retired to Utah, where he lived the past 19 years.
He is survived by his wife of 46 years, Ginger Lovinna Robb, their seven children (Zelma, Jeffrey, Zachry, Nikolos, Calee, Emma, and Riley), and 19 grandchildren.
Finger Lakes will remember Mr. Hulet with a race in his honor on Saturday.
Flowers may be sent to 19 South Main St. #192, Paragonah, Utah, 84760. But, according to the online obituary, the family instead prefers "that you honor Les by doing a kind act for another."