By PAUL GOTHAM
ROCHESTER, N.Y. — Rochester didn't use the "bullpenning" approach it has employed on several occasions since Trevor May toed the rubber as the "opener" on July 22nd and threw one inning before giving way to Zack Littel.
Rather Ryan Eades climbed the hill Thursday night as the first of four relievers who combined to fan 15 batters and allow one unearned run on five hits in a 6-1 Rochester victory over Buffalo.
"With it being a bullpen game and us having to cover nine innings, you're just trying to go out there and give (the rest of the) bullpen as many innings as [you can]," said Eades who threw the first three and a third innings."I didn't feel quite as sharp tonight. But I was still able to locate some breaking balls and changeups for strikes.
"I knew going into tonight that I had 60-65 pitches. I just wanted to go as deep into the game as I can. I threw 60 pitches in three and a third which isn't super-efficient. Being able to go three-plus, it helped."
Luke Bard picked up the win throwing two and two-thirds of shutout ball with five strike outs to his credit. Andrew Vasquez added an inning and two-thirds, and Tyler Duffey registered his third save of the season retiring all four of the batters he faced – two on strike outs.
"It was a bullpen night," manager Joel Skinner said. "That's always kind of a little bit of a stress factor with you trying to get your guys lined up. It worked out. Pitching has been definitely one of the strengths for the whole year."
Offense, though, hasn't been a strength. This club ranks dead last in the International League with 469 runs scored. Entering Thursday's game, the home nine are on pace to finish the year with 486 runs – the lowest total since the 1979 Wings. Only five IL clubs have crossed home plate less than 500 times since 1979.
The 6,315 on hand Thursday night, though, saw the Plates (Rochester's season-longThursday night moniker) knock 11 hits – eight of those from the first five in the order.
With Byron Buxton leading the way, Rochester sent seven to the plate in the first to take a lead they did not surrender at 2-1.
"Obviously, Buxton in the lineup and being in the leadoff spot is obviously a big producer and makes everything happen," Skinner said. "The whole group when they start squaring balls up and putting balls in play, good things happen."
Buxton, Nick Gordon and LaMonte Wade accounted for two hits apiece. Gregorio Petit and Kennys Vargas both added one for Rochester which has won five straight now at home.
The win was the fourth straight overall for Rochester (63-73) – their first such streak since June 19-22nd. The Wings put a game between themselves and the fifth-place Bisons (61-73) – 18 games out of first in the International League North.
"It's fun winning," said Rochester outfielder Jon Kemmer who finished 1-for-3 on the night."This has definitely been a good stretch. Hopefully we're on it for the rest of the year.
"Right now we're getting ourselves into hitters' counts. We're not chasing the pitcher's pitch early. We're making the pitcher make mistakes. We're getting runners on."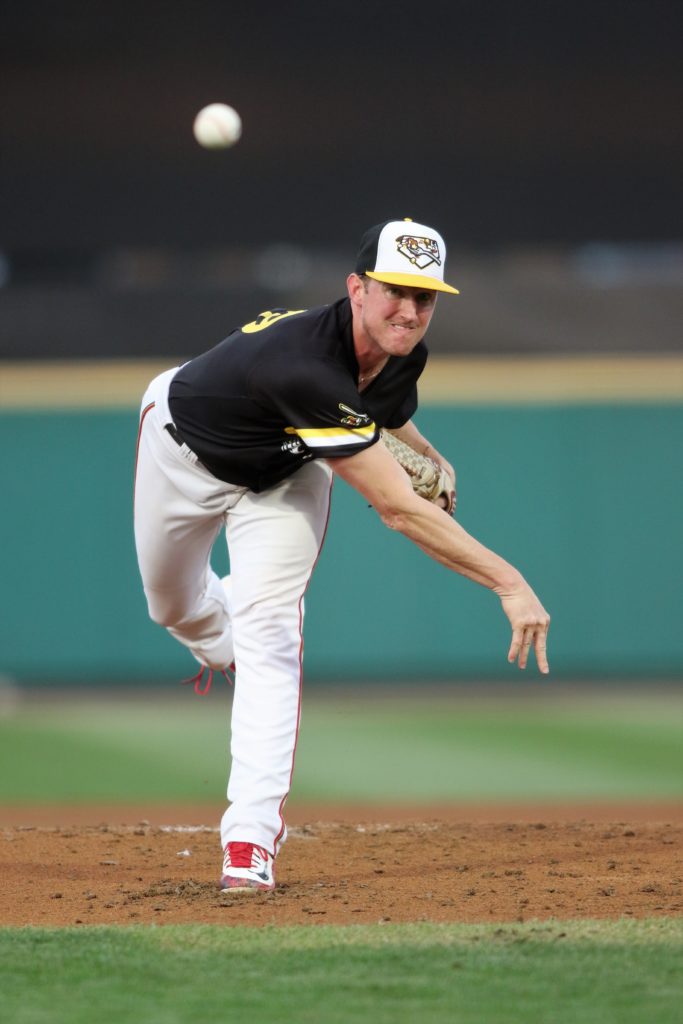 Familiar Foes
The game featured a matchup between Kemmer and Buffalo's Mike Hauschild – both teammates as members of the Fresno Grizzlies in the Houston Astros system.
"I was almost hoping I didn't play today kinda thing," said Kemmer who roomed with Hauschild while on the road for the past three seasons. "You hate to play against your good friend and stuff. You don't want them to do bad and you don't want yourself to do bad. It's kinda a tough thing."
That didn't stop Kemmer from delivering an RBI double off his friend in the fourth inning.
"He got me on a changeup in the first at bat," said Kemmer who flied out to end the first. "So I was going to try to be a little bit more selective right there. I took the first pitch. It was good, tough pitch right there. It was just outside. I knew from the last three years he would throw one away. He kinda threw one out over the plate and I just got lucky and ran into it."
Appreciating Buxton
A ground ball to the left side of the infield off the bat of Byron Buxton is anything but a sure out. If the third baseman can make a play before the ball gets into the hole, there's a chance of getting the speedy leadoff man. If the ball's hit right at the shortstop, it better be on one hop … maybe two hops to get Buxton. But in the hole between shortstop and third? Not much of a chance as was seen in the first when Buxton beat out a ground ball to spark a two-run frame.
"Obviously he's a special talent," Skinner noted. "His whole game obviously, but when the ball's in play, he's really fast."
Homestand Continues
Rochester closes the 2018 season hosting first place Lehigh Valley (81-55). The IronPigs have a 10-game lead in the IL North. Lewis Thorpe (o-2, 4.91) will get the start for Rochester on Friday. Cole Irvin (13-4, 2.67) goes for the Pigs.